-I'm shipping from Canada (so please keep that in mind when asking for shipping quotes.)
-All prices are in USD
-I only accept PayPal, buyer pays the fees sense I now have a premier account. & For local Canadian's I will except money orders.
-If you are not interested after questioning please Let Me Know.
-I reserve the right not to sell to users with negative feedback or neutral.
-Shipping is not included in the prices unless otherwise stated. & once the package leaves my hands I can not control if it is lost or damaged in the mail. I always mark full price on all packages I also mark them as "gifts"
-I don't mind holding as long as you are placing a deposit on the item this counts for any type of hold what so ever (too many drop outs already).
-If there are more then one person interested in an item I will take the highest offer.
-I have a cat. He dose not go in my closet but in case you have allergies you may want to be advised.
-I have
43 Positive +
0 Neutral ~
0 Negative -
on the LolitaGothic Data Base for selling, buying, & trading.



If your interested in trading here is my wish list,
Password: guestpass
& My Size, 41inch bust 30inch waist. 23"(if the shoes is wide) 23.5" Shoes size




Heavy Red Steal Boned Over Bust Silk Corset


A very beautiful heavy duty zip up corset it has 12 steel boned panels which help the corset keep it's shape once it is taken off the body & a modesty panel in the back that can be flipped if you care to show a little skin. I bought this about a year ago from the sales but I have lost too much weight & it no longer fits right so I'm hoping to sell this corset & get a brand new one that will.It's in very good condition only worn 3 times by me & hand washed sorry for the white speck in the proof pic it's my dirty camera not the corset.
Size, XXL 38Inch Bust
33inchWaist
42Inch Hips
Length 15.25Inches MIN
Price, $79.00USD


Proof


Cream Pin Stripped/Tucked High Collared Blouse
This blouse has beautiful pin tuck detailing going down the front with a cute tie for the front of the collar.Mother of pearl buttons & cotton lace detailing the front. You can't really tell in the picture but it is stripped cream with a darker cream. It's in very good condition though I did find two stains on the upper part of the sleeves, it seems the dye ran a bit I can try washing it before sending out to see if the stains will come out.
Size: "3L"
43Inch Bust MAX
37Inch Waist MAX
Price: SOLD


Button/Lace Detail
Collar
Sleeve
Stain 1, 2
Stain 3




Elegant Ruffle Chiffon Blouse

A very elegant airy off brand blouse, worn only once & wash then left to hang in my closet. It has a ruffle neck line & collar with quarter sleeves with a ruffle hem. A sheer black blouse that dose up a little past the bust so you can show off the top of your shirt that you are wearing underneath or you can add in some hooks & eye & do it up all the way for a more elegant Gothic appearance.
Size: "XL"
Bust, 42 Inches MAX
Waist, 39 Inches MAX
Price: Sold
With Flash
Sleeve Detail
Fabric Detail
Ruffle Detail

AATP Long Brown Nautical Cardigan
Bought off the community in brand new condition from a person selling off their lucky pack, so it never really came with tags. I wore it once to a meet but it really is not my style so I'm hoping to sell this wardrobe staple. It is made of a medium weight wool & is great for all seasons. Each bronze button has a rope & anker emblem & the crest are laurels going up to a crown with a very adorable red bow at the bottom.
Size 41Inch Bust Max
Waist 37Inch Max
Length 25Inches
Price, $69.00USD


Detail
Buttons


Putumayo Frill Jacket
I bought this off the community a while back & never really had the chance to wear it ever sense the seasons became permitting, I have just lost too much weight for it. So it has to go to a good home where it will be worn. It's a very thick velvet waist coat with ruffles around every hem, rose buttons, & beautiful silver wings & brand name embroidered on the lapel. It also has waist ties to help it fit your shape better they are Not detachable. This jacket sits fairly high so you can wear it with your fluffiest Lolita skirts & it wont interfere with it.
Size: 41Inch Bust MAX
36Inch Waist MAX
20 Inches in Length
Price: SOLD
embroidery
bottom
Lapel

Elegant Printed A Line Skirt
A black & white A lined skirt with a very beautiful print , the skirt sits on your natural waist line not your hips. This skirt would be great for a more casual or work Lolita outfit. It's unlined great for spring & summer made from a medium weight poly cotton, zipper & hook back closer. Has a very cute ribbon to tie on the front of the skirt. Worn once by me & washed then left in my closet ever sense no stains, rips or flaws.
Size: "M"
Waist, 32Inches
Length, 21Inches
Price: $20.00USD


Back
Hidden Zipper Closure
Ribbon


Tripp NYC Crinoline Skirt
It was given to me by a friend but I never liked this style so it has just been sitting in my closet. It has a large zipper & snap closure. It dose have some rips that are pictured below that are actually not noticeable when worn & if noticed almost look like they belong with the style. the skirt consists of two layers of crinoline top black second layer red & a underskirt for comfort. the waist is fixed & has no stretch what so ever. This skirt is great for a punk loli look or to use as an underskirt. for shorter skirts or even for a funky light petti.
Size:34-35Inch waist
Price: SOLD
Under skirt
Zipper
Damages,
1
2
3
4

Jolie_Chose Handmade Bloomers
These bloomers were hand made by Jolie_Chose. They fit a range of sizes & are made from a soft & durable cotton blend with beautiful lace around the bottom hem & ties. I wanted these as Lolita pajamas but they did not match the bow I intended them to match also I feel they are a little to large in the hips for me so I feel they should go to someone who will use them. They have never been worn by me only tried on for a min, other then that they are brand new.
Size:waist 29inches min 50Inches MAX
Hips:54inches Max
Length:21 Inches
Price: SOLD
Lace Detail


Moi Meme Moitie Candelabra Logo Socks
MmM classic black socks with candelabra logo embroidery in black. I bought these socks thinking I would need plain black socks with minimal detailing as a staple in my closet sense I lost the last pair I had. But I found my other pair of black socks & had to choose which ones had to go. & I thought someone would enjoy these a lot more sense I have never had the chance to use them myself, but they have been worn twice by the previous owner otherwise very good condition.
Price:SOLD
Logo Detail


Roberto Vianni Ruffles Ribbon Heels
Bought for my prom/Hime outfit about 4years ago, worn only once for two hours. They run fairly large for a "normal" size 81/2 so I ended up putting pads in the heels & sole of the shoes in the heels there is some residue left over but they are not damaged I just never had a chance to try & remove it otherwise they are in perfect condition . These are very wonderful shoes I wish they fit me better so I could keep them in my closet.


Size:"8.5cad"

25cms
Heel Height: 7cms
Price:$50.00usd


Bottoms
Left Heel Insole
Right Heel Insole
Toe


Demonia Shoes
I have these black & white Anna House replicas. I have only worn them once the previous owner only worn them maybe 3 times I believe. When I did wear them out the strap holding the ankle strap in place broke, I have gotten it repaired & now it's hard to even tell which one was redone & which was the original. They have some creasing in them but nothing noticeable unless you really look for it all can be fixed with a small amount of black shoe polish.
Size 8 wide / 24.5cm
Price $25.00USD


Back
Damages,
1
2
3
4


American Eagle Brown Ribbon Shoes
A very cute paid of off brand shoes, these are great if you have any issues walking in heels. I have only worn these shoes twice once for a short period of time & once for quiet a while & they were very comfortable both times I wore them. There is some creasing in the shoes that come natural to flat shoes but nothing to consider as damage just used.
Size: "7 Cad" 24' Length.
Price: $11.00USD

With out flash
Baby, The Stars Shine Bright Brown
Mirufiyushuzu
Millefeuille Shoes

A very cute & mature pair of shoes by BTSSB. A single snap/buckle strap with a cream ruffle & very cute bow are a great combo in this shoes they also have a wooden wedge heel. These have never been worn by me & I'm the first owner, I bought these threw a shopping service a little while after they were released. I knew I had to have a pair. But I'm much to afraid to ruin them so I never worn them or really had the chance. They are also sold out in all sizes on the site except LL. Also there are two small cuts out of the leather on the edge of one of the straps they came to me like this & are very unnoticeable.
Size: M 23.5'
Heel Height: 7cms
Price: $160.00USD


Bottom
Ruffles/Bows
Snap
Strap Edge
Side

Baby,The Stars Shine Bright Petite Doll Shoes
Bought off the community about a year or so ago & never really got the chance to use them which really hurts me because these are my dream shoes but they are just a size to big for me, so I'm just looking to get back what I paid. There is a scuff at the back of the back of the right shoe. & some dents in the leather where the shoe clips sit. They have only been worn a handful of times by the previous owner & never by me.
Size: L 24.4'
Heel Height: 9cms
Price: $150.00USD

Scuff
Indent Left
Indent Righ
t
Embroidery
Shoe Clips
With Shoe Clips
Demonia Bat Wallet
Price,$12.00USD
New with tags made of real leather. Has two compartments one for change the other for bills & cards perfect for any gothic/punk loli.
Coin Pouch
Card/bill fold
Chandelier Necklace
A very beautiful necklace made of a black silver with five clear crystals. Bought threw the community from a user who was selling them, I never got the chance to use it because it did not rally match the skirt I wanted to pair it with.
Pendant Width: 2.5Inches
Pendant height: 2inches
Chain Length: 8.5-10Inches (adjustable)
Price: $10.00usd


CustomCosplay Deco Rings


Pink Mushrooms:Very cute pink&white mushrooms on white&black frosting on an adjustable base always reminded me of Wonderland for some reason. In storage is got slightly damages the black icing is squished & there is a small brown mark on the steam of the larger mushroom

.


Orange Swirl:

A orange & vanilla swirl with three faux pearls mounted on an adjustable ring base worn only for picture
Orange mushrooms:

A very cute ring

with two shaded mushrooms on white then black frosting on an adjustable base & only worn for this picture.
Black berry: A very cute very large ring. I have never truly come across such a unique ring but I really have nothing to go with it ,even though it's a blackberry it's still too sweet for me.
Gray Rose(not by customcosplay): a very cute handmade clay rose. Originally advertised as black but it arrived gray & black. Still very cute but I don't own any gray to match it with. Never worn it sits on an adjustable base.


Price: $15.00 USD shipped for the set or $3.00usd each (shipping not inculded)



Deco Erasers

I have three different sets of deco erasers. 1 contains one chocolate doughnut, one strawberry doughnut, one strawberry cake ,& one chocolate dipped cone. Number 2 contains one slice of chocolate strawberry cake, one caramel dipped ice cream, one strawberry doughnut, one vanilla cone. Number 3 contains one one strawberry cake, one chocolate doughnut, one vanilla cone, one chocolate dipped cone. I have a limited amount of each set, I will not open the sets & mix & match them.

Set1 : 2
Set2: 3
Set:3: 1
Price:
$2.00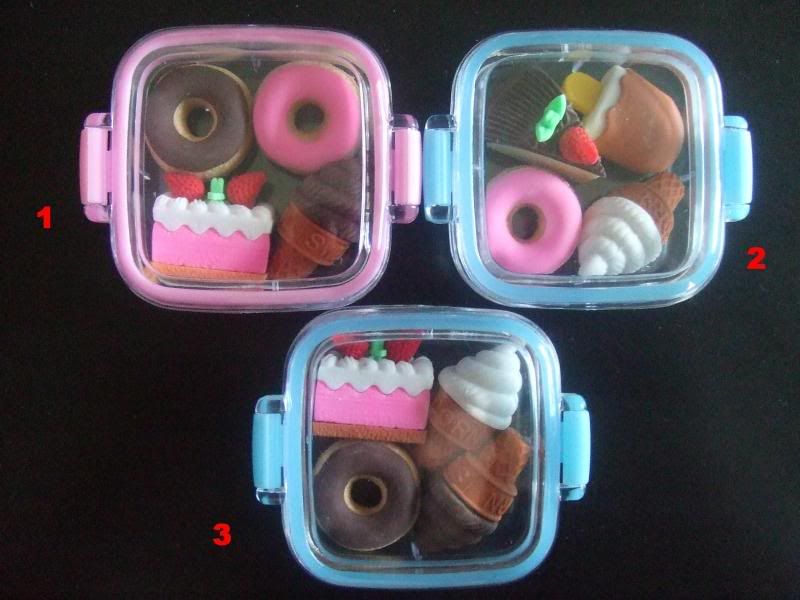 Sets


Gothic & Lolita Bible Volume 11
Some minimal damage on page 14 there has been a circle cute out in one of the corner advertisements dose not effect any of the pictures or dialog in the mbook. The patterns has been removed but will be inclueded. This volume is based mainly around the Gothic side of Lolita has great make-up & hair tips some of the patterns are a muff, hat, tote set.
Price:$13.00usd

Page 14

Shipping
If you are in the US please let me know your state so I can calculate shipping.
For Canada I need your postal code.
International Your country.

Thank you for looking, if you have any questions at all feel free to ask. & if you feel prices are too high make me offer I will not be offended if it's within reason.