Location: California, USA
U.S. Buyers preferred, as I'm not familiar with shipping overseas. However, if you're willing to pay for shipping and tracking/insurance, I can go to my local post office and get a shipping quote.
Shipping is not included in the listed prices, please leave your zipcode, state and country (if international) so I can calculate a quote for you. Insurance and tracking will be extra. I am not responsible for lost packages if you do not get either/both of these.
This is my first time selling on EGL, but I have 100% positive feedback as a buyer on ebay, my journal, and the dbs
I do have one cat, but my clothes are all hung up in my closet with the doors closed. I will also fluff and lint-roll the items before sending them off. But if you're allergic, please take this into consideration. Please ask if you have any questions!


Metamorphose Antique Bouquet Skirt (Blue) -
I purchased this from another user here, and she wore the skirt a few times (bought it new off Y!J), but since then it has not been worn. I only tried it on. It has a lining and a very thin petti that does create a bit of volume (not enough to replace an actual petticoat though). The waist band closes with a hook and zipper, but there's partial shirring. Comes with a long, matching blue ribbon.
Waist: 24"-29"MAX.
Length: 19"

Asking $75, feel free to make offers


Detail
Hook & Zipper
Inside lining and 'petti'
Ribbon
Proof (ignore the date, I was planning on selling this a lot sooner)

Black off brand lolita skirt -
I bought this skirt online a few months ago, and found out it's a bit too short for my tastes. It's very cup-cakey. There's no shirring in the waist band and it also closes by hook and zipper. Skirt is un-lined , but well made and good quality for an off-brand skirt.
Waist: 27-29" or so. My waist is 30" and it was a little snug but still fit. Hips are free. (If this is too dark on some people's monitors, let me know and I'll try to get another pic)
Length: 19-20"

Asking $20, will accept offers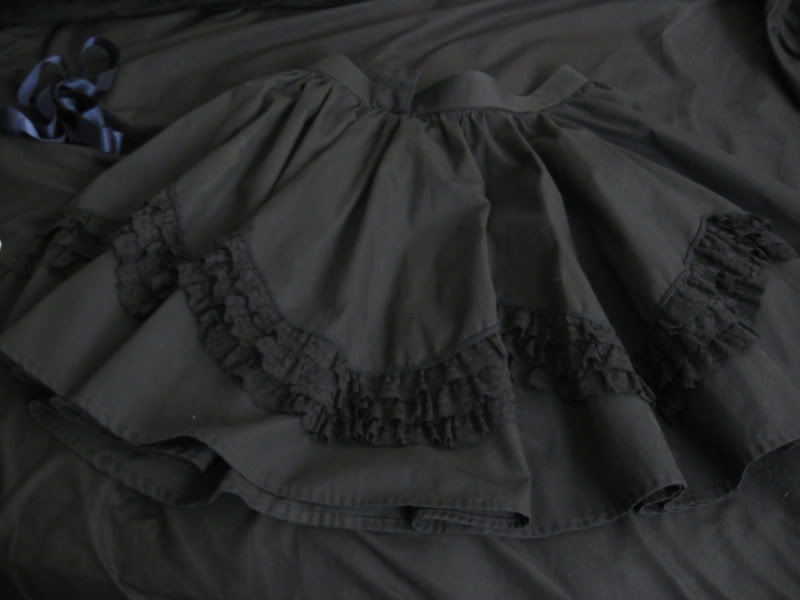 detail of lace
Back closure


Red, long, aristocrat skirt
Comes down below the knees (I'm like 5'7") a good bit. Not ankle length yet though. Really pretty skirt, but I never get around to wearing it. Looks a little dark in this photo. Kind of a mix between this color and the detail shot. Not as bright as the detail shot though. I bought it from another user here and, again, have not worn it. It's only been tried on. There's a bit of fabric coming loose on the inside of the elastic waist.... very simple fix but I can't sew. Doesn't effect the wearing and isn't visible while worn. Bought for around $30-35, taking off a bit for the slight damage.

Waist: 24" unstretched, 34" stretched to the very max
Length: 29"

Asking $25, feel free to make an offer


Detail



Forever 21 'Pearl' necklace. Makes a really pretty accessory under a collared shirt. In new condition, but no tags. Never worn.
Asking $8

Another photo