LOCATION: UK

SHIPPING: I will ship worldwide and with insurance if you request it. Prices do not include insurance so if your item goes missing in the post I will not be held responsible. I will also combine on shipping. If you buy clothing/shoes from me shipping on jewellery is automatically free.

PRICES: Include pp fees. I only accept paypal as it's secure and international!

HOLDS/RULES: I would rather not hold, as I need money quickly to pay for other stuff. 'Queuing' rules apply, but if you don't respond to any messages within 24 hours I'll automatically move on the next person in the queue.

FEEDBACK: I have good feedback as a seller on eBay here:

http://feedback.ebay.co.uk/ws/eBayISAPI.dll?ViewFeedback2&userid=akai_senshi&ftab=AllFeedback

I am currently building up feedback on loligothdbs under user name etoilesama

DESCRIPTIONS: Please read all descriptions thoroughly, I try to explain size, condition of item and any flaws as clearly as I can. I will not be held responsible if something I have clearly described isn't as you expected because the description wasn't read properly! (urgh, bad eBay experiences!)

TRADES: Please see bottom of posts for my wishlist

________________________________________________________________________________________________

All items from a non smoking home. I have a bunny, and I'll try and make sure no little bits of fur are on the following items (he's not encountered any of them anyway!)

1) Burgundy x black putu skirt - £18 shipped within uk, £20 shipped worldwide. SOLD

I bought this off the forums very recently but the size was not correctly described. The waistband fits 60cm and can stretch up to 100cm, but it doesn't look good fully stretched. I'm about 84cm and it fits but looks wrong. My friend tried it on and she's a UK dress size 12/US size 14 - it fits her perfectly but she didn't want it as she already owns a very similar skirt. I paid $26 for this and I just want to make my money back. Length is about 47cm, realistic waist size is probably around 75cm-ish.

2) NO LONGER AVAILABLE

3) Black Montreal shoes, UK size 7, EUR size 40 - £25 shipped within UK, £27 shipped within Europe, £30 shipped worldwide

I am only selling these because I'm closer to a UK size 6 than a 7, so they're just a bit too big for me.

I've worn these about 4 times....three times on nights out, and once on a full day out shopping. I originally paid about £36-£37 for them from Linglam. They have a few big scuffs on them and I have photographed these as best I can...however the soles are in tip-top condition! Please look at ALL of the photos before making a decision (see 'Descriptions' section above). All of the scuffs are on the instep of the shoe so when you're wearing them you can't really see them so much. Also, one of the ankle bows is coming a tiny bit loose but you can easily hand stitch or glue it back on more securely….again just trying to be clear and honest with my descriptions.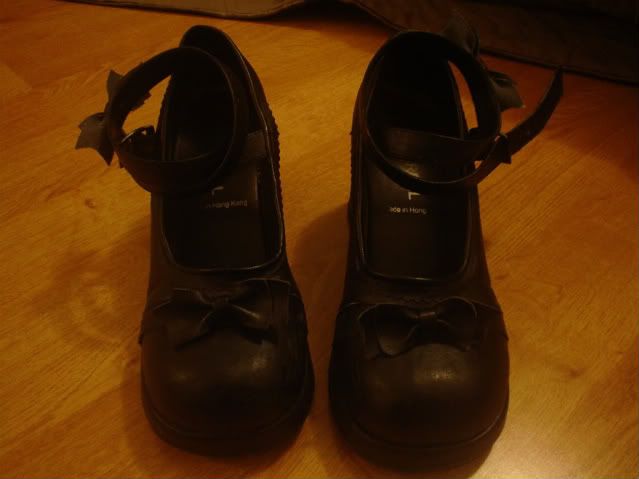 Further pictures here: http://s602.photobucket.com/albums/tt101/aluminiumsiren/Black%20Montreal%20bow%20shoes/

4) Offbrand swan cameo earrings and ring -

Bought off Etsy in the hope that they would match meta stuff; bigger than I expected them to be so I'm selling them on.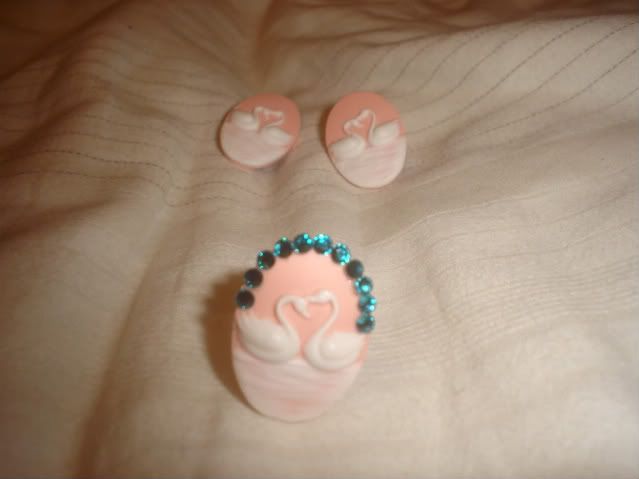 5) SOLD Offbrand handmade pony necklace - £6 shipped in the UK, £8 shipped worldwide

Again, from Etsy but bigger than I expected! It's a bit too sweet for my taste too, and I'd just like to make my money back. Brand new and unused.

Further photos here: http://s602.photobucket.com/albums/tt101/aluminiumsiren/cupcake%20jewelllery/

6) SOLD Offbrand handmade bunny ring - £6 shipped in the UK, £8 shipped worldwide

Same situation as the pony necklace :) Brand new and unused, on an adjustable band.

Further photos here: http://s602.photobucket.com/albums/tt101/aluminiumsiren/cupcake%20jewelllery/

7 and 8 - NO LONGER AVAILABLE



TRADES:

I'm currently building up my wardrobe with black, white, sax blue, brown and beige colours. I'll consider anything in these colours.

I'm plus size so elasticated/shirred waists and busts are essential

I am in desperate need of pettis/panniers in black or white

Otherwise my list is…

Brown, black or white shoes size UK6, Eur 39, Jpn 24.5
H&M black heart ruffle bag
Sax, black or white parasols
Black/sax/brown headbow on barette (no headeater bows!)
Mocha macaron necklace and/or ring
Bodyline sax candy skirt with matching bag

Thanks for looking :D