Hello ladies!
I haven't been on in a while, and have been a bit out-of-touch with lolita. Seeing as this is the case I'm wanting to get rid of this stuff ASAP! As stated, I've been out of touch with lolita, so if you see my prices are a bit too high, please offer something which you think is reasonable.

- I ship from Queensland, Australia.
- Pet-free, smoke-free.
- Everything shipped within Australia will be done via express.
- If sent international, you may purchase registered post; but if you don't want it, I cannot be liable for any losses.
- Everything can be washed before being sent out at the buyer's discretion (they have been recently washed, but may be a bit dusty due to sitting in several wardrobes).
- If you have any questions, please do not hesitate to ask, either here or via PM.
- When money has gone through, the item will be shipped as soon as I can get to a post office, which post likely will be the next day (unless it's a Saturday afternoon/Sunday).

Please also note these pictures are a bit old. I have taken new photos but.. I forgot to take the USB chord for my camera from home.. haha. I can send you another photo taken off my phone for proof if you'd like.

SOLD1.) Used Angelic Pretty pinkxwhite cutsew. This thing has been worn quite a bit in the day but still has a lot of love left. Comes with detachable sleeves. I would ask $30USD with included shipping only within Australia (OBO).




2.) BtSSB bunny-eared bolero cutsew. I bought this a while ago and have no worn it many times. Has a light stain on the back, which the hood covers when down, can most likely be removed with a soak in some Nappysan. $50USD with included shipping to Australia (OBO).




SOLD3.) Metamorphose redxblack tartan short-sleeved OP. I have only worn this a maximum of four times, so it is still in good condition. Very pretty and perfect for when winter comes around the corner. I would like $120USD with included shipping in Australia (OBO). I would say the maximum bust/waist is about 40"/36".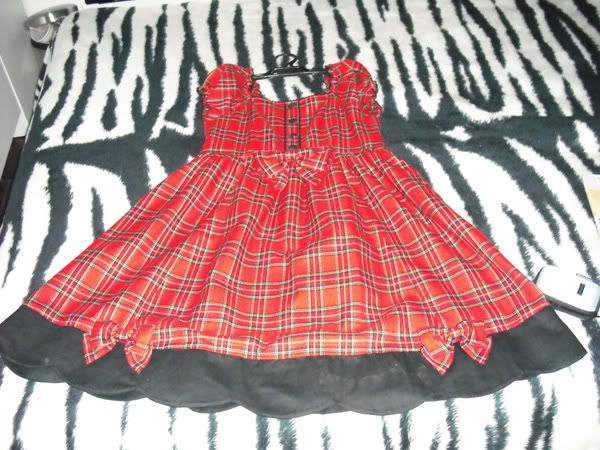 Additional: http://img.photobucket.com/albums/v600/Nattz/metajskshirring.jpg

SOLD4.) Bodyline blackxwhite sweets print skirt. Still brand-new with tags, only tried on once. The black one doesn't seem to exist on the Bodyline website anymore. Max waist is about 34-35".
Please make an offer.

http://pupe.ameba.jp/item/w7-bZkrcvsJE/jmjjJvg87s8R/

I also have a BtSSB bunny backpack (size down from the biggest one) in white which I don't seem to keep anywhere but my closet. I would very much like to sell him, but I'm not sure how much to sell him for. If you are interested, please let me know and I can provide some details and a photo or two.

Thank you!