I just finished making this really cute strawberry skirt. It has a a scalloped, patterned overskirt and a black ruffled underskirt.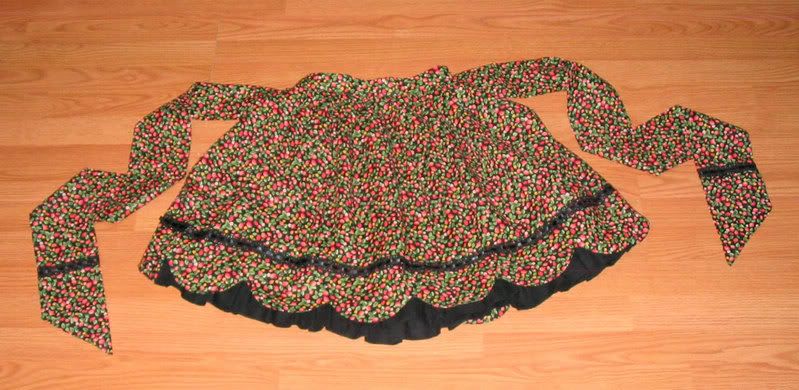 The waist is half-elastic.
There are 2 separate channels of elastic to give it a flat look.
It would comfortably fit someone with a 27"-33" waist.
The waist ties are 42" long.
The skirt's 21" long, from the waistband.
Here's a close-up of the fabric and lace:
The background is a true black in reality.
Every exposed edge is finished with a zig-zag stitch. Every seam is pressed. Everything possible is top-stitched. I'm very proud of this skirt.
Here's the underside of the scallops, and a seam. This is closest to the true colors.
Here's a blurry picture of the ruffles on the underskirt
In addition to the skirt you'll get your choice of matching big alice bow, smallish alice bow, rectangular headdress, or 2 small bows on barrettes or combs.
They'll be made of the strawberry fabric and the same lace. I didn't make them yet so you'll get exactly what you want. I will make them the day you pay, and mail them out the next afternoon.
All this for only $65 including shipping in the US!


If you want to see it worn, I can take more pictures tomorrow.
I have cats. I tried my best to keep them away from my sewing, and I'll use a sticky roller on it before mailing it, but if you're severely allergic you should probably not buy this.