- I'm only able to accept Paypal payments for the following
- All items will be shipped from New Zealand
- I have 100% positive feedback on eBay and TradeMe under the username 'ungodlykitty' and I've sold a few items through this community
- If you feel the price is unreasonable, please make an offer- If one or more people would like the item, highest offer wins
- I'm happy to pay the Paypal fees :)
Beige Beret with feathers and bow
Very elegant, great for classical styles. Lamp is a little larger than the average sized head but you get the idea. In excellent condition. Wool mix, made by Kangol.
$25 USD shipped worldwide.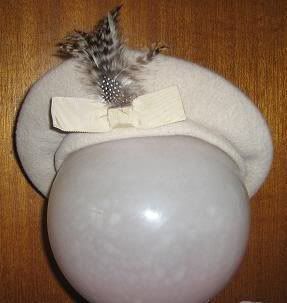 Candy Stripper mirror keychain - SOLD!

Small Candy Stripper plastic mirror in the shape of a bon bon. In good condition, however a little of the pink writing has rubbed off on the 'y'.
$15 USD shipped worldwide.








Green purse with cameo pin
Green velvety feel purse trimmed in white lace with a detachable white lace ribbon cameo pin. Measures 26.5cm x 15cm. In excellent condition.
$15 USD shipped worldwide.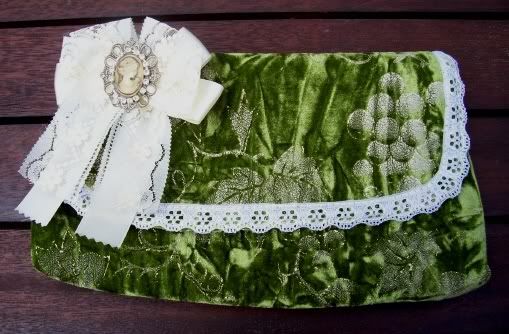 White Medical Corset - SOLD!

It's pure white and steel boned. Tag says that it is a size 40, however it is highly adjustable and I think can fit a variety of sizes due to the side fan lacing. My measurements are bust 33", waist 26", hips 32" and it fits me moderately tightly laced. However it can be adjusted an extra 4.5" on either side (allowing for up to an extra 9" for your measurements should you need it) It should also fit if your measurements are slightly smaller than mine, but just ask if you're not sure :)

It does up with a row of hook and eyes which can be worn at the front or back. Cinches you in very securely! It is in extremely good vintage condition, very white, appears unworn. There is only one very small rust spot on one of the laces which will surely come out with a bleach pen if it bothers you.

Great for Gurololi! I'm asking $80 USD shipped worldwide.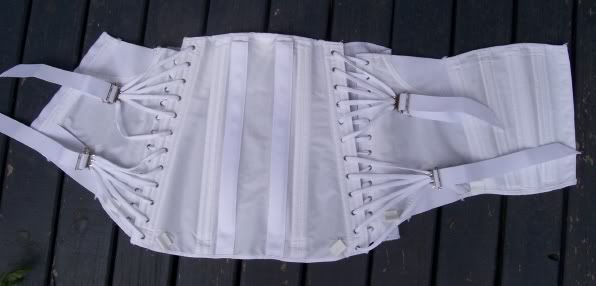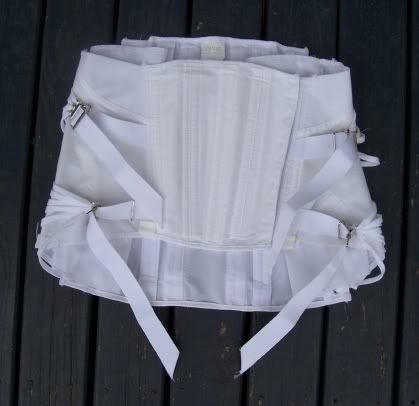 (with the hook and eye panel at the front)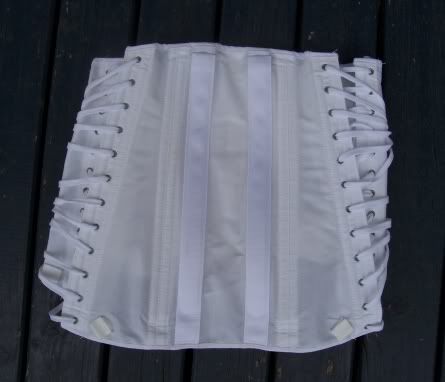 (with the hook and eye panel worn to the back)


The following two photos aren't of the exact corset I'm selling, but are shown to give you an idea of how they look worn (the only difference is that this corset has hooks and eyes at the front instead of domes)...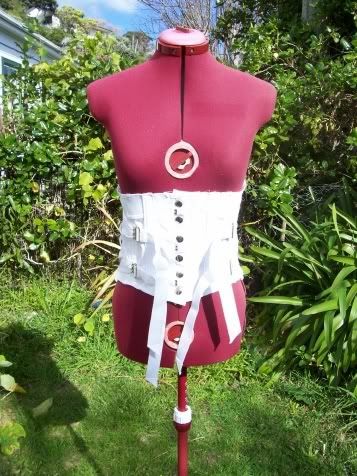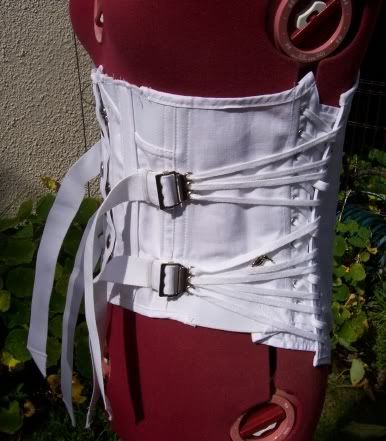 Peach Medical Corset
This is quite a find! Very old and vintage medical (orthodontic) corset with front lacing, steel boning in places and suspender straps. This one's designed to hold you in quite tightly. It fits my measurements securely (33"/26"/32") so it probably wouldn't fit much larger than this as it isn't adjustable like the above white one. If your measurements are smaller than mine, then it should fit you fine too.
I would say that this one is in good vintage condition, a bit of the peach paint has chipped off the corset hooks and there's a small amount of rust on the suspender straps. Though considering its age I think it's in great shape.
Also great for Gurololi. It cinches you in fantastically too so would also be great under dresses etc. $70 USD shipped worldwide.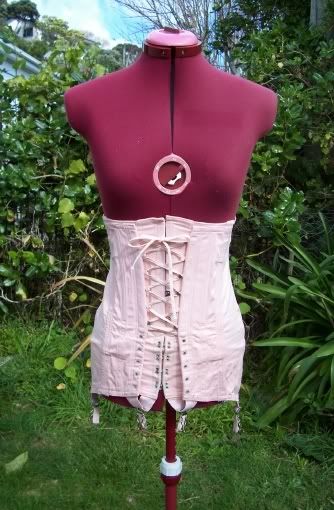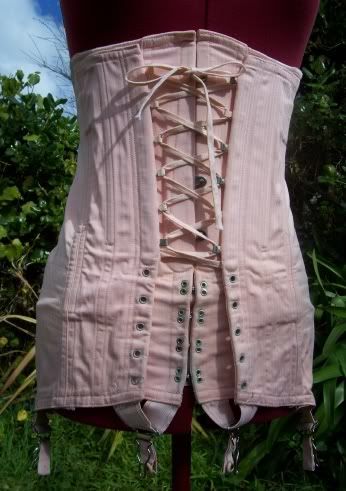 Simple white short sleeved blouse
Simple and offbrand. Has small rounded collar with puff sleeves and two rows of inserted lace down the front. It doesn't have any buttons towards the top of the collar, but these could be added by a seamstress or a little dome could be sewn on if you'd like. It's in excellent unworn condition and measures 21" bust, 19" from shoulder seam to bottom hem. Great starting blouse!
$15 USD shipped worldwide.