Some quick information before the items:
Shipping: Prices do not include shipping; where possible I've listed shipping estimates. If anything costs less to ship than I have charged, I will immediately refund the difference. I can ship Monday through Saturday. Shipping prices are for international airmail from New Zealand, hence the slightly higher prices.
Payment: I accept Paypal and greatly prefer to use the sale option since it provides the buyer with protection - I prefer to split fees in half between buyer and seller. All prices are in US dollars.
Feedback: I have feedback at the loligoth_dbs and at my commissions journal,
hearts_princess.
On to the sales!

DS: Baby the Stars Shine Bright cream blouse (new without tags) - SOLD




This is a beautiful cream blouse with lots of beautiful lace, detachable bell sleeves and a shirring panel in the back. Because of the detachable sleeves it can be worn in winter or short-sleeved in summer, making it very versatile. It would be stunning for a classic lolita coordinate or for a sweet lolita who likes the creamier colours. The ruffles around the hem sit very well over a skirt waistband or can be tucked in. Never worn, brand new without tags.

Size: Will fit up to about 36" bust, 28" waist. You could possibly go an inch or so larger but it will be snug/shirring will be stretched. Neckline is shirred all the way around for ease. Length is about 20" from shoulder to the bottom of the ruffles.

Shipping: Shipping will likely be around $15 to the US or $20 to UK/Europe, but ask for a quote and I'll get a more accurate one for your country.


DS: Dusky pink socks with ribbon lacing (new without tags) - $15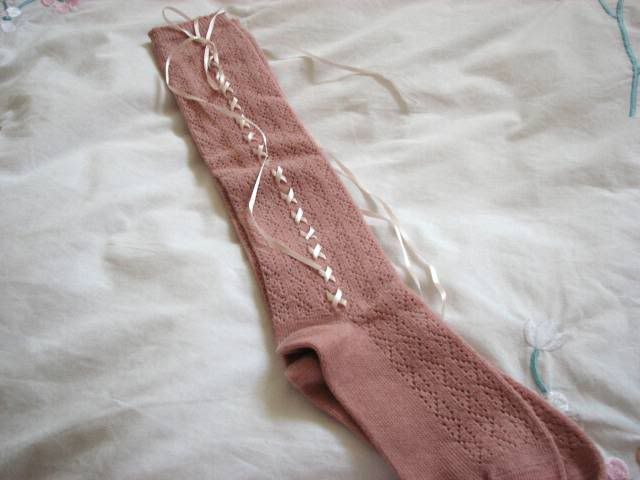 These socks are really lovely off-brand Japanese knee-high socks. They have a slight lacy/knit pattern in the weave of the sock, and beautiful ribbon lacing up the sides of each sock (with long ribbon ends to allow for calf width and a good bow at the top.) I bought these when I was toying with the idea of classic lolita, but never ended up wearing them so they are still brand-new.

Size: Will likely fit up to about a size 9 US easily.

Shipping: Will be about $7 to US, $10 to UK/Europe, but could be less - ask for a quote to your country and I will get a closer one.


Thanks for looking! This is part 1 of my sales - watch out for part 2 in a few days time, with Meta bloomers, three more pairs of socks (pink x white AP, cream Baby and white Rose Chocolat) and a Baby Parfait-print OP in pink.