-I'll tell you how much I paid for them and exactly what their condition is, so please make fair offer. You don't have to pay what I did, it's just for getting an idea. :3

- I would like to sell all items together, though I will consider splitting accessories from dress.

-Shipping will be 10$. U.S. only please. I'll get one of those flat rate boxes. (unless you girls know a better way to ship. I'm still on new grounds with shipping.)

-paypal only please. Buyer pays any paypal fees.

-I have a cat. all items are clean, but unavoidable cat furred. Allergies beware.

-I realize the sock and shoes aren't in great condition. thats why I want to sell them together, because I'm afraid they won't be worth the shipping. :(

-If people really have a problem with the socks, I will remove them, but I wont wear them anymore. Thought maybe someone could put them to use.



***********************************

Victorian Maiden Onepiece

so goregeous! =o I truly regret letting go of this piece but I am so broke, and I dont wear it nearly as much as it deserves.
I paid: $200
Size (flat): 16 in. bust, 13.5 in. waist.
I'm a size 33, 26, 36, (bust, waist, hip) and it fits me quite great, but I wouldn't suggest much larger. There are ties in the back, so if you're much smaller, you can tie it to fit. It also comes with detachable bows.
The front neckline elastic is gone. This is the only problem, and can be easily fixed by somebody who knows a thing about sewing. It was this way when I got it. The arm holes are just fine, just the sleeves keep falling off. If you have a bigger chest, you may not even need the elastic at all. Other then that, it's great.
more pics:
X
X
X
X
X
X
X
Proof of Brand:
X
***********************************
Lace Headdress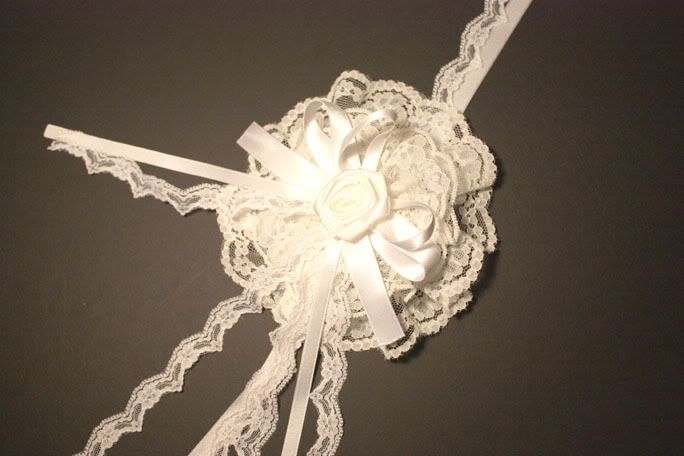 I paid: $15~ $20
This is so pretty! It's mostly straight white, so for the most part it doesnt match with creams, but it does have some lace that is ever so slightly off-white. It's so slight though, it's best coordinated with white's. The lace is really soft too! In perfect condition. Worn once.
more pics:
X
X
************************************
Montreal Rocking Horse Shoes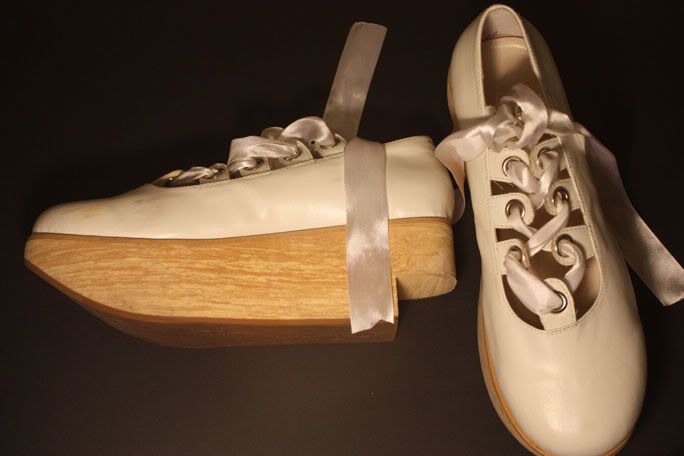 I Paid: $30
I measured about 26cm. on the inside, but I wear a 9 1/2 Womens U.S. size. According to
this chart
I believe its a European size 43.
This has a few scrapes and dings now, and it is my fault. I included as many as possible to show you.
detail pics:
X
X
X
X
X
X
X
X
************************************
White Lacey Socks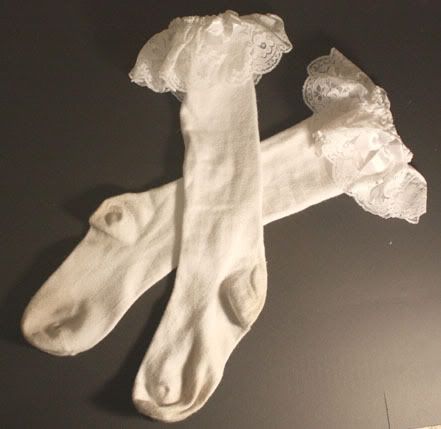 I paid: $15
Ok, this is wear I feel bad. I promised I have thoroughly washed these short of bleaching, but there a lil feet stains from shoes. ;_; also, I have worn tiny holes where the big toe should be. I have included lots of pictures so you could see. Also, my pics make them look a lil dark, but I promise, the sock and lace is all completely white, except the bottom of the foot, where the stain is.
Detail pics:
X
X
X
X
X
X
X
Thankyou so much for looking!