Hello,

Direct sales ahoy. I take paypal (any fees split) and am open to negotiations on the price as well as offers. I can consider trades, see the bottom of this post. These are direct sales, not auctions. I reserve the right to refuse to sell an item or sell it through some other medium than comments to this post. I will hold items for 24h, feel free to queue. AND FEEL FREE TO HAGGLE, MAKE OFFERS, ETC. Everything needs to go! I CANNOT STRESS THIS ENOUGH! HAGGLE!

Those of you who have had transaction with me, please leave me feedback in my journal if you have the time! http://rithrin.livejournal.com/75994.html
See my other current sales (Baby, the Stars Shine Bright skirt and matching headbow, Brand mooks) here: http://community.livejournal.com/egl_comm_sales/809480.html. Thanks!

- Juliette et Justine -

Skirt, black, chiffon. This skirt in black. 190 eur including shipping. Refer to the link for sizes:
━サイズ━ ("size")
着丈 ("hem") 54cm
ウエスト ("waist") 67cm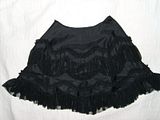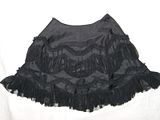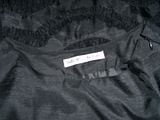 ---


Phaidon's Gothic & Lolita Book SOLD
h. Naoto Blood skirt SOLD
My other sale, a white Juliette et Justine set (skirt, top and bolero) is SOLD.
Angelic Pretty headdress is SOLD.

I might accept trades for items at around the same price range or a trade and money, either from the buyers or my side. Items and brands I am interested in: Fairy Wish, Garasu no Kotori Sha, and Seraphim .

Thank you for your attention, I'll be happy to answer any questions.