Terms & Conditions


The long version here.



I'm based in Singapore but I will ship overseas.


I accept overseas payment via Paypal, Paypal CC (buyer bears card fees). Local buyers may pay me via bank transfer or cash-on-meetup.


Delivery is through meet-up (buyers in Singapore only) or any local / overseas postage method that you desire. The default method is registered non-standard mail for local postage and tracked regular airmail for overseas postage. If you want more options, just ask.


If you don't like my price, feel free to propose yours. If you're genuinely interested in my item, we could work something out.


I will consider payment via installments.


Will consider trades. Show me what you have.


All goods sold are non-refundable.


You are welcome to ask for more photos & information. Just leave a comment, PM me or email me.


Item goes to whoever can pay in full first.


I have feedback here to prove that I'm a legitimate seller/buyer.


If you are not a livejournal member, I'm contactable via email



Disclaimer: All photographs are taken by me, unless otherwise stated. You get what you see. However, due to lighting issues, the colour of the item may differ slightly from the original. I'll try to avoid this by editing the colour contrast of the photograph to make it closer to the original colour. Apart from this, I will not edit my photographs to enhance the appearance of my items.







Victorian Maiden Rococo Bouquet Bustle Skirt (In Rococo Pink)

Asking Price: 285 SGD, 220 USD shipped worldwide

Condition: Worn once and dry cleaned. Brand new condition.

Size / Measurements: Max waist 27inches. Can be tightened by adjusting the strings at the back.

Length: 24.5inches



Additional comments: This skirt is from the gorgeous and very quickly sold out Rococo Bouquet series! The texture of the skirt is wonderfully smooth and the prints are very vivid. The skirt can also be worn like a normal skirt without putting the bustle up.








Bodyline Blue Skirt with Rose Prints

Stock image
Click thumbnails for larger images
Colour closer to stock photo.
Asking Price:
30 SGD / 28 USD shipped worldwide
Condition:
Brand New

Size / Measurements:
Length: 56cm
Waist: 62 - 86cm





Alice and the Pirates Frill Sleeve Jacket with Belt

Stock image
Click thumbnails for larger images
Asking Price:
165 SGD, 140 USD shipped
worldwide


Condition:
Worn 3 times, no visible flaws


Size / Measurements:
Shoulder width: 15 inches
Length of Back: 20 inches
Length of Front: 18 inches
Length of Sleeve: 21 inches
Waist: 24 - 30 inches
Max bust 34inch





GAP short coat

Click thumbnails for larger images
Asking Price:
45 SGD, 40 USD shipped worldwide


Condition:
Worn once, no flaws

Size / Measurements:
Size S
Shoulder Width: 15 inches
Sleeve length: 16 inches
Bust: 38 inches Max
Length: 19 inches
waist -

Additional Comments:
This will look extremely adorable when worn with high-collared long-sleeved blouses. It also has functional pockets for you to put train passes, tickets and such. Perfect for days that are not cold enough for a huge warm coat but not warm enough to be out without any outers.





Dr. Martens Embroidery Vonda 14-Eye Boot (White)


Condition: Done lots of walking in them. There are dirt smudges and scuffs (see close up pictures). The soles are still in perfect condition though and it's perfectly wearable for winter and climbing/trekking.
Asking Price: 160 SGD, 115 USD (non-inclusive of shipping, which can be pretty hefty because of the weight.

Size / Measurements: EUR 37, US 6, UK 4





Off-brand Black Tote Bag with Silver Skull Prints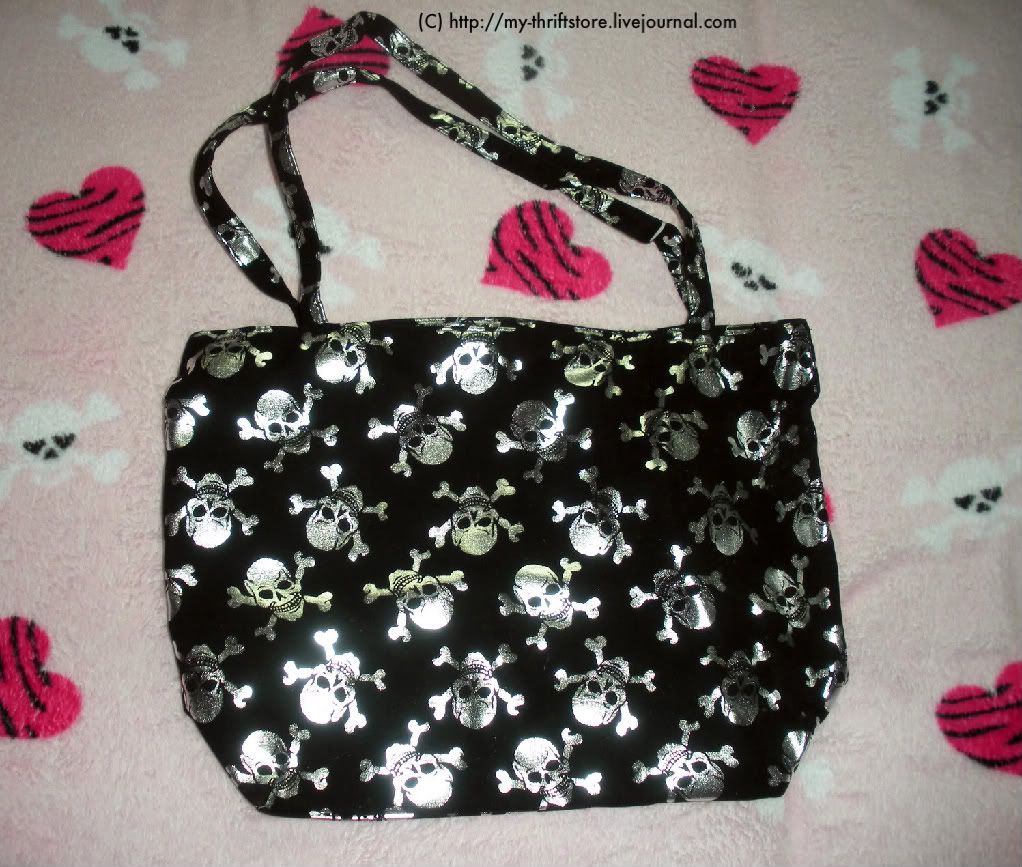 Right click on picture and select 'View Image' to see picture in enlarged view.
Local buyers preferred for this item
Asking Price:
5 SGD, 4 USD (non-inclusive of shipping)
Condition:
Brand New
Size / Measurements:
Precise measurements to be given on request