Rules/info:
-I only take Paypal
-All dealings are in USD
-I ship from Canada most likely, but you will be shipping to California (going to Cali for winter holidays)
-Please take into account my measurements when offering:
Bust- 36"
Waist- 29"
Hips- 34"
Height- 5'-2"
-If you need more pictures or info, please feel free to ask!

I love this dress to pieces but GDI it gives me boobloaf. I tried to ignore it, tried to adjust 'em, but I just have to face the fact that omg!boobloaf doesn't look good OTL

I have this version of the JSK: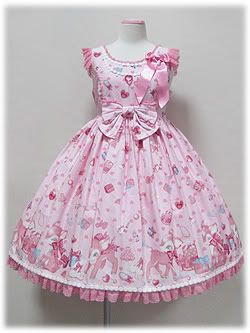 My picture: http://i6.photobucket.com/albums/y208/Chied/media1-29.jpg

+ pink head-eating bow

And want to trade for:

Milky-chan OP in black, pink or white
Starry Night Theater bare JSK in pink
Milky-chan applique JSK in pink or black
Rose Toilette JSK or OP in red (lol like that'll happen)
Circus Ribbon JSK in black
Or others~!

Umm... just offer? 8D

I will also partial trade for things like cardigans, pink bags, pink shoes and petticoats.

A note about the dress-
I got a spot of something on the dress, and it has been removed BUT my mom wasn't home yet so I could not enlist her help, so instead of dabbing like I should have I rubbed. The fabric in that one spot is just a TINY bit pilled. It's not visible at all when worn unless you REALLY look for it.

Thank you for looking!