I am clearing out the remains of my gothic lolita items, and making way for some classic lolita, so please take a look! Rare items ahead.

Please read the following:

- All prices below are in GBP (£). I will only accept payments in this currency.
- PAYPAL ONLY. PP fees apply for all payments, please use www.ppcalc.com to calculate the final amount for payment.
- Shipping is not included in the prices. I usually ship with first class mail (UK) or international airmail, please ask if you want faster and more reliable means of delivery.
- First buyer who pays the full price gets priority.
- I will have your items shipped out ASAP, from the UK.
- I do not smoke or have any pets.
- Once I have mailed out the item I am no longer responsible for any losses or damage.
- NO HOLDS OR TRADES, PLEASE.

If you have any questions, please do not hesitate to ask. My feedback (currently +13 on the DBS) can be found here.

--------------------

Moi-meme-Moitie Church Gate Print Skirt in Black x White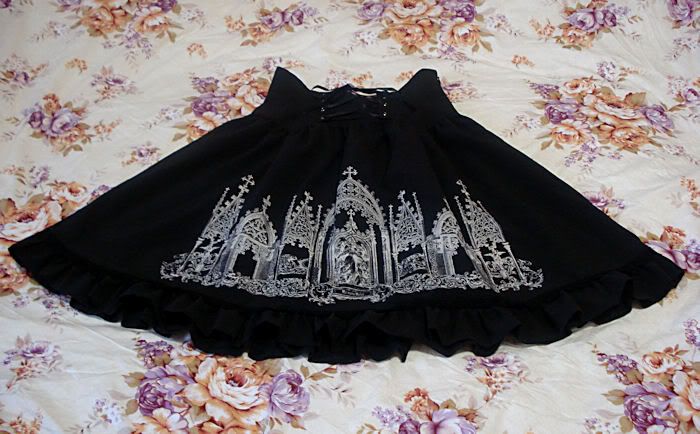 Closeup of corset lacing - Church Gate print

Another one of Moitie's gorgeous prints, this intricate church gate pattern is printed on one side of the skirt. Fake corset lacing decorates the waistline of the high-waisted skirt.

Condition: I bought this new in Shinjuku Maruione earlier during the summer, and have only tried it on once. BNWOT.

Measurements:
Waist: 70cm (maximum measurement, would be a little snug)
Length: 60cm

Price: £230 SOLD, THANK YOU!

--------------------

Moi-meme-Moitie Rose Haircomb in Black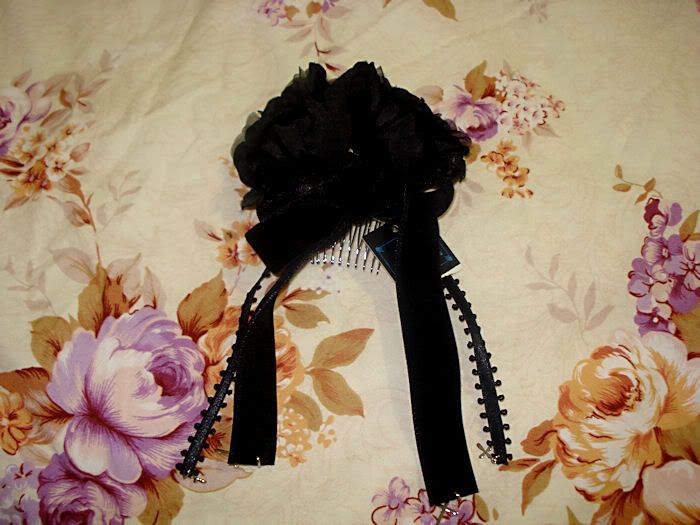 Back of haircomb

A coveted gorgeous hairpiece by Moitie. The roses are made of a stiff but light fabric, with velvet and satin ribbons attached to them. The velvet ribbons have small cross charms attached.

Condition: I also bought this new in Maruione, but have not worn it at all. BNWT, will be shipped in the plastic box it was bought in.

Measurements:
The corsages sans ribbons are roughly 9cm x 5cm x 5cm.

Price: £60

--------------------

I am still selling a h.NAOTO bag HERE (will consider offers) and am looking for a classic brand blouse in kinari colourway HERE.

Thank you for looking!