I had asked my shopping service to reserve AP's new SOLD OUT print, Marionette Girl, for me. However, seeing as they was unable to get my first preference, they had emailed me asking if I had wanted the skirt in wine. By the time I had managed to reply, they had already gotten it to save me disappointment. I am very grateful, unfortunately, it's not my color, so it must go.

It hasn't reached my shopping service yet, so I can't get some proof of ownership photos, but that can be arranged once that does happen.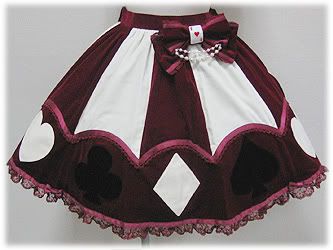 More photos here

Your price: ¥18,690 [retail price] + shipping to SS's house + Shipping of your choice to you + 20% SS's shopping fee.

NOTE: I am not making any profit off this.

Measurements:
[from website, translated into English]

If you are interested, please leave your email here. I will forward it to my SS, and she will contact you directly in relation to shipping costs, photos, etc. you will also be sending payment to them directly.