- Paypal only please
- I have 100% positive feedback on the loligoth database as well as my journal.
- Shipping (by airmail) is included
- I am not responsible for lost packages without tracking (you'd have to pay the additional cost for tracking)
- Open to trades but would prefer to sell it
- Please note that although I tried to take the measurements carefully, I'm not a professional
- If you have any questions, just ask!




Metamorphose Temps de Fille black velveteen set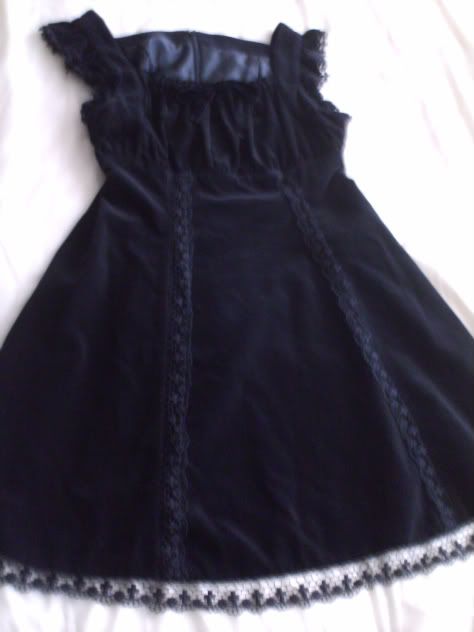 Lighter picture to show the details more clearly





Detail of cross-patterned lace





Detail of cross-patterned lace on straps

(same lace used on the headdress below)



Tags








(The picture above is the true colour of the jsk + headdress)




Lighter picture to show the details more clearly





I was so happy to get this dress, when I opened the package it took my breath away... only to find out it's too big on me :(!
This is one of Meta's gorgeous gothic lolita velveteen sets, it's brand new, I've never worn it (only tried it on) but I took off the tags (will include the tags though!). This set is not available on the website anymore but (as stated on the tag) was ¥29,800 (which is roughly $330) for the jsk alone. I'd rather sell it as a set, but I'll split the set if I there is someone interested in both pieces separately.
Comes with jsk, matching headdress and detachable waist ties.

Measurements:

Bust: 98 cm - 105 cm // 38.6 inches - 41.3 inches (has elastic)
Waist: 77.2 cm - 88 cm // 30.4 inches - 34.6 inches (varies due to waist ties)


Price (including shipping):
Jsk: $240
Headdress: $35
Set: $260

I am taking offers, so feel free to make an offer!


I'll also look at trades, but I'd rather sell (unless it's something I really really want). I like practically every style, so please show me what you've got! Thank you.