♥I ship from Vancouver, B.C, Canada
♥Shipping is included for Canada and US. International, please ask.
♥All prices are in USD
♥I have positive feedback at the loligothdbs
♥Paypal only, please
♥goes to the person who first gives me their paypal!



SOLD1. Size M White Bodyline Blouse
Worn lightly, like-new condition without tags. This is a really nice blouse, I'm only selling it because I already have another white long sleeved blouse similar to this one. Simply needs to be ironed. I did snip the ribbon in the back (from the corset lacing) because it was stupidly long when I bought it.
I am the original owner.

Price: $28USD shipped.


SOLD.2. Size M Pink x Pink Bodyline Fruit Parlor Replica
Only selling because this print doesn't suit me much, and I almost never wear it. No longer sold on Bodyline's website. In good condition, has recently been washed. Includes the headbow, which was originally part of the OP set. I will not sell them separately unless there are people interested in both.
I am the original owner.

Price: $45USD shipped.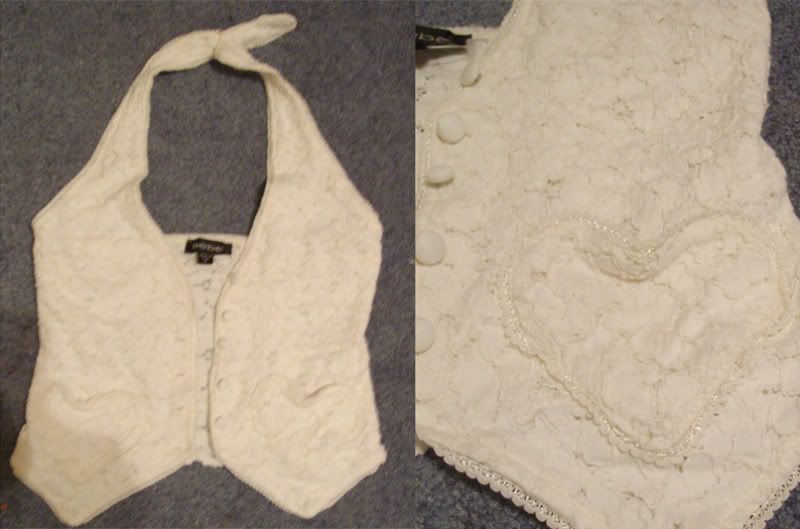 3. Bebe Sport Off-White Lace Heart Pocket Vest
Lovely, stretchy size M bebe sport vest, the neck straps are adjustable. More of a cream color than a pure white. This has a great deal of stretch to it, so it can fit probably up to a 36" or 37" bust. Adorable heart shaped pockets. Worn once. Actually cost me $50USD when I bought it new, it is now without tags.
I am the original owner.

Price: $35USD shipped




4. Black and White Anna House OP
Worn twice, no longer sold on Anna House's site. A really lovely OP, tons of room for super poof, my best friend (in the photos) and I have passed it between us but it doesn't suit either of our styles. No shirring, but fits up to a 36" bust. Originally paid $160USD for this.
I am the original owner.

Price: $110USD shipped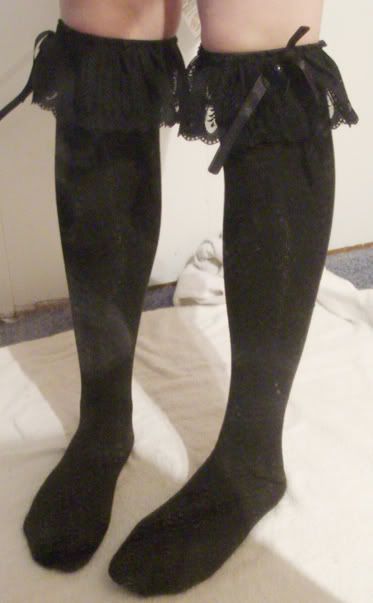 5. Off brand black socks
I already have a pair of black socks. These were worn once for a photoshoot and never again, sadly : (. Not recommended for calves larger than 13".
Bought off the comm_sales.

Price: $10USD shipped




6. English GLB's.
#1 - Summer 2008 edition. No longer includes patterns. Bought new, I am the original owner.
Price: $15USD shipped
#2 - Winter 2009 edition. Includes patterns. Bought new, I am the original owner.
Price: $19USD shipped