LUCKY BAGS ROUND #5 NOW TAKING ORDERS!
I'm currently offering
Lucky bags!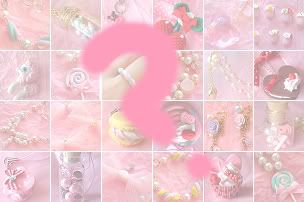 In each lucky bag will be the specified amount worth of handmade jewelry and/or handmade goods. Items may be copies of items I have for sale in
my shop (click for examples of what you might get!)
, or completely new, unreleased items. All items will be handmade by me.
Please specify if you have any preferred colors/styles and I will try my best to accommodate.
Small Lucky Bag: $9.00 (Includes $20.00 worth of merchandise)
Medium Lucky Bag: $19.00 (Includes $45.00 worth of merchandise)
Large Lucky Bag: $29.00 (Includes $70.00 worth of merchandise)
Just some of the items that were included in past lucky bags: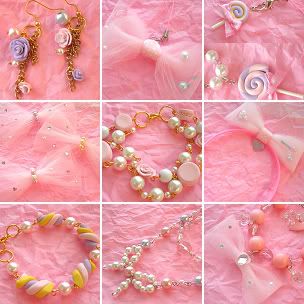 Payment Info

Paypal only.


No holds.


No trades.


I ask that the buyer covers the Paypal fee.

Feedback


Here and here.

Item Info


All items are handmade, so your item may vary slightly from the photographed item.



PLEASE NOTE BEFORE ORDERING!
Lucky bags take anywhere from 1 to 2 weeks to complete
You are not guaranteed to receive items that meet your specifications

A, B & C
Snowman cookie necklace (A)
$5.00
Tree cookie necklace (B)
$5.00
Gingerbread cookie necklace (C)
$5.00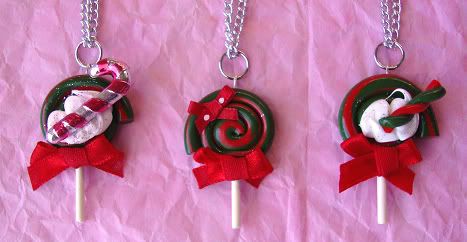 A, B & C
Christmas candycane lollipop necklace (A)
SOLD
Christmas ribbon lollipop necklace (B)
$4.50
Christmas candy lollipop necklace (C)
$4.50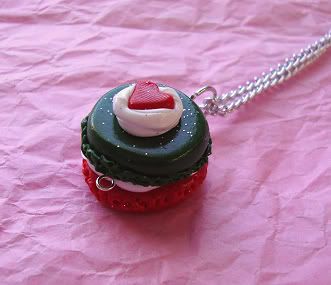 Christmas macaron necklace
$4.50