Hello everyone!
Quick rules:
-Paypal only at this time.
-Price is in USD.
-Price is negotiable within reason.
-I live in Canada, shipping is calculated by postal code if in Canada, state if in US, and country outside of US and Canada.
-I take some time to ship as the post office is a long walk from my house. If you need an item by a certain time, PLEASE LET ME KNOW and I will do my best to get it to you.
-If you need more measurements or pictures, let me know!
-For trades I am looking for other print and applique JSKs, particularly Milky-chan applique JSK, Mermaid Symphony, Rose Toilette, Heart Flocky JSK, etc etc. Only looking for items that contain a fair amount of pink or black. Other colours are okay, too, as long as they have enough pink or black to coordinate.

Onto the item!

I just got this dress off Y!JP and tried it on to find it's waaay too small for my bust @___@ Never worn, only tried on once. Only thing is when I was zipping it up, I dropped my hand and somehow managed to snap the thread holding one end of the big bow on the front up O-o; It should be exceedingly easy to re-do that stitch, or if you'd like I can do it as well C:
Other than that it is in perfect condition.
Measurements-
Bust: Less than 34". I have 36" bust and it wasn't even close to doing up.
Waist: 30"-31" max without being uncomfortable or risking the zipper breaking.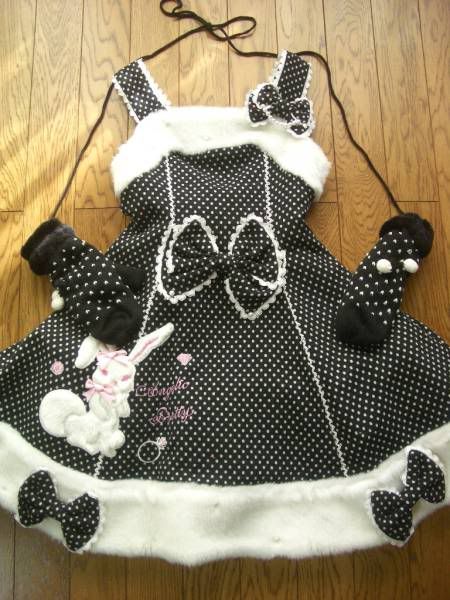 These are the pictures from the Y!JP auction. If you'd like a proof picture, please let me know, but be warned I only have my webcam and cellphone camera.

I'm looking for offers around $200.

Thanks for looking! Please read all rules.