Hello there!
So I've looked through my closet and figured out there's a lot of sweet lolita I don't wear enough to justify keeping. Boo.

RULES! RULES.
I. Shipping is for within the U.S. If you want something shipped internationally, please ask. I will happily combine shipping, as well.
II. I'd prefer to do the transaction over Paypal.
III. I'm very much open to trades, so please show me what you have if you'd like to do a trade or partial trade. I love sweet and classic lolita. Reasonable offers are also considered.
IV. I have a cat at home, and I stored my clothes there at one point. They're clean and cat-hair free (of course!).
V. I've just started doing Internet transactions myself. This is my eBay feedback page. Especially in light of recent events on the community, I'd like to do everything I can do to be a good seller. If you'd like more detailed measurements, photos being worn, or anything else, let me know!

THE THINGS.

Angelic Pretty Blouse


At standard Angelic Pretty blouse sizing, it is just a bit too big for me. It has nice details, including a shirred back, detachable sleeves and gorgeous blue ribbons. I have worn it out twice for a few hours, but it looks new. I have attached the buttons more strongly with matching blue thread.
DOWN TO $92 from $115, plus $7 shipping.

Baby, the Stars Shine Bright Cutsew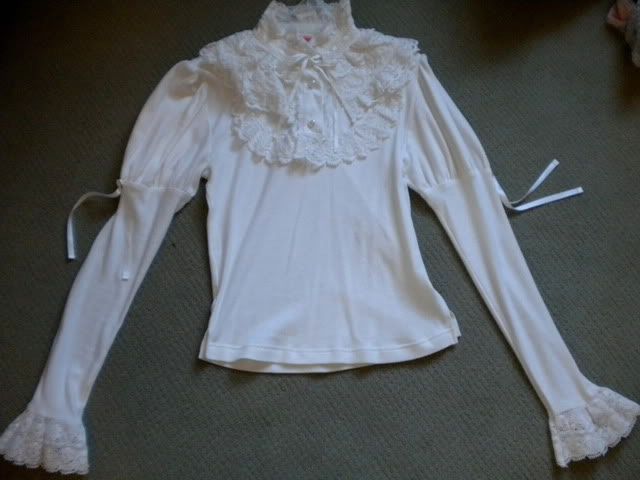 (Photo taken on carpet instead of wood floor.)
Snuggly, versatile long-sleeved cutsew with beautiful lace. I have worn it once, but it looks new. BABY says it should fit an 80 cm bust, but it's stretchy and would accommodate many larger sizes.
DOWN TO $72 FROM $90 plus $7 shipping.

Baby, the Stars Shine Bright Skirt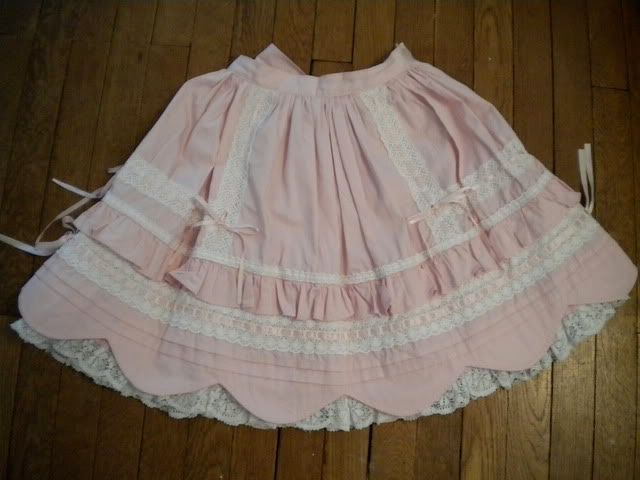 Purchased worn before on Yahoo!Auctions through Celga, but never worn by me, this is an adorable and classic BABY skirt. It's got lots of nice details, like the scalloped hem and beading lace. Plenty of life left in it!
Length about 19-19.5 inches including lace, waist 24 + a couple of extra shirring inches.
DOWN TO $68 FROM $85 plus $7 shipping.

Baby, the Stars Shine Bright Momoko Gingham Skirt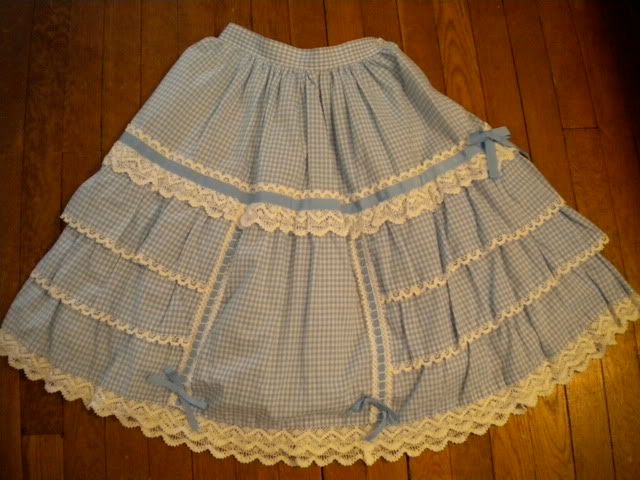 Momoko wore this same skirt in Shimotsuma Monagatari/Kamikaze Girls! I bought it off Yahoo!Auctions, but it looks new, with lovely pastoral Rococo side frills and pretty grosgrain ribbons.
Length around 23 inches, waist 24 + a couple of extra shirring inches.
DOWN TO $88 FROM $110 plus $7 shipping.

Have a beautiful day!