Hello!

- I have +4 positive feedback on the dbs; no negative or neutral. I also have positive feedback in my journal.
- I ship from California. I don't have any specific shipping dates, but I'll notify you when I send it out.
- I include tracking in all my shipping to the US.
- I would prefer US buyers!
- I accept payment through paypal only.
- I will skip to the next willing buyer if I'm not replied to within 5 hours, unless I'm told ahead of time.
- I leave feedback with everyone I do business with, and would really appreciate the same!
- I live in a pet and smoker-free home.

I am selling two Bodyline long sleeved blouses; one black and one white. They're both brand spankin' new, only tried on for a few minutes until I realized the sleeves were about an inch or two too short for me and cried haha.They've been hanging in my closet since. I'd just like to get close to what I paid for them.
(the white blouse looks a little yellow-y in some photos; this is just my camera/lighting. It's perfectly white)

Stock photo of black blouse: http://www.bodyline.co.jp/bodyline/showProduct.asp?id=1796&pageNumber=1&pageStop=stop_26&noSubType=N

Measurements state: Length 55cm
Bust 93cm
sleeve length 63cm
shoulder length 39cm

Annnnnnd, I can't seem to find the stock of the white blouse. Maybe it sold out? Both bouses fit me fine, so I assume the white is the same/simular as the black sizing-wise. The black can go smaller though since it has lacing in the back (see below pics)

Each is $25 shipped in the US. (for both it's $48 shipped)
Black blouse has been sold!

Black blouse:



The back can be adjusted.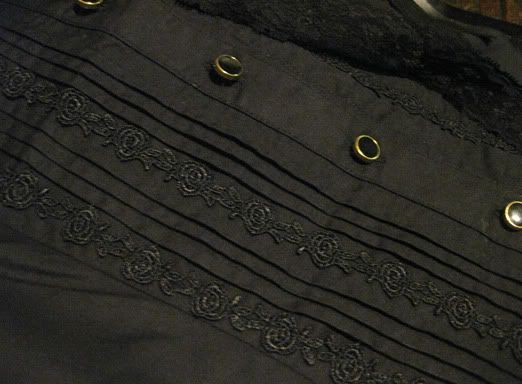 Button and details; they're really nice.



Sleeve detailing



The collar has this ribbon-y thing attached.



But it can be detached.



Collar sans ribbon
-------------------------

White blouse: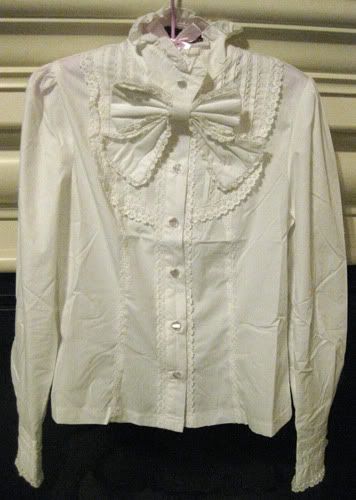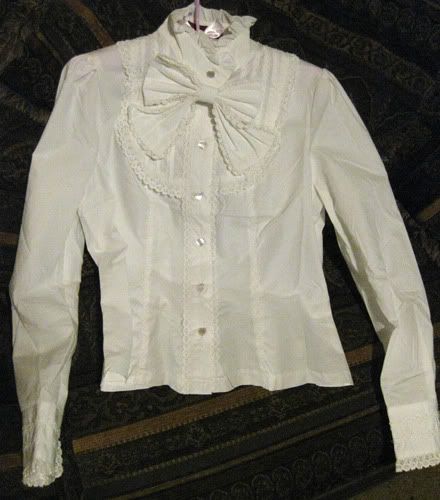 Cuff detail; the heart buttons are soooooo cute.



Collar with bow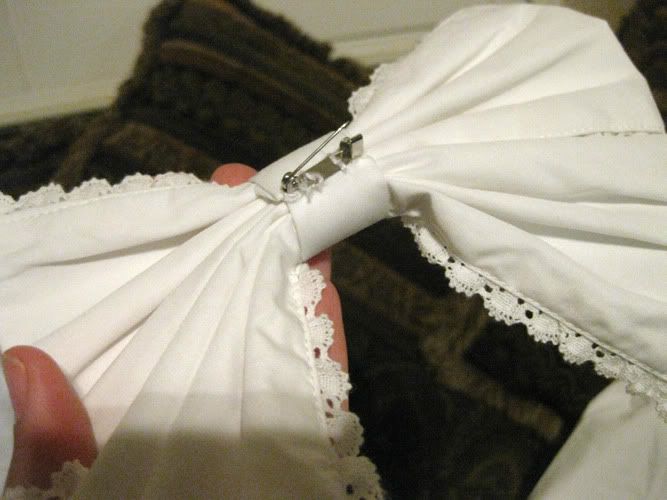 Also detachable.



Collar sans bow

Thank you!