INFORMATION
~ Please read carefully
× All stated prices and costs are in Euro
× I accept offers via PM
× You can find my feedback here on Ebay: http://feedback.ebay.de/ws/eBayISAPI.dll?ViewFeedback2&userid=d-rey&ftab=AllFeedback

Payment

× Paypal
× Buyer pays the Paypal fees ( http://www.rolbe.com/paypal.htm )
× Payment should be sent in 3 days, I don't do holds.
× No exchange, no refunds.

Shipping

× I am shipping from Germany (Europe) and I ship internationally and I prefer to ship to Europe.
× Shipping is not included in the price.
× I will ship the package after full payment is received.
× I will use the adress which is given at Paypal
× I only send insured and with tracking number!
× If you want the package to be marked specifically in order to avoid custom charges let me know.
× Custom duties are your own responsibility.

Shipping Prices

× Shipping via DHL
× includes tracking number

Germany 6,90 €
EU 17,00 €
Europa without 30,00 €
World 35,00 €

Other

× My home is smoke-free and I don´t have any pets.
× If you have any questions at all or you need more pictures please let me know.
1.
Baby the Stars Shine Bright "Sugar Bouquet" JSK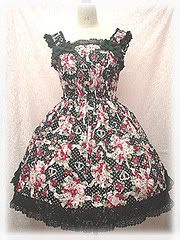 Print: Sugar Bouquet (シュガーブーケ)
Color: black (with black lace)
Size: S/M (full shirring)
Condition: worn twice, good condition


remember-I have the black version
mypictures
Print


This is the JSK of the serie "Sugar Bouquet (シュガーブーケ)" by Baby the Stars Shine Bright in black. The dress has full shirring and a black bustle back. The dress owns so much beautiful lace and is really heavy! The print includes bouquets with lovely bright flowers and strawberries!
The waisties are removable. The dress is really cute and very beautiful.
The original price was around 29,190Yen


[SOLD] Thank you





Thank you for watching