Terms & Conditions


1. I accept payment via paypal & bank transfer (buyers in Singapore)
2. Delivery through meet-up (buyers in Singapore only) or postage (buyer bears postage fees)
3. If you don't like my price, feel free to propose yours, but be polite & reasonable and don't be upset if you get turned down.
4. All goods sold are non-refundable.
5. Don't be afraid to ask for more photos & info. I won't bite.
6. Not doing trades at the moment.
7. I have feedback here to prove that I'm a legitimate seller/buyer.
8. I ship overseas. All prices listed are not inclusive of postage unless otherwise stated. Please tell me your shipping location when enquiring about postage fees.
If you are not a livejournal member, I'm contactable via email angieng.sales@gmail.com

Disclaimer: All photographs are taken by me, unless otherwise stated. You get what you see. However, due to lighting issues, the colour of the item may differ slightly from the original. I'll try to avoid this by editing the colour contrast of the photograph to make it closer to the original colour. Apart from this, I will not edit my photographs to enhance the appearance of my items.







Mary Magdalene St Claire OP
(very rare and popular design!)

Stock image
Click thumbnails for larger images

My dress is the one in brown (First one in the stock image). Due to lighting, the colour looks different in each picture. sorry about that. The colour is closest to the first image.


Asking Price: 360 USD

Condition: Worn once and dry-cleaned. Brand new condition.

Size / Measurements: Precise measurements to be given on request

Additional comments: This is the dress that made me fall in love with Lolita fashion. It has always been my dream dress and I was so happy when MM re-released this design early this year. Unfortunately, the dress is more suitable for taller lolis (which excludes me) and is also too hot for the tropical climate. After not touching it for about half a year, I decided to sell it to someone who would use this dress more. This dress is perfect for lolis residing in countries where the climate has gone colder! It also has a very flattering cut and gives its wearer a very elegant silhoutte.





Victorian Maiden Beth Pintuck SOLD!






Beeshop Past-shoulder Curly Wig (Non-Heat Resistant)

Asking Price:
21 USD
Condition:
Worn once and washed. No visible flaws but could do with a little brushing to look neater. On one side of wig (somewhere above ear when worn), some of the fibres are clumped together (already in this state when i received it), but it is not visible.
Size / Measurements:
Precise measurements to be given on request

Additional comments:
Looks a tad shiny under the flash, but looks reasonably realistic under natural lighting. The people whom I met at the meet-up which I wore this wig to didn't realize it was a wig until I told them so.





Off-brand Purple Gingham Halter Dress

Colour closest to first image
Asking Price:
7 USD
Condition:
Worn once. No visible flaws.
Size / Measurements:
Length: 80cm / Bust: Free-size (elastic at the back) / Waist: Max 30inches





Dr. Martens Embroidery Vonda 14-Eye Boot (White)

I walked around Oklahoma City in winter in these boots and even trekked up some mountains. I also went tracking around Tokyo in them. They're very hardy. Despite so much walking over rough terrain, the air-soles are in excellent condition, a little dirty, but no sign of wear and tear. Scuffles and creases are pretty much inevitable and I've cleaned them up as best as I can. I painted some white shoe paint over the scratches. Not sure what I can do about the black patches on the zipper and edges, but if you're wearing them for punk lolita or some grunge rock outfit, I suppose some signs of 'roughing it out' would give you a cool edge? XD They're comfortable and give me a great sense of security. Excellent foot wear for winter because they do keep my feet warm.
Asking Price:
115 USD
Size / Measurements:
EUR 37, US 6, UK 4




The following items are not Lolita fashion items on their own, but I think they make suitable accessories for Punk Lolita. Though I've actually never had much interest in Punk Lolita so if I'm wrong about this, let me know and I'll remove them.








Off-brand Furry Black Cap with Chains SOLD!






Off-brand Black Tote Bag with Silver Skull Prints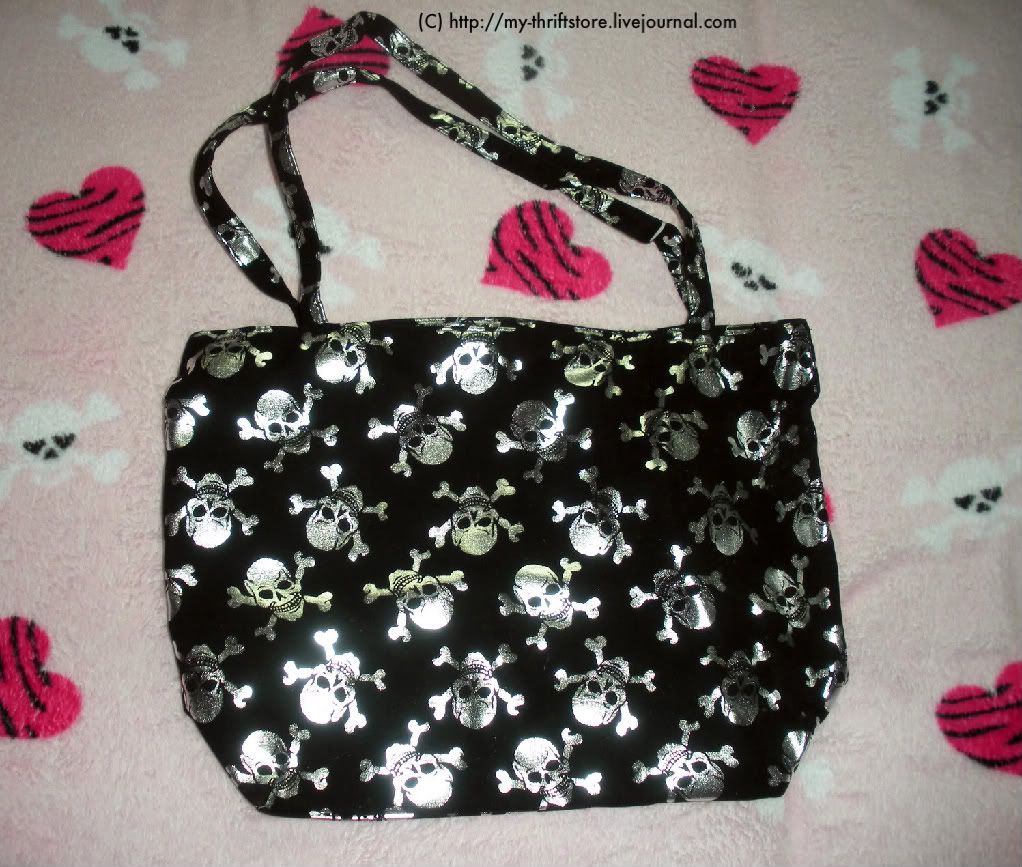 Right click on picture and select 'View Image' to see picture in enlarged view.
Asking Price:
4 USD
Condition:
Brand New
Size / Measurements:
Precise measurements to be given on request