I acept PayPal, money orders, and concealed cash sent through the mail. However, if you pay me through CC-PayPal, please pay the fee. Here's my ebay feedback:
http://myworld.ebay.com/broken_thoughts27

I also have feedback on my homepage. :)

All prices include shipping in the US. I wil ship abroad, but it will cost slightly more. :)

Innocent World Prince Top (rose) - $130 shipped
This is perfect, like-new condition! I reaaaalllly don't want to sell it, it's gorgeous. I bought from Y!J but never wore it because I have nothing to match, so I've decided I should sell it. It is no longer on sale, and this is the only time I've seen it on sale on Y!J or mBok, and trust me, I live on those sites. So this is a rare chance! The original price was around 15000 yen, not including shipping and shopping service fees.
Size Large
Bust: 36-38"/ 91-96 cm
Waist: 28-32"/71-81 cm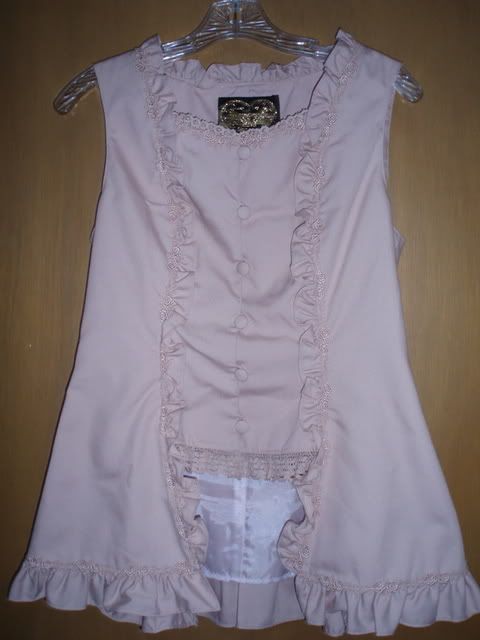 Close up on the top of blouse:


Close up on frill at the bottom:




Innocent World Prince Pants (black) - $100 shipped
These pants are in like-new condition! I love them, but I need the money. The original price was around 14000 yen.
Size Large
Waist: 30"/ 76 cm
Length: 25"/ 63 cm

My Photo (sorry the lightings funny, it makes them look blue):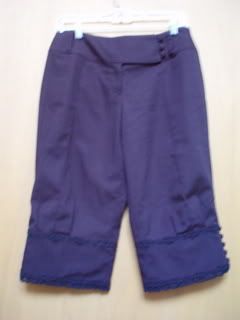 My Photo of Details (and in this lighting, they look brown):


Back Pocket:



My pants look exactly like these, except the bottom has lace and not pleating, and there are buttons at the waist. So, again, WARNING! The below pants are not the EXACT pants that I am selling!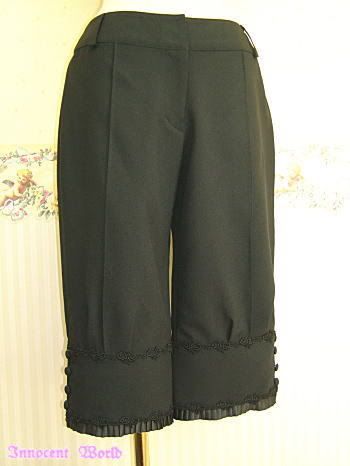 Algonquins Gothic Cross Jacket - $70 shipped
In awesome, like-new direction! Has straps at the waist that can be used to adjust the side, along with a pleated skirt bottom. Perfect for wearing over a dress! ^_^
Waist: 30"-38"/ 76-96 cm
Bust: 36"/ 46 cm (Fabric can stretch fairly well, but it distorts the print, so nothing more than 38" is likely to fit well)




And I'm selling GosuRoris, KERA magazines, and Gothic, Lolita & Punk Books here:
http://community.livejournal.com/egl_comm_sales/720198.html