hi ^^ I need to clear out my closet a bit. a lot of stuff I don't wear '_'


everything that was purchased has been shipped
not sold: meta blouse, an*ten*na shoes
you can make offers if you'd like :)
however, please note I won't be able to ship until the end of November since I'll be back at school and I don't bring all my stuff with me. thank you.


prices include shipping to Canada and USA.

for air mail shipping to other countries: please add $5 with the exception of the shoes. I can get an estimate for other countries but I'm not expecting it to be cheap due to weight and dimensions. also, for the AP necklace, shipping is included to anywhere.

I take all types of Paypal except eCheck because I am shipping out this weekend.


an*ten*na shoes




more pics:
front view: http://i103.photobucket.com/albums/m131/angelic_chorus/pics/ant_shoes_front.jpg
inside: http://i103.photobucket.com/albums/m131/angelic_chorus/pics/inside_shoes_ant.jpg
clasp: http://i103.photobucket.com/albums/m131/angelic_chorus/pics/clasp.jpg
bottom of shoes: http://i103.photobucket.com/albums/m131/angelic_chorus/pics/bottom.jpg
heel height (just a bit under 2 in.): http://i103.photobucket.com/albums/m131/angelic_chorus/pics/antshoesheel.jpg

size: SMALL - fits US size 5-5.5, JP 22cm~ (I wear a 6 and it's just a little bit too small even though I can put my foot in it -_-)
condition: used with a few scuffs. not too noticeable, but you can see them in the pictures
price: $55, Or Best Offer

Angelic pretty novelty necklace (SOLD, shipped)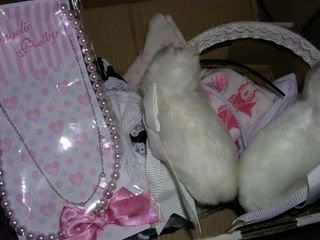 *earmuffs are for sale - see below*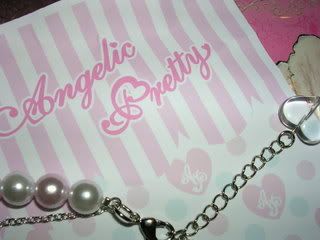 condition: new in packaging, never worn
price: $27, OBO

Baby, the stars shine bright Earmuffs (as seen above) (SOLD, shipped)

full pic: http://i103.photobucket.com/albums/m131/angelic_chorus/pics/earmuffs_1.jpg
close up: http://i103.photobucket.com/albums/m131/angelic_chorus/pics/earmuffs_2.jpg

colour: white x white
condition: New w/o tags - I don't think I'll actually ever wear them. --;
price: $58, OBO


Anna House Fashion Dress (Brown) (SOLD, shipped)




bad photo as proof of ownership: http://i103.photobucket.com/albums/m131/angelic_chorus/pics/annadress1.jpg

size: size : bust 34-38in, waist 28+ (not sure what the absolute max is. my waist measurement is around 28'' and there's room, so I'd say at a max of 30~ for comfort ^^), length 35in, sleeve length 9in
condition: NWOT - I only tried this on since I got it. It's really comfortable, partly due to the elastic shirring in the back =D
price: $65

Metamorphose Black Blouse



back has shirring + waist ties
link to Meta's site w/ measurements: http://www.metamorphose.gr.jp/onlineshop_eng/sale/107299040019.php?ssid=132e21181071017144556
condition: NWT - I already have another black blouse very similar to this one ^^
price: $60

Metamorphose black lucky pack skirt (PAID, shipped)



condition: like new, not sure if the previous owner wore it. comes with the waist ribbon + detachable bows
size: waist 28 inches minimum, up to 40 inches+ as the waist is fully elasticized
price: $75, OBO (the skirt is on the heavier side ._.)



that's it. thanks for looking!