Payment accepted for the highest offer via Paypal bank transfer. Credit Card payments are accepted with an additional 4%.
All items come from a smoke-free pet-free home. Selling as these either don't fit me or don't match with anything I have.
Miho Matsuda bubblegum pink leather wood platform boots
size S (5-5.5, perhaps a 6)
super killer awesome. A great addition to your punk and lolita wardrobe - a gothic styled find that comes in pink!
in fantastic condition but note that there are minor signs of wear on the shoe, scuff on the toe and on the side of one of the shoes but the side scuff is barely noticeable (check out the photos with and without flash).
Miho logo is embossed on the white insole. The leather is buttery soft and so comfortable to the touch, and the soles are of solid wood. Features leather laces cut from the same pink leather. The shoes can lace all the way up the shaft of the boot, which reaches about the low calf height.
I would keep these but a size S is really pushing it for me so it needs to go to someone with the same or smaller size feet.
Toe box is very high. There is a significant amount of vertical room all along the instep and the toe of the shoe that can be adjusted with inexpensive shoe pads. Add in another $5 and I'll toss in a pair of red T.U.K skull-print shoe insoles.
The wood soles are a pretty sturdy weight.
$90 shipped OBO
Canada +$10
UK / Italy / Australia +$15
Miho Matsuda Floral Brocade OP
sold to
dyrmagnos
size: M
I'm way too small for this dress, although it does adjust quite a bit smaller because of the waist ties. Features crinkly stiff tulle under each ruffle for support and floof!
Rose brocade fabric in a royal milk tea color on taupe. It is a rather rare color way that I haven't seen before. Please observe the photos with and without flash for more detail.
Features a ruched neckline, puffed sleeves with black lace trim. Four separate waist ties at each side of the waist can adjust the torso to a slimming effect. Fully lined in black satiny fabric. The decorative ruffle has its own tulle support underneath.
Bust / Armpit to Armpit seam: 36"
Waist: 32" at max, adjustable waist ties to the princess seam to 20" minimum
Measurement at decorative tier ruffle: 44" at the stitching
Length from shoulder to bottom hem: 38"
$95 shipped OBO
+$8 to Canada
+12 to UK/Italy/AUS
The brocade OP would look really quite nice with the summer hat and the chain purse that I'm also selling.
Gunmetal gray metal hardware clasp and detacheable chain, features a gunmetal steel colored gothic crown insignia.
$65 shipped.
Canada +$5
UK/Italy/Australia +$8

Done Well brand straw hat.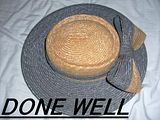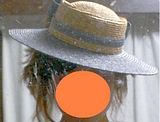 Cute woven summer hat that features a sax blue / gray dyed brim, and decorative bow of self materials affixed to the hat brim.
Please name a price.
K-Star brand Trump Motif blouse

ZARA
Pink boucle jacket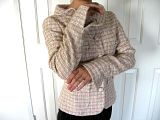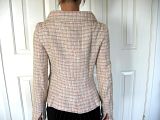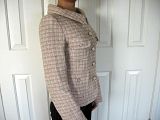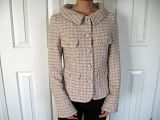 Self-fabric buttons
Lined
Very good condition, pre owned
Slight pilling of fabric at bottom edges.
Size: 4
$15 shipped OBO
Additional items for sale at my sales journal.
( Algonquins x KERA shop collab cat ear jacket reduced to $90 shipped )
( Lip Service Gingham Top XS NWT reduced to $10 shipped )
( Lip Service Gray/Burgundy punk styled top, XS NWT reduced to $10 shipped )
( Kodona style Black / Plaid Button Accent cabbie hat $15 )