I have a little bit of feedback (positive) under this username on the DBS, but I really don't sell very often, so please understand if you decide to place a transaction with me. (:


Shipping is from the east coast USA and all prices are in USD.
I only accept Paypal. Items will be shipped priority, and I will try to get it out in the next few days.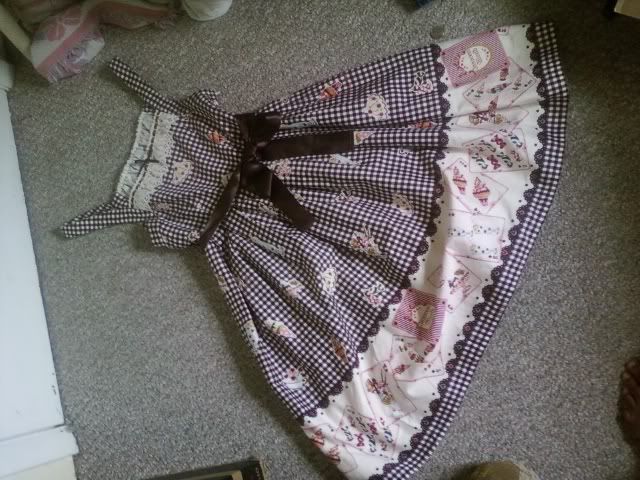 Proof of ownership.

I'm selling an Innocent World JSK with lovely sweets and card detailing. I really wish I didn't have to sell this, but it just doesn't fit me and probably never will. ): It's normal IW sizing, and the back is partially shirred. The measurements are:

Bust: 80 - 96 cm (might fit up to 100, but I wouldn't risk it)
Waist: 60 - 85 (high waisted)
You can adjust the straps with buttons if you need to make it longer or shorter, but overall length is 93 cm.

I originally bought this for $180 from another user and I haven't worn it as it does not fit. The condition is excellent. This is my second listing of this item, so the price has been reduced 20% per the community rules. I'm looking for $130 USD shipped. Sold, thank you!

I'm also selling a pair of Demonia shoes. I was sent the wrong size so I'm letting them go. They are a Women's US size 9.5 - 10 (26 cm on the inside). They are mint, unworn condition and still in the original box. They can be laced up with ribbon or shoelaces and will be included with the shoes. I can take more proof of ownership pictures, but the ones I have on hand are my Poupee images with them out of box. I' looking for $45 shipped , but I am willing to negotiate if you are unhappy with the price.

http://pupe.ameba.jp/item/_cUk-z0pewDS/nWkqZLWp5IAY/

Proof of ownership.

Let me know if you have any questions or would like more pictures, but serious buyers only please. Thank you.