Hello Ladies! I have a few pieces in my closet that are very cute that I have never worn. I hate keeping them there, and would love for them to go to a new home and be worn. They are too pretty to be stuffed up in the closet!
I accept paypal only on these. If you are paying with CC please include the fees, and shipping is not included. The following are in US dollars. Everything comes from a smoke free home and I do have a bunny but he is not allowed near the lolita clothing.
Innocent World Multi Piece Blouse - NWOT $165
SOLD
This blouse is amazing. It is shirred in the front and back and laces up the front. It has neck ties, a set of sleeves, even an additional collar! NOTE: If you are tall and a bit busty (like me) this blouse will make you look short, fat and dumpy. It fits me no problem (with a 100ish cm bust) but I cannot make it look good on me to save my soul. I totally hate to part with it because it is an amazing and versatile piece. It has only been tried on twice for no more than 5 minutes.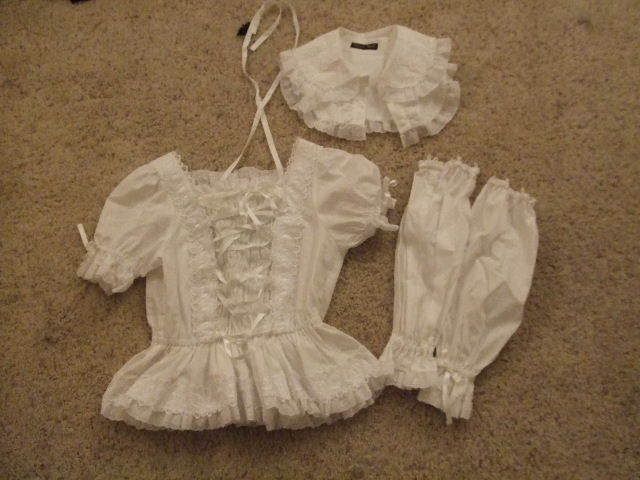 Additional Phot can be found here:
http://i123.photobucket.com/albums/o312/rmajoros/2007_1024Photos0043.jpg
AP Mint Skirt - NWT $170
SOLD
This skirt is so pretty. The website said it was larger than 68 cm, but it is 70 cm max. It has never been worn and it is new with tags. This skirt sold out pretty quickly, and is in pristine condition.

Addtional Photo can be found here:
http://i123.photobucket.com/albums/o312/rmajoros/2007_1024Photos0045.jpg
Secret Shop AP Tea party Replica shoes Size L (24.5 cm) Never been worn $50
SOLD
These are white Secret Shop Replicas. The bows are in my car somewhere and I will find them once I clean it out I know it. When I do they will be shipped at my expense to the buyer. They were tried on once, but are a bit uncomforable to me and not really my style.

Meta Lilac Pinafore Dress - NWOT $105
PENDING
This is a really pretty dress and perfect for the bustier lolita. I have a 100ish (depends on the bra) bust and it fits me with room to spare, so I suggest maybe 105-110 cm max on this dress. There is shirring on the front and back of the dress and it has ties up the back. I have never been able to coordiate this dress, but it is such a pretty color.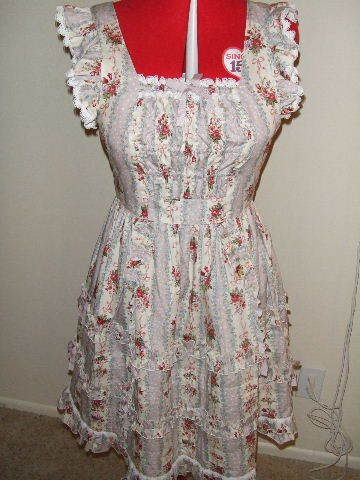 Additional Photo can be found here:
http://i123.photobucket.com/albums/o312/rmajoros/2007_1024Photos0048.jpg
Meta Sweets Tote Bag in Pink - $15
On Hold
I am not a tote bag fan, but got this with the Meta sweets set. I have never used it, but it has been washed and used before.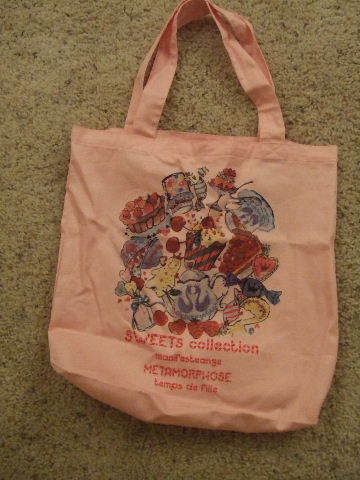 If you have any questions, please let me know!