Sucessfully sold. Item was delivered and recieved on the 31st of June. =D




=-= My cut turned out odd but at least there's a cut. Sorry about that.
- I only accept Paypal
- Shipping is by Registered mail.
- Am not responsible for any packages lost after posting. (Proof of Posting will be shown to you to prove I've posted it.)
- Can ship the following day. In the event it's a Sunday/Public Holiday I will ship the following business day.
- No one smokes in my family, nor do I own pets. I don't believe the previous owner did either.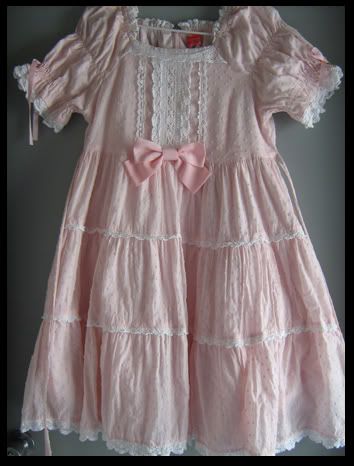 Back
Label
(Baby the stars shine bright)
Stock
(It's the older Desert OP they have out now. I think it's a lighter shade of pink then the current ones.)
Measurements: (Taken flat then doubled - exception: length)
Bust: ~86 - 90cm approx (34 - 35 inches) < I am about a 82 so it is kinda big on me. It measures 86cm but I think it could go to 90cm as I've seen the different dress, same style on egl and people said they could fit into it.
Length:~90 cm approx. (35.5 inches)
Waist:84cm(33.07inch) < This is when you don't use the waist ties. I'm a 25 inch (64cm) waist and I wore it just by tightening the waist ties.
Price + Shipping + Paypal Fees + Condition of Dress:
$140 Shipped. Paypal fees inc. to America. (UK is a bit more expensive - if your in Australia it'll be a bit cheaper. I might make it a bit cheaper if you have brought from me previously.)
The dress is second hand, I believe the previous owner wore it a few times. I got it. Dry cleaned it. Wore it for a few hours (2 or 3). Washed again.
There are two minor flaws. Folding lace (but that can easily be fixed if you place a fairly thick cloth in between and iron it. The care label says that's how you would do it if you were to iron this dress but I can't find my iron)
And the hook and latch seemed to have been moved - not by me =_=; I'm totally skill less in sewing - but by the previous owner I can suspect but it is not obvious. Here's the
photo
for your inspection.
Otherwise there is nothing else that I can find.

Reason for selling:
My main reason is because I havn't worked in a month and the new Uni term is going to be costly and there's stuff to be paid. It's why I'll accept the first person to pay the complete price. It's also a tad big on me as well so there's not heaps of point in me keeping it despite the fact it pains me to sell it as it is one of my basic coloured favourites.
If you need more photos. Please post and I'll go take them if I can. I'm pretty quick with replies so I expect the same in return.
I am open to other price offers.