Sorry rules first!

~I will consider partial trades but no full trades as I desperately need money right now
~I have over 40+ positive feedback on the database
~I ship from the US but am willing to ship international
~I will take higher or lower offers
~My auction is loosely timed for four days, if there are people interested in bidding beyond that I will continue it so don't worry about getting a bid in right at the last minute!
~I ship first class or parcel post based on weight and the one to three week international mail.
Insurance is extra

~~~~~~~~~~~~~~~~~~~~~~~~~~~~~~~~~~~~~~~~~~~~~~~~~~~~~~~~~~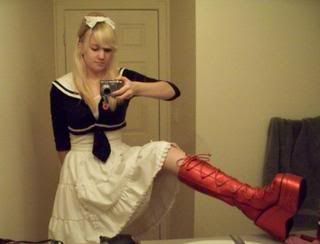 DA: Rare red platform boots by Demonia
These are gorgeous rare boots that are in amazing condition.
PLEASE do not ask me where I got them! I bought them used years ago and she bought them from a boutique.
I have never seen them for sale online.

Detail shots:
http://img.photobucket.com/albums/v232/TheKiwiness/red2.jpg
http://img.photobucket.com/albums/v232/TheKiwiness/red3.jpg
http://img.photobucket.com/albums/v232/TheKiwiness/red4.jpg
http://img.photobucket.com/albums/v232/TheKiwiness/red5.jpg


They are marked as a size 8 but here are the measurements taken to the best of my ability
Insole length: 9 1/2"
My foot is 9 1/4" and that fits just right
My foot is 4" wide at the widest part which is also just about right
The front of the shoe when not worn is 3 1/4" off the ground. The platform itself at the front is 2 3/4"
Back platform: Nearly 5"
Height of the boot up the leg (not including the heels): nearly 14"
Calf: 14 1/2" around
My calves are 14" around and it's just fine. They don't need to fill it out completely

Please note there is no give or stretch to the shoe material.

These shoes have the normal minor signs of wear.
There is a small dent in a place or two and two minor scuff marks at the very bottom of the heel on one shoe.

Starting bid: $30 (reserve not met)
Current high bid:
Shipping: $13 in the US $20 international.
These are very heavy shoes!

~~~~~~~~~~~~~~~~~~~~~~~~~~~~~~~~~~~~~~~~~~~~~~~~~~~~~~

Blue Bodyline jumper
There is slight back shirring with ribbon lacing and back ties that are not removal

Only worn once for a few hours
Length: 35 1/2"
Bust: 30"-35" max. I have a 34" bust and it fits comfortably.
Waist: 26"-31"

Price: $35
Shipping: $6.5 in the US $8.5 international
Sold Thanks!

~~~~~~~~~~~~~~~~~~~~~~~~~~~~~~~~~~~~~~~~~~~~~~~~~~~~~~~~~~~~~~~~

Angelic Pretty pink cutsew

Bought second hand and only worn once.
It's really meant for more of a plus size.
Please note: The price and measurements are because of alterations I did.
I took in the side seams about an inch on each side to fit me better. This can be undone but I'm sending it as is.
The meaurements therefore can get larger if you want me to take the stitching out before sending it otherwise I won't.

Length: 18"
Bust: 32"-39"
Waist: 29"-34"
Sleeve length from seam to end: 24"

Price: $45 shipped in the US $50 shipped international
Sold Thanks!

~~~~~~~~~~~~~~~~~~~~~~~~~~~~~~~~~~~
Past sales: Fairytale print skirt and apron
http://community.livejournal.com/egl_comm_sales/6876657.html

Thanks!