My prices are negotiable, and I am up for trades (and can even throw in some extra $$$ to even it out if need be), so please feel free to offer!!


-----------------------------------
Fan+Friend Open Pleat Plaid Skirt
-----------------------------------
I just received this skirt today only to discover that I'm a complete idiot and ordered the wrong size, and no amount of healthy/unhealthy dieting/exercise will move my heftiness into it.



more details here: http://www.fanplusfriend.com/servlet/the-335/Gothic-Punk-Rock-Lolita-cln-/Detail

The size I ordered is their UK10/US8/EUR70/JP M.
The color is pretty true to their color swatch, however the only difference is that the blue is a bit darker than in their picture.



and proof that I have it:





Again, this skirt is absolutely New, and hasn't/couldn't been tried on at all. This skirt retails for $39.99, not including their shipping cost.
I would like $38 with Free Shipping here in the US for this skirt. International, please inquire, I'm willing to split the cost with you. =)


---------------------------------------------
Vivienne Westwood Little Medal Ring - Pink
---------------------------------------------
This is an Authentic Vivienne Westwood Little Medal Ring in Pink. It's Sterling Silver and a size Medium (about 6.75 US size). The size and the 925, as well as the VW mark (though the VW mark is hard to see on this ring, but all of the rest of my sterling silver pieces have this marking too) are all stamped on the back of the ring. It comes complete with the box, pouch, and care card.

This ring was worn a total of one time since I've had it, and even so it was probably for about an hour or two before I took it off and put it away. It's a very cute ring, but the pink just doesn't go very well with my skin tone and looks strange, so I'm hoping to get a different ring that suits me better in selling this one. There are a few Very light tiny scratches on the top of the ring by the pink, but I'd say that they are virtually unnoticable unless you're looking very closely. I would say this ring is still in like-new condition.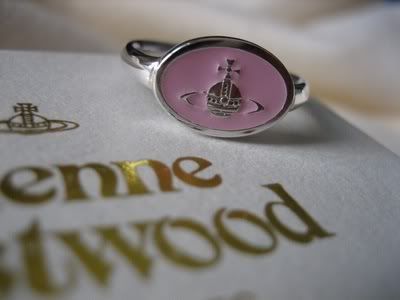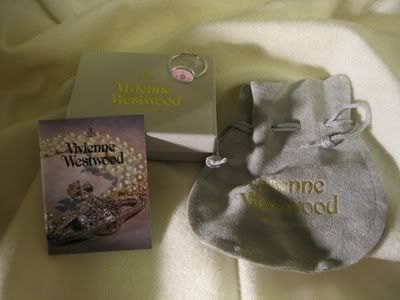 This ring retails for £45.00, or about $92 USD, not including shipping costs.
My asking price is $70 USD with free shipping in the US (with a box + bubble wrap instead of a bubble envelope) for this ring. For international shipping, please ask, I'm willing to split the cost with you. =) SOLD

-------------------
Thank you for looking, and feel free to ask if you have any questions/need more pictures!