Hi, here are some items I have for sale :

- Payment by Paypal (+ fees) or bank transfer or check (France only)
- When talking about shipping fees, I take the priority shipping with no tracking number, the cheapest but with no insurance.
- I am not responsible for any loss.
- I have positive feedback at loligoth dbs

Baby the Stars Shine Bright - Merry Sweet Castle bracelet, in silver version. Very well taken care off, perfect condition. The little charms are not fragile at all as I first feared, I've never lost any of them.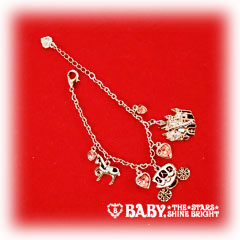 My (poor) picture
I bought if for 64€ at Baby Paris, I'd like 35€ ($48) for it.

Baby the Stars Shine Bright black x white headbow (SOLD). Worn only for one day at Japan Expo, last year. Perfect condition.



I bought if for around 33€ at Baby Paris, I'd like 20€ ($28) for it

Thank you, don't hesitate to ask if you have any questions, I'd be happy to answer them ^^