1. The price is in pounds. Paypal only.

2. Standard, non-insured shipping in a bubble envelope is included within the UK. For international and insured shipping, please inquire.

3. When paying through Paypal, please send the money in pounds rather than euros or dollars. Currency conversion varies from site to site, so I'd like to use Paypal as the standard.

4. Everything comes from a pet and smoke free household.

Innocent World half-elasticated black skirt
waist: 24" unstretched. It could go up to 28" comfortably, maybe more depending on how much you're willing to put up with.
length: 22.5" (top of waistband to bottom of lace)




price: £45


Meta blouse
I don't really wear blouses so much, so this blouse has been sitting around my wardrobe taking up space ever since I got it in the winter of 2005. Sorry for the lack of detail in the picture; even lowering the contrast didn't really do much. Anyways, it has a soft lace around a high collar along with some lace on the chest, ribbon lacing up the sleeves and a shirred back.

bust: It fits a 34" bust well, so I'd say around that give or take. Laces on the back allow for a bit of adjustment.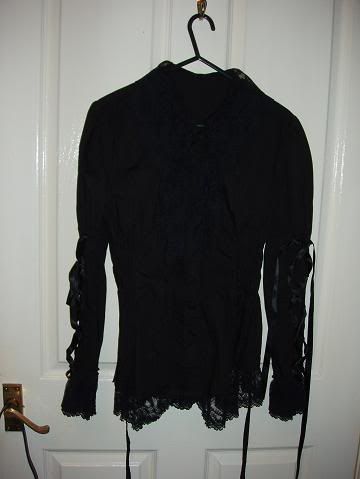 price: £45


h.Naoto blouse
This has an all-over black on black crown and cross print with a big gold crown on the back.

bust: Again, it fits a 34" bust, though it doesn't have shirring.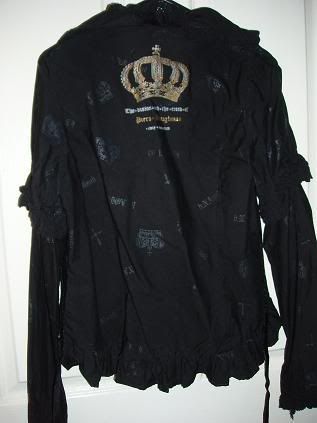 price: £30


BPN velvet skirt
I bought this for clubbing, but I usually end up wearing Cyberdog stuff instead (no sense in getting brand sweaty with furious dancing :D). Thus, this skirt isn't getting a lot of use. It's not very visible in the photo, but the velvet is black with a dark purple cross print on it.

waist: 26"
length: 17"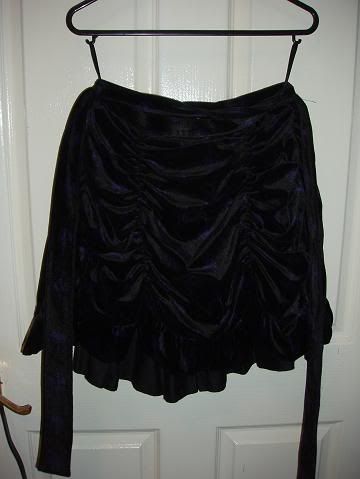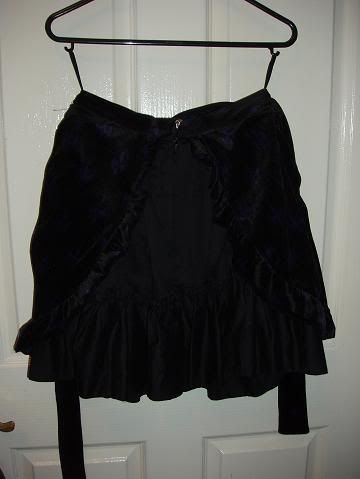 price: £35


Meta JSK
The shoulder straps on this dress are constructed interestingly; they are sewn onto the dress in the back, then go through a loop in the front and tie around the neck, meaning the length of the dress is easily adjustable. The bust expands an awful lot as well if you need it to, though it looks just as good unstretched. The bottom has cross lace, which is a nice touch.

bust: Difficult to say. If you can fit the waist measurement, then you'll more than likely be able to fit the bust measurement because there's so much give in the gathering. I'd guess it could probably go to around 40" and still retain its shape.
waist: 28" (unstretched, the shirring would probably max out at 31")
top of bodice to bottom of skirt: 30"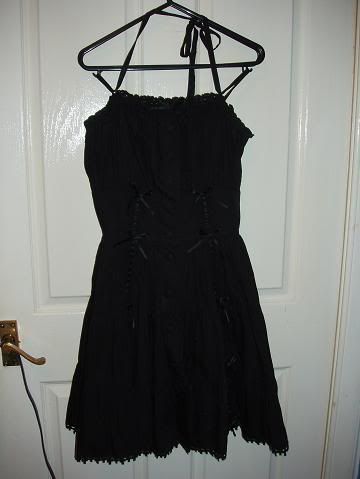 price: £65