I bought this blouse a while ago from a seller on this community. The seller had won it on a Japanese auction site, and I believe it had been used a number of times in the past, but it is still in excellent condition with no tears or stains. I've only tried it on and never wore it because I didn't like how it looked on me.

Photos: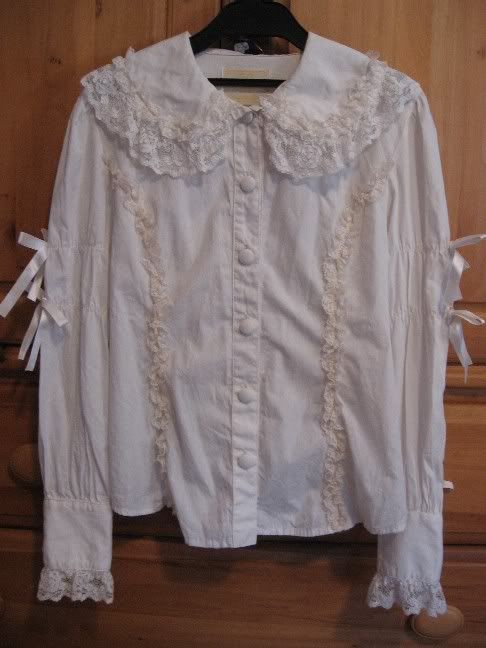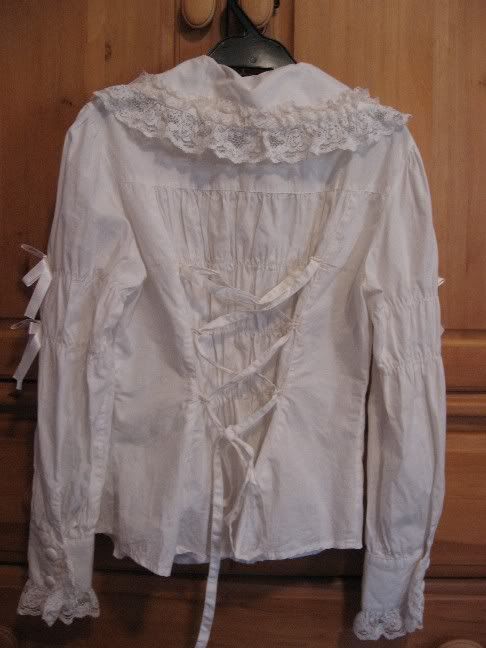 It has two layers of very soft lace on the collar, lace at the end of the sleeves, 2 buttons on each sleeve cuff, and lace running down the front (not as soft as the lace on the collar, but still nice quality.) The back laces up and also has some shirring. NOTE: Although the blouse is primarily white, some of the lace looks off-white/antique white in certain light, so you should be aware of this if you plan to buy/trade.

Measurements:
Bust: 35" max
Waist: 30"(?) max (I'm not exactly sure, due to the shirring, but I have a 27" waist and it's pretty roomy on me.)

I bought this for $40 plus shipping, I believe (it was a very good price) so I'm asking for that price. I'd also be willing to trade for another long-sleeved white blouse with less lace.

Please ask if you need more pictures or measurements, and thank you for looking~!