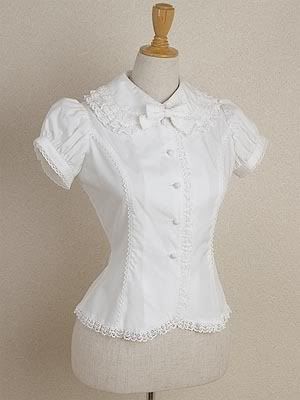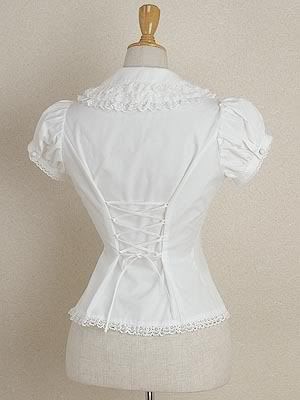 Additional pictures here:
http://www.marymagdalene.jp/catalog/blouse/lcpbl.html

-As I just received it, I currently don't have my own picture of it, but if you would really like one, it might take me a day or two to find my camera (lost it) so that I can get a picture.

-I just got this blouse in the mail the other day, and well, the thing is just bloody gorgeous, but unless I completely obliterated my breasts and shoulders somehow, there is no way I will ever fit into it. It was pretty foolish to think that I might even squeeze. Oh well. Maybe now someone else can benefit.

-Measurements listed on the site are as follows:
Length - 51cm/20 in
Bust - 90 cm/35 in
Shoulder length - 32 cm/12 in
Waist - 69 cm/27 in
Cuff - 30 cm/11 in

-I would say these measurements might be a bit lenient/incorrect, but it's hard to tell. I have a 36" bust, but also broad shoulders, so it didn't fit, but I thought it would be at least closer to fitting than it was. If you are close to these max measurements, I don't know if I would risk it.

-As listed on the site, the blouse was 15,540 yen which is roughly 140 USD. The celga fee was 20 dollars and shipping was another 15. Thus, the total was 175 dollars. That being said, as the blouse is 100% new, only tried on and still with tags attached, I would like to sell the blouse for 155 USD. This includes priority shipping within the US.

I have 100% positive feedback on eBay under "longscar" I accept paypal and postal money orders.

..Thanks for looking!