I'm selling the PUTU items for my friend (I have the items @ my hands)... As of now, I'm seeing if there's anyone interested in these as a set, so I have no intention in splitting them up. I *might* do so in the future if I can't find a buyer & depending on the owner's will.
Shipping
will be from Japan.
** EMS: insured, takes up to 1 week to deliver, online tracking
** airmail: uninsured, could take up to a month to deliver, no tracking
I hold no responsibility for lost/damaged unsured items
Payment
must be via paypal.
** NON-card paypal: eChecks are fine (must wait until it clears)
** CARD paypal : additional paypal card charge
If you are interested in an item, please respond with your
email
,
country
& preferred
payment
method.
Thanks!
★ ★ ★ ★ ★ ★ ★ ★ ★ ★ ★ ★
Metamorphose - tri-ribbon JSK
$95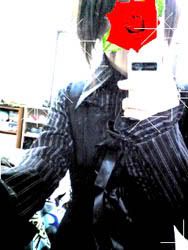 ...seriously. Don't let me model a lolita item >_>;;;;;;;;;;
anyways, this is a deep black jumperskirt with 3 satin? black ribbons in the front. Covered buttons running down the front, at the back of the shoulder straps & at the waist (used to attach back ribbon). The hem is lined with two strips of lace; the lower one is somewhat see-through. The solid part drops down just below my knees (I'm 158cm tall).
Worn moderately; it's in good condition as a 2nd hand item, but it has been stored for a long time so it's a little wrinkly... could use some ironing >_>;
Fits a little smaller than the average META jsk. It's probably a good size for an US size M maybe?
Bust: 32/34in for a comfortable fit w/ a regular blouse underneath.
Waist: 28/30in
Length: in
(The button closure & relatively thick/stiff fabric do not allow much stretch)
shipping
[US] EMS $19; airmail $13
[Europe] EMS $22; airmail $13
[Australia] EMS $19; airmail $13
★ ★ ★ ★ ★ ★ ★ ★ ★ ★ ★ ★ ★ ★ ★ ★ ★ ★
PUTUMAYO - Misako lolita series set
10/09; waiting payment
10/09; payment received, will ship today or tomorrow (US, EMS)
10/09; items shipped & emailed tracking #
-
camisole -
- bollero -
- skirt -




Asking

$130



Forgot to note down the retail prices for these items... probably in the range of 24,360 yen to 22,365 yen for the three clothing items.

This is the set-up Misako was advertising... Worn moderately, decent condition as vintage item.



*** bollero ***






This is a double-zipper black bollero with white lacing & prints (ribbon, heart, rose, heart-lace & Putumayo logo). The circular style & the puff-sleeve make this piece perfect for a cute lolita style.. could go for casual lolita with a camisole/cutsew/blouse & skirt, or regular lolita over a JSK or a dress.

pit to pit: 17/20 in (stretchy); length: 11.5/12.5 (longer on the back)



*** camisole ***






Black x white border pattern with sparkly silver prints on the front. Halter strings at the top. Good condition as 2nd hand item.

pit to pit: 15.5/18 (stretch); length:19in



*** skirt ***





(blouse in the right pic not incdlued; is on sale separately here.)

Multiple-ruffle-layer black skirt, with a white lacing & ribbons towards the top. Could use a petticoat underneath; the multiple layers would look quite flattering if given volume.

waist 26/33 in (stretches); length 44 in

I could also add in the "PUTUMAYO - puff-sleeve blouse with tie" to this set with an additional $20 instead of $25 if you'd like (offer lasts until the blouse sells out).

shipping
[US] EMS $19; airmail $14
[Europe] EMS $22; airmail $14
[Australia] EMS $19; airmail $14

★ ★ ★ ★ ★ ★ ★ ★ ★ ★ ★ ★ ★ ★ ★ ★ ★ ★

PUTUMAYO - check series set
(parker, 2 skirts, leg warmer & straps)

10/09; waiting payment

10/10; payment received, will ship tomorrow or friday
Asking

$140



Would retail 20,685y. Perfect for h

a

l

l

o

w

e

e

n! ..or just for any casual dress-up. The multiple-coordination check series was very popular, and all color variations sold out fast. The orange x black variation was especially popular; the skirt sold out in a matter of days XD



*** parker ****






Black, with orange x white x black checkered ruffles, sleeves, & inner hood lining. the prints on the front and the back are in white. The sleeves (checkered part) of the parker are detachable via a zipper. You can wear the parker short-sleeved, long-sleeved or split-sleeved (open the zipper half-way & show off a cute inner!). It's double-zippered (ie, you can open the zipper from the top, bottom or both) so matches well with skirts with volume, long inners and belts.

Worn moderately; in good condition as 2nd hand item. Very comfy & perfect for this season (...though, I heard from my brother that it's still around 80F in Philly... >_>;)

pit to pit: 17/21in (some stretch)
length: 24in.



*** skirt with legwarmers ***






Made from 2 separate skirts, legwarmers, 2 orange check straps & 2 black belt straps. I'm too lazy to try out & take photographs of all the different coordinations you can do just with this one piece, so you can play around once you receive the item... XD;

The orange checkered skirt is relatively fluffy & short. there's a strip of black ruffle (lined with orange) towards the bottom. The black skirt comes with belt straps hanging down from both sides. The length is relatively longer, with a couple of ruffles outlined with orange. There's also button holes towards the top (don't ask me what for...)

Then comes the separate straps; there are 2 sets of a checkered orange strap & black belt strap.

The leg warmer is black, with orange details towards the hem. Each leg piece has a belt strap attached vertically (probably connects to the skirt's belt strap?) I suppose the basic style would be for you to first wear the leg warmer, then wrap the straps over it or around your leg (above the warmer) & attach it to the strap from the skirt, but how you wear it is up to you.

It's not the same skirt, but the gist is the same so this one might help you get an idea of how everything attaches.

orange skirt
waist: 24/34 in; length: 14.5 in

black skirt
waist: 24/32 in; length: 16 in
(it's the same stretchy waist, but due to the belt straps sewed on, the stretch seems a little tighter)

leg part
length: 19 in

shipping
(sorry this is heavy due to the numerous pieces & belts >_<;)
[US] EMS $29; airmail $21
[Europe] EMS $34; arimail $21
[Australia] EMS $29; airmail $21