Firstly, I live in Australia, postal code 4067, so please calculate shipping and include it in your price quote (i.e. $xxx+$xx shipping). I will pay by non-CC paypal, or bank transfer if you are within Australia. My measurements are bust 33", waist 25". Please also list the measurements of the JSKs from shoulder strap to waist, and from waist to skirt.

I'm looking for a black JSK in classic or gothic style, preferrably brand (my favourites are MM and VM), since I already have a commission in mind if I can't find a brand JSK I like. I would like as little lace as possible, and nothing black x white, though I may go for printed/embroidered JSKs if they strike my fancy, so show me what you've got.

I'm also looking for a decently sized bag, since none of my lolita bags can fit a book at the moment. I'm not a fan of totes, and am looking for something a little more mature. I'm easy colour wise, but just nothing in baby pink, please.

Finally, and this is a long shot, but I figured I'll tack it on - I'm looking for the VM high waisted skirt pictured below. I don't know if they came out in any other prints or colours, but if you have one and are thinking of selling it, please, please, please let me have it! This is the skirt that cinched my decision to get into the lolita fashion, and I would be over the moon if I could wear it.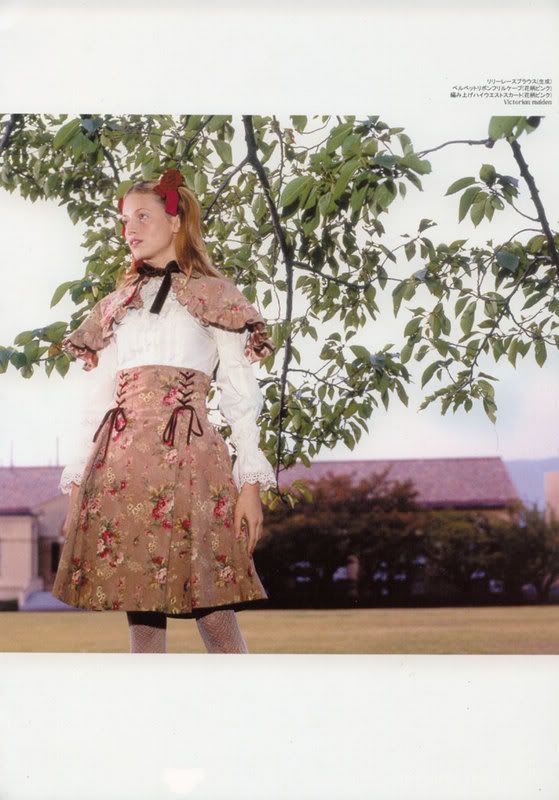 Thank you for taking the time to read this! I know I tend to ramble on a bit.