Still trying to sell these, but with a price reduction! Sorry for the lack of pictures on some of them, I'm not on my main computer, so I linked them from my poupee.

Angelic Pretty summer ribbon laceup blouse in BxW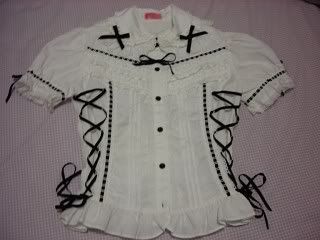 http://pupe.ameba.jp/item/V_Q91DxdpHat/J8h2wGnYFxez/
A lovely summery AP blouse, short sleeved.
$90 $72

Vivienne Westwood Armor ring (fake)
http://pupe.ameba.jp/item/k11tjmEoCZNo/J8h2wGnYFxez/
$15 $10
Rather large, around a size 9

White Detachable Sleeve Bodyline Blouse
http://pupe.ameba.jp/item/Ro88kLESPrbo/J8h2wGnYFxez/
$30 $24 Sold

MEASUREMENTS ARE TAKEN FLAT. THESE ARE NOT THE OVERALL FULL MEASUREMENTS. MEANING THIS BLOUSE DOES NOT HAVE A 16.5 INCH BUST. please stop asking me about this
Bust:16.5 in
Waist:15.75in
sleeve: 8 when short, 24in when long (the sleeves are detachable)
shirt length:22 in

I'm sorry but I do not have pictures of these worn. Plus I just had them dry cleaned, so I can provide you with more pictures and different views, but I have no worn pictures.

I accept only paypal, cc and non cc. CC payers are responsible for the fees. Shipping is not included in prices. I ship worldwide. I also require some feedback for all buyers, my feedback can be found on the loligoth database under my username. The first person to drop a paypal address gets the item. Thank you very much for looking. All prices are now OBO!