Please let me know if these items are inappropriate for the community, and I'll take it down at once!

-------------------

My prices are negotiable, so don't be afraid to ask!

-------------------
First up is a cute Hello Kitty charm bracelet. It is silver in color and has hello kitty silhouette charms with dual pink hearts as a bow, and music note/treble clef charms with pink rhinestone accents. The bracelet is adjustable, and has a little puffed heart at the end opposite the lobster clasp.



Asking price: $7 USD, free shipping here in the US (if you don't mind a bubble mailer)
SOLD

--------------------

Next is a Hello Kitty coin purse. It's a leathery type of material. Lavender and a soft yellow in color, with a silver clasp. Cute pearl and ribbon strap on the side, and "Hello Kitty" embroidered into the front, and embroidered edges on Hello Kitty's face.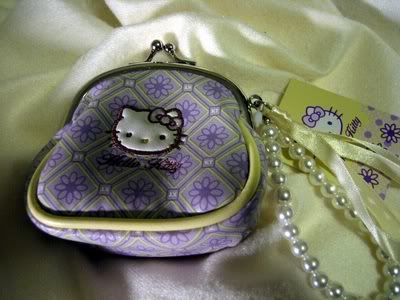 Brand new and unused, with tag. Originally sold for $18 USD, asking $9 USD, free shipping in the US (again, if you don't mind a bubble mailer)


--------------------

Lastly is an Authentic Vivienne Westwood Little Medal Ring in Pink. It's Sterling Silver and a size Medium (about 6.75 US size). The size and the 925, as well as the VW mark (though the VW mark is hard to see on this ring, but all of the rest of my sterling silver pieces have this marking too) are all stamped on the back of the ring. It comes complete with the box, pouch, and care card.

This ring was worn a total of one time since I've had it, and even so it was probably for about an hour or two before I took it off and put it away. It's a very cute ring, but the pink just doesn't go very well with my skin tone and looks strange, so I'm hoping to get a different ring that suits me better in selling this one. There are a few Very light tiny scratches on the top of the ring by the pink, but I'd say that they are virtually unnoticable unless you're looking very closely. I would say this ring is still in like-new condition.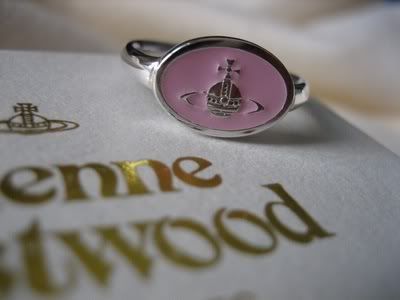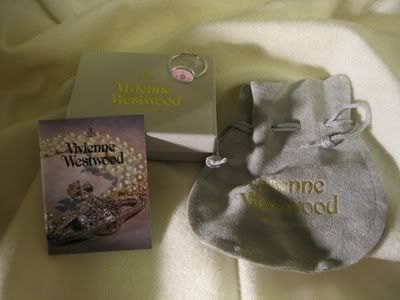 This ring retails for £45.00, or about $92 USD not including shipping costs.
My asking price is $70 USD with free shipping in the US (with a box + bubble wrap instead of a bubble envelope) for this ring.

I'm up for trades too, so feel free to offer! One of the things I'm really looking for is the Baby OZ hoodie in black... and a simple brand skirt (pref. in black)


-------------------
Thank you for looking!