Please help me get rid of all of these things! I don't mind you guys haggling with me!

Please read the following:
- All prices below are in GBP (£). I will only accept payments in this currency.
- PAYPAL ONLY. PP fees apply for all payments, add 3.4% + £0.20 to all final amounts.
- Shipping is not included in the prices. Please ask for a shipping quote.
- Willing to negotiate prices so long as they are reasonable.
- First buyer offering full price with paypal email gets priority.
- I will have your items shipped out ASAP. I ship from the UK.
- I do not smoke, nor do I have any pets.
- NO HOLDS.

If you have any other questions, please do not hesitate to ask. Any special requests should be mentioned.

------------------------------

Baby, the Stars Shine Bright Cutsew in BlackxWhite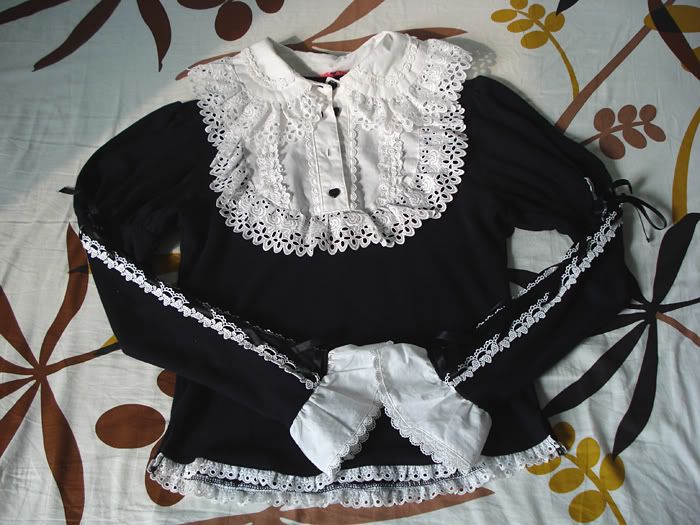 Collar details - Lacing on sleeve

Cutsew with slightly stretchy black cotton, and typical Baby white non-stretchy cotton. Has lots of soft cotton lace on the collar, sleeves and hem. Black heart buttons are sewn at the collar. Silky black ribbon lacing on the sleeves.

Condition: Excellent, worn once for a few hours. Bought it off someone from egl_comm_sales in new without tags condition, only tried on - she had bought it off someone else who had never worn it after purchasing it directly from Baby.

Measurements:
Waist: 78cm (flat)
Length: 50cm
Bust: 84cm (flat) - I believe a bigger bust can be accomodated.
Sleeve length: 60cm

Price: £60 £48 PENDING PAYMENT

------------------------------

Spider Blouse in White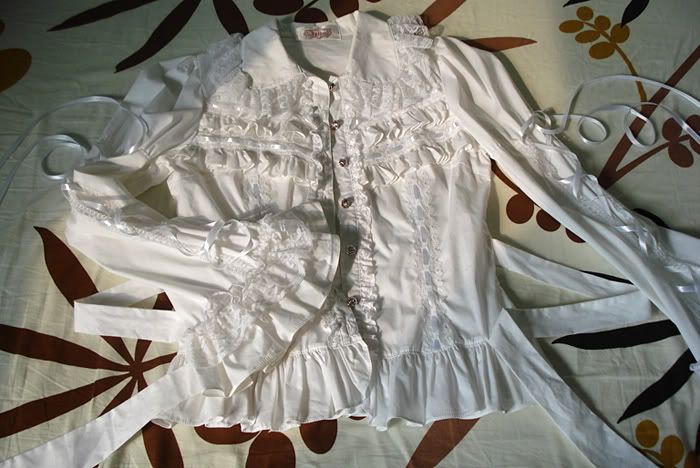 Collar details - Lacing on sleeve - Stain

Blouse from Spider (one of the lolita shops in Hong Kong), made of slightly stretchy white cotton for comfort. Cotton hem ruffles and waist ties. Lots of soft raschel lace. Silky white ribbon lacing on the sleeves.

Condition: New without tags. I purchased it, tried it on and decided it wasn't my thing. However it has acquired a very small brown spot on the left collar, as pictured in one of the links above.

Measurements:
Waist: 78cm (flat)
Length: 52cm
Bust: 84cm (flat)
Sleeve length: 60cm

Price: £30 £24 SOLD!

------------------------------

Secret Shop Antenna Ribbon Shoes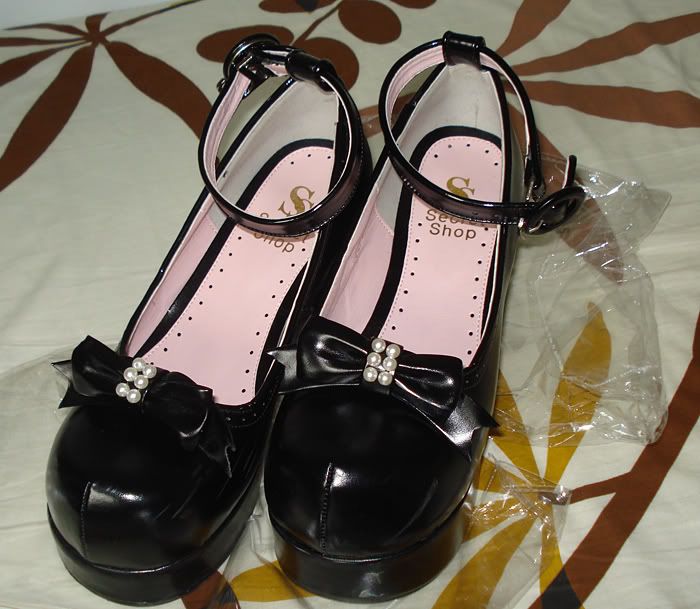 Scuffs on left shoe - More on left - Scuffs on right shoe - More on right

Beautiful heels from Secret Shop, replicas of Antenna Ribbon Shoes. Simplistic shoes with details on the edges and ankle straps. Shoe bow clips with pearl accents are removeable. I am selling these pretties because they are too big for me. :(

Condition: Good, worn for a few hours. However they have a few scuffs on them, which can easily be covered with black shoe polish.

Measurements:
Shoe size: L (24.5cm inside)
Ankle strap: 25cm maximum (adjustable)
Front platform: 3.8cm
Heel: 7.5cm

Price: £30 £24 SOLD!

------------------------------

Claire's Necklace in Black with Various Charms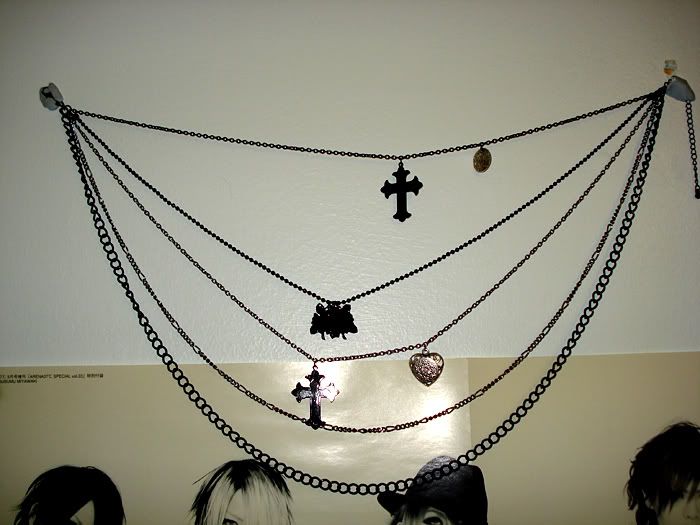 Gorgeous black necklace from Claire's, comprised of five various chains. Silver heart/coin charm and four cross/rose charms.

Condition: New without tags, never tried on.

Price: £10 £8 SOLD!

------------------------------

Offbrand OTK Lace Socks in Black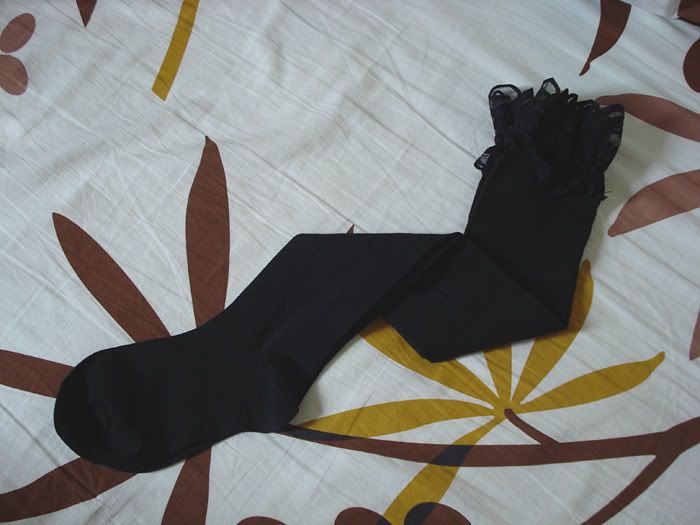 Detail of the lace - More lace details

Offbrand over-the-knee socks made of a stretchy and comfortable material (cotton plus something else). The lace is raschel, but it is very soft and not itchy at all.

Condition: New without tags, only tried on for a moment.

Measurements: Not recommended for larger thighs!

Price: £3 £2.40 SOLD!

------------------------------

NEW!!! Vivienne Westwood Orb Pendant REPLICA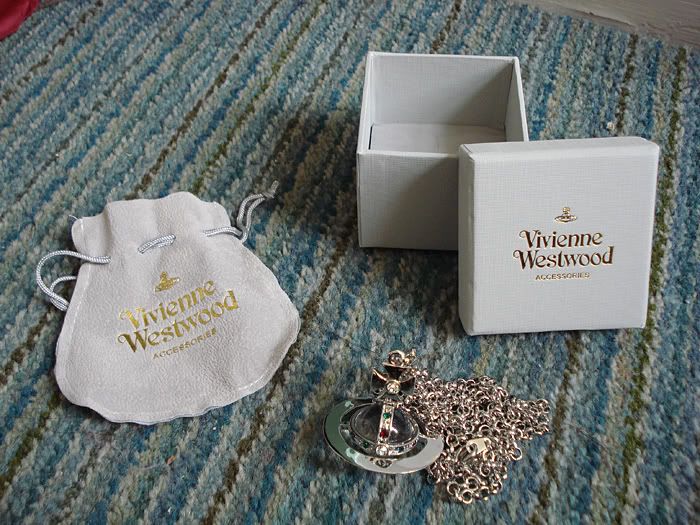 Closeup of the orb

A lovely Vivienne Westwood necklace replica, very popular style! The only differences between this and the real thing is that the clear part of the orb is PLASTIC rather than GLASS. Minor imperfections (i.e. scratches) in a few places, but it was sent to me this way.

Will be sent in its VW bag and box.



Please note that this is a REPLICA (albeit a well made one) and not AUTHENTIC.



Condition: New, only opened to realize it didn't suit me.

Measurements: The orb is 4cm x 4.5cm, and the chain is 80cm long.

Price: £30 SOLD!