I'm selling a larger version of this dress: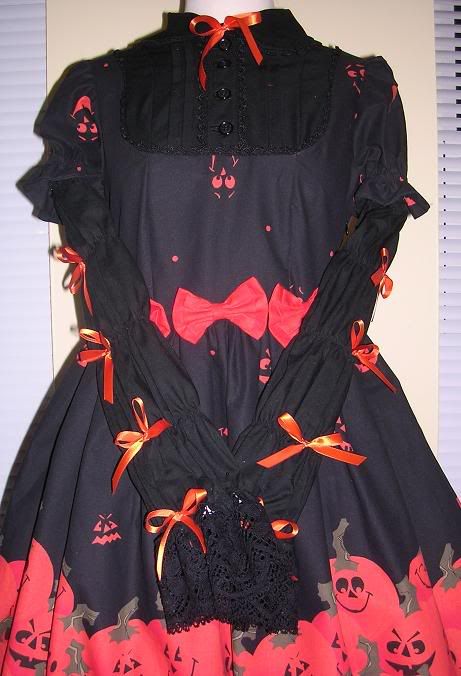 More pictures here: http://smg.photobucket.com/albums/v417/sister_mary_moltar/Halloween%20Dress/

The dress I'm selling is completely identical to the one in the pictures except that it is fully lined, and I used a shade of ribbon that more closely matches the orange in the dress. I can take pictures if anyone is interested.

The measurements are:
bust: 39"
waist: 34"
waist to hem, not including lace: 25"

It'd be great for a taller girl. I'd like $200 for it or best offer.



The JSK I have for sale is pretty much identical to this one Baby has up now as far as I can tell: http://www.babyssb.co.jp/shopping/jumper/131206.html




This JSK is in excellent condition and has just been dry-cleaned, so I'm asking $130 or best offer.


Pink size M BtSSB shoes:



These shoes are in pretty good condition. They show a few signs of wear and there's one pretty bad scuff on one shoe. It's sort of visible in this picture:




A closer, but blurrier picture (flash was useless this close, it was just one big shoe-shaped glare):



I can try to get better pictures of the scuff if anyone would like me to. It's a *little* darker than in the pictures, the flash made it look a little less severe than it is. But it is on the inside of the shoe, and someone might be able to get it off/cover it up, or take it to a shoe repair place. I paid about $150 for these originally, so I'd like maybe...$90? Or make me an offer.


Priority Mail shipping is included in all prices. Please feel free to ask questions about any of the items.

Thanks for looking!