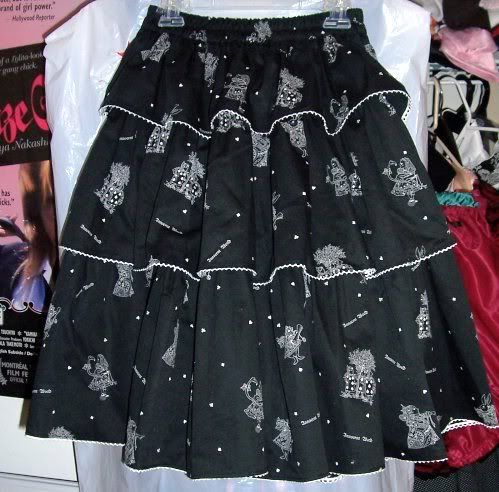 IW Alice themed print skirt
Length: 22.5in.
Waist: 60 - 100cm
Starting price: $125
BIN: $155 (includes domestic shipping)
Bidding will end on Friday 10/05/07 at 8:30pm (u.s. eastern time). I purchased this item used but I myself haven't worn it. It is in like new condition (with the exception of a few wrinkles from shipping).



Metamorphose tall-size blouse
[Meta's page||Proof that I have it]
Length: 62.5 cm (24.6 in)
Bust: 105 cm (41.3 in) + lace
Waist: 92 cm (36.2 in)
Shoulder width: 43 cm (16.9 in)
Price: $145 (includes domestic shipping)
This blouse is NWT & is currently sold out on the Meta website.



Metamorphose "bag" OP
[Pattern
Length: 36in.
Bust: 49in.
Price: $60 (includes domestic shipping)
I bought this from someone on
egl. It's basically sat in my closet since then. The bottom 2 buttons are missing.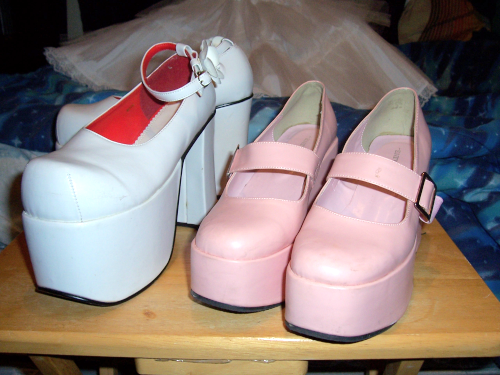 White An*ten*na heels
Size: L
Heel: approx. 5in.
Price: $45 (w/domestic shipping)
I bought these used. They have a snap closure on them as well as a buckle closure. There is semi-severe cosmetic damage on the right heel along with scuff marks on the shoes.
[Snap closure][Right heel 1][Right heel 2][Right (inside)][Left (front)][Left (inside)]

GLB #11
Price: $20 (w/domestic shipping)
Excellent condition with minor shelfwear. All patterns & extra intact.

Paypal only. All prices are in USD. Buy more than one item & save on shipping! No trades. I can ship internationally for an additional fee. Additional pictures can be provided upon request. My feedback list can be found here & my
loligoth_dbs feedback can be found here. I have kitties.