♡ I ship from the UK
♡ As such, all prices are in GBP!
♡ Paypal only
♡ Prices include standard shipping (packages will be marked down); if you want something tracked I will check rates and will then invoice you an updated price!
♡ I am not responsible for items once they have left my hands at the post office - proof of postage will be obtained!
♡ First come first served - I'm looking for a quick sale, so am unable to take holds, sorry! :(
♡ All measurements are taken by me unless otherwise stated, but I am by no means an expert!
♡ My feedback page is ~here~
♡ If you have any questions, don't hesitate to ask!!





Item #1: Metamorphose Swan Border JSK
BLACK X GREY
£50.00 INCL SHIPPING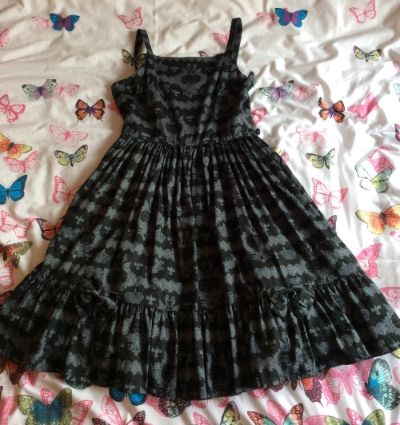 Print Close-Up Barette
I'm the second owner and have worn it once! Comes with detachable waist ties and a barette (bow on a hair slide). I bought this from mbok a while ago because I'd never seen it before and thought it would be great for gothic and/or classic! It's a lovely shape – simple and elegant, and the print is so cute. Would have worn it a lot more but I bought this just before I decided to step away from Lolita.
Length (top of shoulder strap to hem): 93cm
Max Bust: ~100cm (I'm really not sure sure though D: )


Item #2: Star Night Theater JSK
BLACK
£150 incl shipping
*just the jsk, not the set, sorry!!



Detail 1 Detail 2 Detail 3 Detail 4 Detail 5
What can I say about this that most people don't already know? Gorgeous vibrant print, lots more adorable details like the lace, the card-suit buttons, and the brooch! Comes with the detachable waist-ties. Partial shirring in the back. Previous owner wore it twice I believe, as did I :( (dream dress, just not enough excuses to wear it!)

Length: 93cm; Bodice Length: 37cm
Waist: 70~80cm (taken from hellolace as I totally forgot to measure this)
Bust: Hellolace's official measurements say 90~100cm but I'm going to say 90cm – I couldn't wear a substantial bra with it, so unfortunately you well-endowed ladies will struggle :(


Thank you for looking! Again, if you have any questions, please don't hesitate to PM me/comment!!