!DS: PRICE REDUCED imai kira art, babyssb, innocent world, angelic pretty, rose melody, bodyline, handmade and offbrand, - free gifts, damaged but cheap items too - all items under $60! most under $20!
= Please Read =
* paypal only please, price is in USD
* feedback:
egldatabase
(also has links to my personal feedback post and ebay)
* fastest and highest payer to leave paypal (to be invoiced) will get the item. holds only with $10 non refundable deposit. no trades please
= Shipping Details =
* shipping is from vancouver, canada
* yes, i can combine shipping :)
* unless you purchase tracking and insurance, please paypyal with option "payment to family and friends".
PLEASE DO NOT PM ME! LJ is giving me errors when trying to read it
please comment or email caccinicah @ hotmail.com BODYLINE BOLERO (WHITE)
Measurements
B - 86cm
Price
$20 +
shipping
($15 usa & canada / $20 international)
BABYSSB TOTE BAG (BLACK WITH PINK LOGO)
- gently used condition
Price
$20 +
shipping
($15 usa & canada / $20 international)
OTK Socks
black lace up OTK socks, worn once and machine washed - $15
+
shipping ($8 usa & canada / $15 international)
all other socks
- SOLD
MOOKS
kera maniax - 1, 2, 6, 7
rose of versailles fanbook -
SOLD
Price
$5 each +
shipping ($10 usa & canada / $15 international)
FEATHER FLOWER HAIR CLIP AND BROOCH IN ONE
please specify color (gold, silver, royal blue, white)
Price
$10 each +
shipping ($10 usa & canada / $15 international)
ACCESSORIES
babyssb black hair ribbon - $20
babyssb pink logo ribbon brooch - $15
offbrand cameo ribbon brooch - $5
angelic pretty badge - $10
offbrand collar - $5
offbrand knit headdress with removable flowers - $5
+
shipping ($8 usa & canada / $15 international)
IMAI KIRA / ANGELIC PRETTY FLYER
SOLD
otome calendar cover
angelic pretty flyer
$5 each +
shipping
($3 usa & canada / $5 international)
SOLD
grey postcard
THE FOLLOWING ARE ALL FREE WITH ANY PURCHASE OVER $20 ($40 = 2 free items etc)
or $3 each + shipping
($3 usa & canada / $5 international)
babyssb postcard
excentrique postcard
q-pot postcard
vintage chocolate postcard
otome chika postcard
kokusyoku sumire black hair
kokusyoku sumire white hair
kokusyoku sumire photograph
sticker sheet
sticker sheet gothic lolita bible
lief catalogue
random small tags, bookmarks etc
gothic boy/girl (one side is girl illust, other side is boy)
princess doll postcard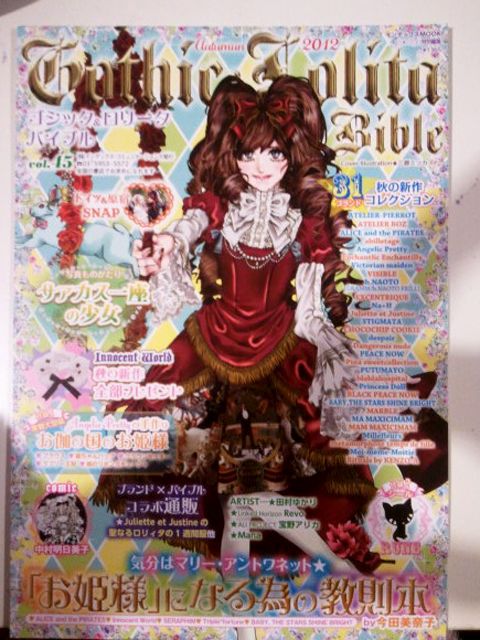 GLB flyer A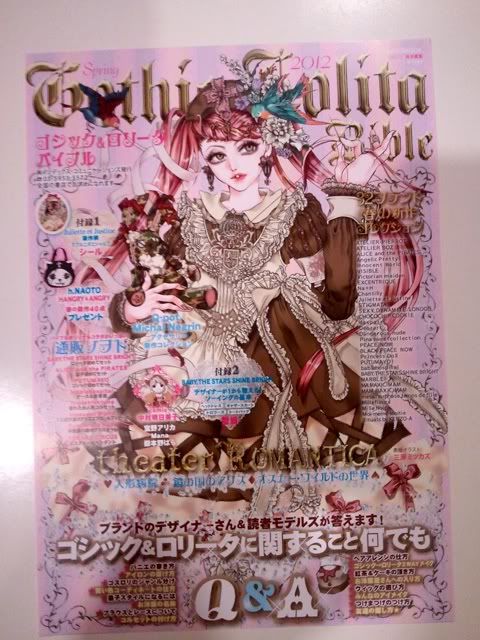 GLB flyer B
GLB flyer C
PLEASE DO NOT PM ME! LJ is giving me errors when trying to read it
please comment or email caccinicah @ hotmail.com
for interests or questions, thank you for looking ^ ^
hello kitty x novala lolita strap
SOLD
rose of versailles oscare strap
- SOLD
hello kitty lolita keychain
SOLD
gloomy bear keychain
SOLD
SOLD BABYSSB BLOUSE WITH REMOVABLE SLEEVES (WHITE)
slight yellowing, as is condition
Measurements

B - 92cm / W - 76cm
Price
$50 + shipping
($15 usa & canada / $20 international)
SOLD INNOCENT WORLD BLOUSE WITH REMOVABLE SLEEVES (ANTIQUE WHITE) - DAMAGED
arm pits are slightly stained from red jsk, top pearl button missing, general wear...sold as is
Measurements
B - 92cm / W - 74cm
Price
$15 +
shipping ($15 usa & canada / $20 international)
SOLD BABYSSB RABBIT KNIT CAPE (WHITE)
Measurements
length - 56cm
Price
$40
+ shipping ($20 usa & canada / $30 international)
SOLD BODYLINE CAPE
Price
$15 +
shipping
($20 usa & canada / $30 international)
SOLD ROSE MELODY CRUCIFIX EMBROIDERY SKIRT
Measurements
W - 75cm / length - 61cm
Price
$60 + shipping ($30 usa & canada / please ask for international) (this skirt is quite heavy!)
SOLD CROWN BAG (WHITE)
Price
$25 +
shipping ($20 usa & canada / $30 international)
SOLD STRAWBERRY CAKE BAG
Price
$25 +
shipping
($15 usa & canada / $20 international)
SOLD BRAND SOCKS (never worn)
Angelic Pretty Ribbon Lace Up Print Knee Socks
, never worn - $25
+
shipping ($8 usa & canada / $15 international)
moitie lace up socks - SOLD
Baby the Stars Shine Bright Pas de Deux in the Blue Moon OTK Socks, never worn - SOLD
SOLD HANDMADE ANGEL PRINT DRESS + FREE PETTICOAT
Measurements
bust: 79-90 cm (31-35 in)
waist: 67-75 cm (26-29.5 in)
hip: 87-91 cm (34-36 in)
Price
$20 +
shipping ($15 usa & canada / $20 international)
SOLD STRAWBERRY APRON DRESS
+ FREE PETTICOAT
Measurements
bust: 79-90 cm (31-35 in)
waist: 67-75 cm (26-29.5 in)
hip: 87-91 cm (34-36 in)
Price
$20 +
shipping ($15 usa & canada / $20 international)
SOLD IMAI KIRA FAIRYTALE SET
calendar illustrations. please note grey one is damaged (my bunny nibbled on it orz)
Price
$30 +
shipping
($3 usa & canada / $5 international)