☆ I will not be responsible for items that are lost or damaged in the mail. All sales are final. I won't send any of the expensiver dresses without a tracking number since otherwise if the item get's lost we can't do anything to find it and I don't take responsibility of it! Feel free to ask for the shipping costs.
☆ I will package and mail your order within four business days.
☆ I ask that the buyer cover the Paypal fees.
☆ No trades.
- I only take paypal
- Shipping not included
- I don't smoke and have no pets.
- Location: Spain.
(I have many feedbacks on ebay and doll forums, all of them positive if you want me to show them to you :))
Adventure Time, Lumpy space Brooches and necklaces from Atelier Shokora:
Brooches
Size: 5,7x3,5cm aprox (The lump off! one is a bit smaller)
4 different available:
¡QUE TE BULTEN!, OH MY GLOB!, WHAT THE LUMP!? and LUMP OFF!
Remember that the color could be a little different depending on your screen calibration.
Price: 8,5 euro
Necklace:
Same size. Chain: 50cm
2 different available: OH MY GLOB! y WHAT THE LUMP!?
Enjoy Piracy Skirt
More photos:
Size: For a 65-90 size waist (But I can change the elastic band to make it your size)
The maximum lenght of the waist without the elastic band is 110cm. This skirt has an elastic band for adjust to your waist.
Lenght: ≈50 cm
Details: ¡This skirt comes in two different blue tones (depending on your computers screen it can look blackxblue!
Price: 30 euros + shipping
Proof of all the dresses together:
Baby The Stars Shine Bright Rose Candle JSK (black)
Stock Pic:
Proof of ownership:
I'm it's seccond owner and I used it once for a few hours (and I think I even didn't go outside with it so it looks like the day I recieved it) but the previous owner seemed to have worn it more. I think it is in good shape and the velvet looks good for its age. I can take more pics if you want to see any detail. It has a bow on the chain that is a bit loose but I think that's all. I sell it for nearly the same price I bought it.
I can't find the measurements for the dress but in another sale and this are the ones that were provided:
Bust 86 cm/ Waist 72 cm
Price: 280 euro + shipping + paypal fees
Metamorphose Tartan Pinafore JSK (Red)
The chest piece is detachable and you can use it as an underbust skirt.
It has a built in "petticoat" (a small one on the bottom as you can see on the last photo) and shirring at the back so it will stretch a bit.
I'm it's seccond owner but never used it. I'm not sure if the previous owner used it but it is as good as new.
The measurements of the previous owner were:
Bust: 33" max
waist: 31" max
Price: 130 Euro + shipping + paypal fees
Bodyline black babydoll
I'm his first owner. New with tags. Not used.
Price: 12 euros + shipping + paypal fees
Offbrand dress
Another pic:
http://i14.photobucket.com/albums/a329/the_junk_girl/b_zps91ccd3f2.jpg
First owner, used it like 3-4 times, in good shape.
Price: 20 euros + shipping + paypal fees
Banana Fish lace pants: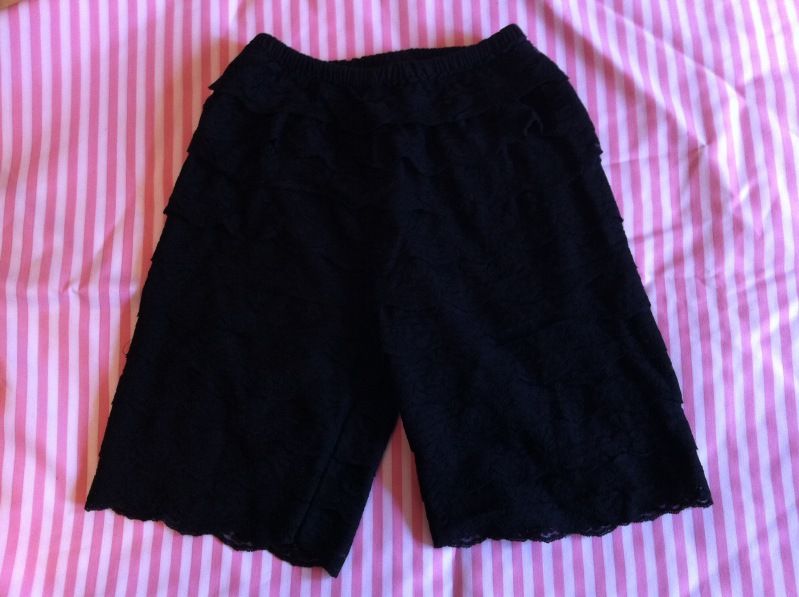 More photos:
I have used them once and they are still as good as new. They pants are covered of cute lace and they have an elastic band on the waist.
I'm not sure about the size but it seems to be a small one (S or XS). If you want me to measure the waist I can do it :)
Price: 50 euros. NOW 40 EUROS + shipping