FORM
Copy and paste this form and fill in the information when you are ready to buy.

-Your eglfeedback page:
-Your offer (only applicable if I am accepting offers):
-Your email address (not your Paypal address. If it is the same, that is ok):
-Country you live in:
-Do you have a US Paypal account or a non-US Paypal account?:
-Do you want insurance?:


---


IMPORTANT BASIC INFORMATION + TERMS OF SALE
-By making a bid, offer, or purchase, you have read and agreed to the terms stated in this post.

-Please do not comment if you aren't a serious buyer or if you do not have an offer.

-Feedback: http://community.livejournal.com/eglfeedback/183713.html

-Feel free to ask questions before purchasing.

-Please comment and tell me that you are sending a PM if you are going to send one.

-After confirming that the sale will go through, I use email to work out the payment information, which is why I ask for your email address. You will receive an email from an email address that looks like ge*********t************@*mail.com

-The first person who can pay full price gets the item no matter how many other people have inquired about the item or made offers.

-I EXPECT PAYMENT WITHIN 24 HOURS FROM THE TIME I EMAIL YOU WITH THE BREAKDOWN OF YOUR INVOICE. This means no e-checks. Failure to do so will lead to neutral or negative feedback.

-UNLESS STATED, ALL OF MY ITEMS ARE IN VERY GOOD CONDITION. Any large stains, rips, alterations, other damages, etc that I think should be noted will be stated on my post. Most of my clothes have been worn and washed unless it is stated that it is new so it might have small signs of wear.

-No refunds and returns. Once the item is out of my hands, I no longer have any responsibility. I will provide you with proof of shipment, if you would like.

-Please give me at least 7 business days (M-F) to ship. I will definitely keep you updated to let you know what's up if there are any delays.

-You will have to pay handling fees. International: 6% + 0.50 USD / US: 5% + 0.50 USD. Sometimes these handling fees won't cover all money handling fees which in that case, your shipping deposit will cover whatever amount that it needs to cover. These fees must be paid no matter what.

-Payment plans are accepted (deposits will be non-refundable) and each payment will have a handling fee tacked on it. No trades. All prices are in USD.


---


INFORMATION ABOUT SHIPPING
-I REQUIRE SHIPPING DEPOSITS. They may seem high but it is to ensure that I don't cover shipping costs out of my own pocket. Please do not ask me to lower them. IF SHIPPING ENDS UP BEING LOWER THAN THE AMOUNT OF THE DEPOSIT, I WILL REFUND YOU ONCE I COME BACK FROM THE POST OFFICE. IF SHIPPING ENDS UP BEING HIGHER, I EXPECT A REIMBURSEMENT WITHIN 48 HOURS. FAILURE TO DO SO WILL LEAD ME TO LEAVING NEUTRAL/NEGATIVE FEEDBACK.

-Domestic = USA ONLY (NOT NORTH AMERICA, meaning Canada and Mexico isn't domestic), International = Any country that isn't the USA

-FOR DOMESTIC BUYERS: All packages will be shipped with tracking thus tracking costs will be added towards the shipping total. The shipping deposit amount should cover the tracking costs. 99% of the time I will use flat rate boxes to ship your item out. Please do not ask me to not include tracking or use a different method of shipping (e.g. FedEx). If I need to buy a box or envelope to ship out your item, this will also be included in the shipping costs.

-FOR INTERNATIONAL BUYERS: I will only ship using EMS, which includes tracking and insurance up to $100 for free (depending on how much the item is marked in regards to value). Insurance for over $100 leads to additional costs. I might ship to you using another method if we've had many positive transactions with each other.

I AM NOT RESPONSIBLE FOR LOST/DAMAGED ITEMS.

No local pick up.

---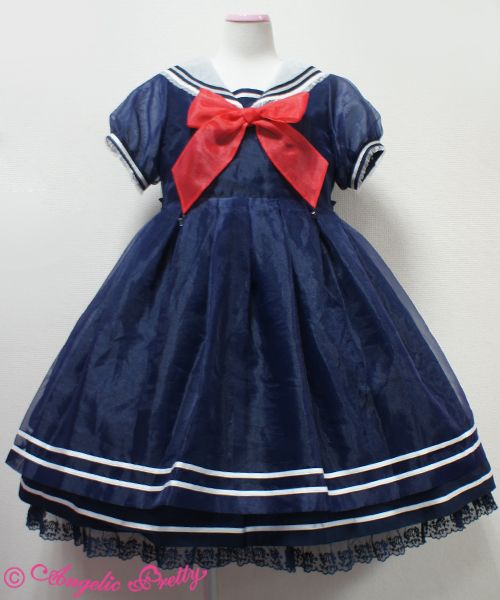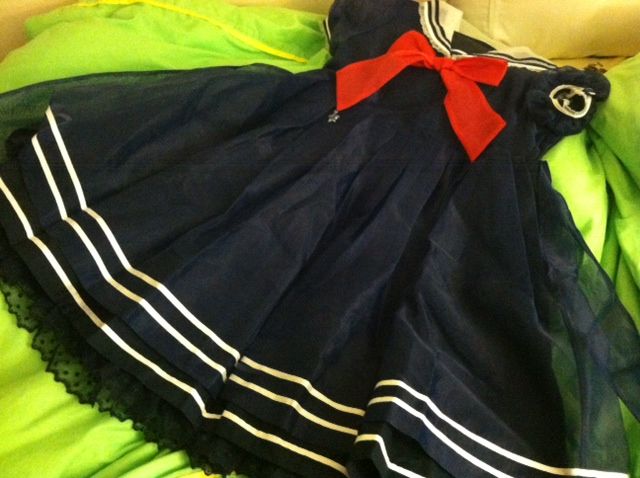 Totally cute dress that kills me to let go but it simple doesn't fit my arms ;( I only tried it on once (never wore it out) and bought it directly from AP during the re-release so it's in very good condition.

Official measurements:
Bust: 91 cm
Waist: 86.5 cm
Length: 85 cm + 4 cm lace
Shoulder width: 34 cm
Sleeve length: 20 cm
Cuff: 29.5 cm

Price: $250

Shipping deposits:
-Domestic: $15
-International: $70


---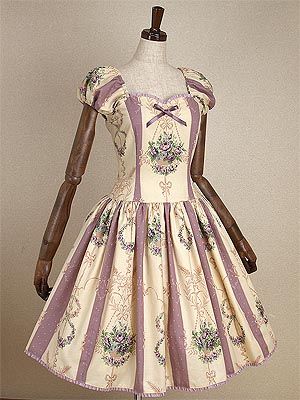 Official measurements:
94cm length, 88cm bust, 68cm waist

Dress is in very good condition. You might have to iron or steam it when you receive it since it got a bit wrinkled while I was storing it.

Price: $315

Shipping deposits:
-Domestic: $15
-International: $70