Feedback:
http://eglfeedback.livejournal.com/1028285.html
- All prices are in USD (or in AUD if you are in Australia)
- I accept paypal and I don't charge fee's. I will accept bank transfer from people in Australia
- I do not smoke and all items come from a smoke-free home
- I do have cats and I will try to ensure that all of their hair is removed prior to the item being shipped but I may miss a few, just in case you have severe allergies
- Worldwide shipping is by airmail (10-15 business days) unless stated. This is untracked and unisured. Please ask for a quote if you would like tracked or insured shipping
- Shipping within Australia is by regular mail unless stated
- I do combine shipping if you buy more than 1 item
- First to leave paypal and commit to buying the item by asking to be invoiced gets the item . Please don't leave your paypal address here, send it to me in a PM but please comment here to let me know what you are interested in
- Prices are negotiable! Feel free to make an offer, I want this stuff gone :)
- I'm not interested in trades at the moment.
- Due to work I won't be able to ship items until the 6th of November
Baroque Pearl Drops on the Dry JSK
There is a printing issue with this JSK on the waistband(see pics) but it isn't too noticeable when worn. The print on the seam at the back of the skirt is also not lined up (see pic). Beautiful JSK, front lace panel is detachable. I've worn this once but it's just not my style anymore. Comes with detachable bows.
Proof:
https://www.flickr.com/photos/mieke_chan/12246679194/
Back seam: http://i1198.photobucket.com/albums/aa450/mieke_chan/Sales/October/IMG_1260_zpsa71099ce.jpg
Mis-print: http://i1198.photobucket.com/albums/aa450/mieke_chan/Sales/October/IMG_1259_zps626d1e42.jpg
http://i1198.photobucket.com/albums/aa450/mieke_chan/Sales/October/IMG_1258_zps4b260bcd.jpg
Bust: 94cm
Waist: 82cm
Length: 100cm
Link:
http://lolibrary.org/apparel/pearl-drops-dry-flower-jsk
$135 shipped in Australia
$150 shipped Worldwide
Innocent World Alphabet Rose JSK, long pink
Bought 2nd hand but as NWT. In great condition for it's age, no flaws found.

Buttons have been moved down straps to add ~4cm to the length. Can be worn as halterneck or with straps crossed.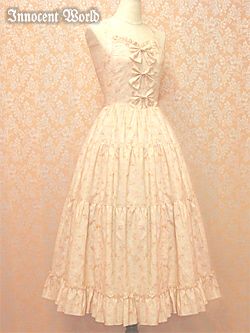 Proof: https://www.flickr.com/photos/mieke_chan/12246686514/in/photostream/
Bust: 80.5-97.5cm
Waist: 62-82cm
Length: 125cm
Link: http://lolibrary.org/apparel/alphabet-rose-jsk
$160 shipped in Australia
$175 shipped Worldwide


Baby the Stars Shine Bright double-breasted jacket - sold, thanks!
Bought

from Closet Child but it is in great condition. Has an attached belt at the back to adjust the waist and gorgeous lace on the collar and cuffs. Not sure how old it is as I could find any info for it on Hello Lace or Lolibrary.
Pic: http://i1198.photobucket.com/albums/aa450/mieke_chan/Sales/October/IMG_1261_zpscf77fbbc.jpg
More pics: http://i1198.photobucket.com/albums/aa450/mieke_chan/Sales/October/IMG_1265_zps4d20e94f.jpg
http://i1198.photobucket.com/albums/aa450/mieke_chan/Sales/October/IMG_1264_zpsa6894bcc.jpg
http://i1198.photobucket.com/albums/aa450/mieke_chan/Sales/October/IMG_1263_zps084fd310.jpg
http://i1198.photobucket.com/albums/aa450/mieke_chan/Sales/October/IMG_1262_zps07ba2068.jpg
Bust: 91cm
Waist: 76cm (can be made smaller with waist tie)
Length: 56cm
Shoulder: 26cm
Sleeve length: 58cm
$60 shipped in Australia
$75 shipped Worldwide

Innocent World French Picture Frame JSK, long black - sold, thanks!


1st owner, in perfect condition. Only worn a few times. Buttons have been moved down straps to add ~5cm to the length.


Pic: http://i1198.photobucket.com/albums/aa450/mieke_chan/Sales/October/11_78_zpsd03655b3.jpg
Proof: https://www.flickr.com/photos/mieke_chan/12246669704/
Bust: 85-98cm
Waist: 64-81cm
Length: 113cm (adjustable)
Link: http://lolibrary.org/apparel/french-picture-frame-jsk
$160 shipped in Australia
$175 shipped Worldwide



Innocent World Jacket

, size M - sold, thanks!


This is the same style as the Lotta Jacket but the fabric is different. It's a deep brown-maroon colour with a stripe woven into the fabric (see pics, colour is slightly deeper and richer in real life). Bought from Closet Child and it is in perfect condition.


Pic: http://i1198.photobucket.com/albums/aa450/mieke_chan/Sales/October/IMG_1266_zpsf820b0f3.jpg
More pics: http://i1198.photobucket.com/albums/aa450/mieke_chan/Sales/October/IMG_1269_zps386728ee.jpg
http://i1198.photobucket.com/albums/aa450/mieke_chan/Sales/October/IMG_1268_zps08dee7b0.jpg
http://i1198.photobucket.com/albums/aa450/mieke_chan/Sales/October/IMG_1267_zps14f14872.jpg
Bust: 92cm
Waist: 76cm
Length: 55cm
Shoulder: 34cm
Sleeve length: 60cm
For worn pics see this link: http://www.lolibrary.org/apparel/lotta-jacket
$70 shipped in Australia
$85 shipped Worldwide



Juliette et Justine Mere Vierge JSK, navy size 1

- sold, thanks!


Very beautiful JSK, slight pull at the waist at the front (see pic). 2nd owner but other than pull in great condition.


Pic: http://i1198.photobucket.com/albums/aa450/mieke_chan/Sales/October/Mereviergejsk-thumb_zps55d2e776.jpg
Proof: http://i1198.photobucket.com/albums/aa450/mieke_chan/Sales/October/IMG_1256_zps7e8e6f03.jpg
Pull: http://i1198.photobucket.com/albums/aa450/mieke_chan/Sales/October/IMG_1257_zps75b2b759.jpg
Bust: 88cm
Waist: 68cm
Length: 120cm
Link: http://lolibrary.org/apparel/m%C3%A8re-vierge-jsk
$160 shipped in Australia
$175 shipped Worldwide

Innocent World Arabesque Rose Tiered JSK, long blue - sold, thanks!
1st owner, in perfect condition. Only worn a few times. Buttons have been moved down straps to add ~5cm to the length.
Pic: http://i1198.photobucket.com/albums/aa450/mieke_chan/Sales/October/13_12_zps90e2c6b5.jpg
Proof: https://www.flickr.com/photos/mieke_chan/12246680754/
Bust: 85-98cm
Waist: 64-82cm
Length: 114cm (adjustable)
Link: http://lolibrary.org/apparel/arabesque-rose-tiered-jumperskirt
$160 shipped in Australia
$175 shipped Worldwide

Innocent World Anniversary Rose Just Waist JSK, green long - sold, thanks!


Perfect condition, buttons have been moved to add ~5cm in length.


Pic: http://i1198.photobucket.com/albums/aa450/mieke_chan/Sales/October/07_3_9_zpsf1918c4e.jpg


Proof:

https://www.flickr.com/photos/mieke_chan/12246818906/
Bust: 85-98cm
Waist: 64-81cm
Length: 113cm
Link: http://lolibrary.org/apparel/anniversary-rose-just-waist-jsk
$160 shipped in Australia
$175 shipped Worldwide

Innocent World Stained Rose Glass JSK, blue long - Sold, thanks!


Bought 2nd hand but still in very good condition. Buttons have been moved to add ~5cm in length.


Pic: http://i1198.photobucket.com/albums/aa450/mieke_chan/Sales/October/RoseStainedGlassJSK-blue_0_zpsfd0595a9.jpg


Proof:

https://www.flickr.com/photos/mieke_chan/12246673604/
Bust: 85-98cm
Waist: 64-81cm
Length: 112cm
Link: http://lolibrary.org/apparel/rose-stained-glass-jsk
$160 shipped in Australia
$175 shipped Worldwide

Innocent World Westminster Choir JSK, long black - sold, thanks!


Perfect condition, buttons have been moved to add ~5cm in length.


Pic: http://i1198.photobucket.com/albums/aa450/mieke_chan/Sales/October/image_32_zps4f29b2fa.jpg


Proof:

https://www.flickr.com/photos/mieke_chan/12246816606/
Bust: 85-98cm
Waist: 64-81cm
Length: 112cm
Link: http://lolibrary.org/apparel/westminster-choir-jsk
$160 shipped in Australia
$175 shipped Worldwide