Feedback: http://community.livejournal.com/eglfeedback/1092608.html
Location: Michigan USA

★ I live in a smoke-free and pet-free home.
★ I only accept PayPal and you will be responsible for PayPal fees.
I use this PayPal fee calculator here
to calculate PayPal fees.
★ Payment is expected within 24 hours.
★ I prefer US buyers but international buyers are welcome. (US buyers do have first priority)
Just
be warn that international shipping is expensive and I will only ship using EMS and priority.
Please inquire for international shipping if you are a
serious buyer
. I will not ship to Italy!
★ All sales are final.
★ I'm not responsible for packages once they leave my hands and go into the loving arms of the postal service.
★ Please allow me 3-5 days to ship your item.
★ First person to post their PayPal or PM me will get the item.
★
I'm not looking to trade at this moment.
★ Serious buyers only!
Alice and the Pirates Vampire Forest Elizabeth OP - Red
Measurements: 92.5~107 cm bust
More info
here
.
Price: $300 $290 USD
Shipping: $12.50
USD Priority Within US
SOLD
noragracebot
Innocent World Viennese Rose - Black
New without tag
To be on the safe side, I wouldn't recommend to anyone with bust measurement of over 90 cm (36 in).
IW Measurements:84~101 cm bust
Price: $220 $210 $200 USD
Shipping: $12.50 USD Priority Within US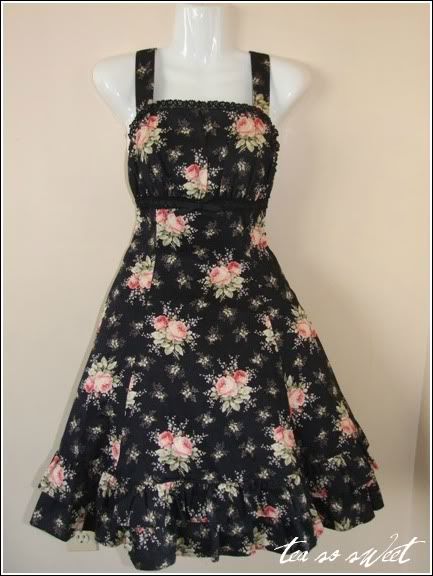 Alice and the Pirates Black Long Sleeve Blouse
Brand New with removable bow ties
Measurements:
90 cm bust
76 cm waist
54 cm length
35 cm shoulder width
Price: $80 $50 USD
Shipping: $5
USD Within US
SOLD
Metamorphose Long Cutsew
New with tag.
Can stretch to 37 in.bust and 31 in waist
Measurements 50cm (19.6 in) length
80 cm (31.4 in) bust
73 cm (28.7 in) waist
60 cm (23.6 in) sleeve length
Price: $35 $30 $25 $20 USD
Shipping: $6 USD Within US
SOLD
Alice and the Pirates Mini Pochette
Width:18cm
Depth:5cm
Price: $55 USD Shipped Within US SOLD
Innocent World
Clementia Crown OTK Socks
Brand new
Beige x Bordeaux
Price: $35 USD
SOLD
mutedvision

Secret Shop Shoes - White

Brand new
Size S 22.5 cm

Price: $50 $40 USD
Shipping: $14

USD Within US

SOLD

Chocomint double candy necklace - Pink


Brand new and unworn

Price: $15 USD
Shipping: $4

USD Within US

SOLD

Short Red Wig


Unworn, needs to be brush from storing,

On the top of the wig it's zig zag and has realistic scalp look.

Price:

$20

USD


Shipping: $6 USD Within US SOLD