The rules and information
*all prices are listed in USD
*I have cats and dogs they aren't allowed near my clothes but buyers beware if you have allergies
* i try and be as accurate as I can in measuring the items but they are amateur measurements
please be aware
*shipping is not included please let me know where you live and i can give you options for shipping
* i will ship worldwide
*I only accept paypal as payment and i prefer it not to be gifted
* will ship within three days of payment (hopefully sooner)
* im also willing to be flexible on my prices so please if you think you have a reasonable offer feel free to ask
* if you have any questions let me know I'll answer them as soon as possible^_^
feedback links
here
and
here
Shoes
I have two pairs of shoes for sale both off brand but well made. The white pair of shoes are from anna house. I wore them once or twice and do have some scuff marks on the inner toes and you can see from the sides where they glued the bows on the shoe but its very unnoticable when worn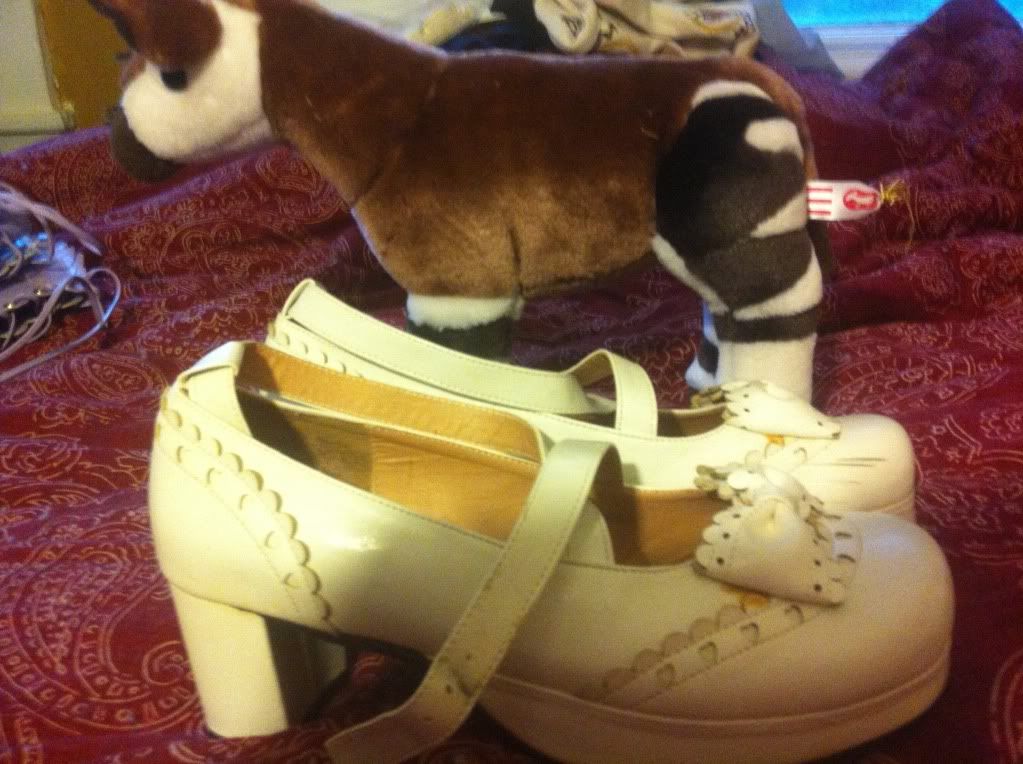 Anna house shoes size L-$20
the next pair of shoes i have I never got the chance to wear as i never ended up getting my hands on the jsk i wanted them for but they are completely lace up so they can be worn by someone with bigger calves or smaller calves as well as once you find the appropriate width they do have an easy zip up for convenience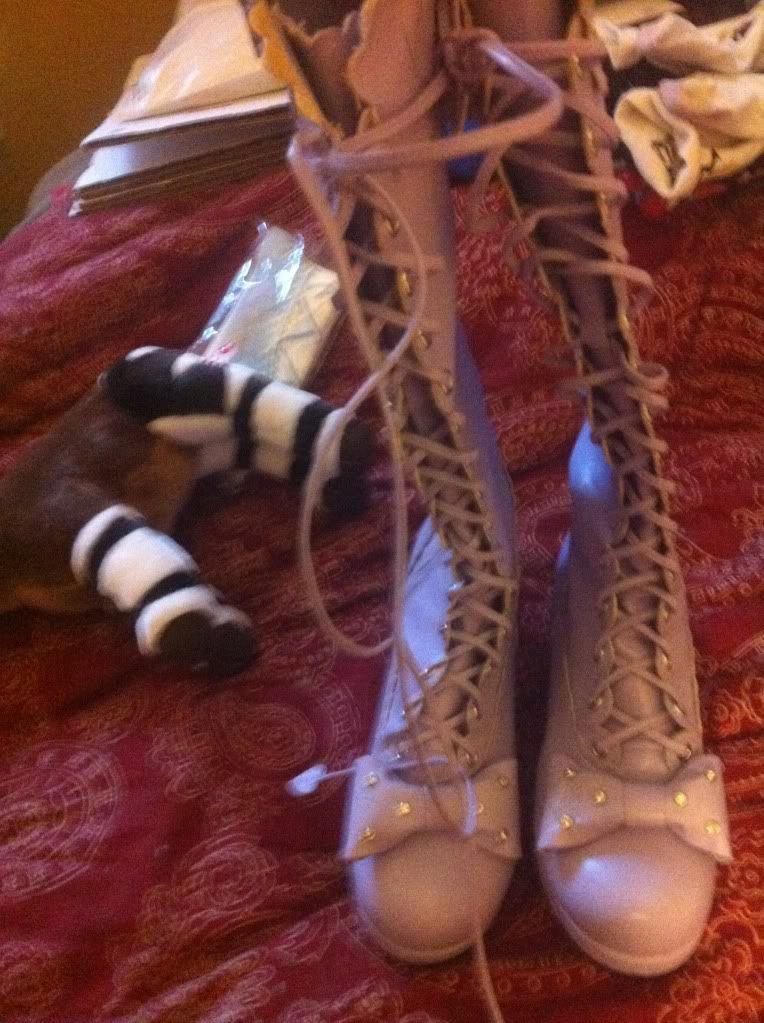 Lavender knee high boots w/ two extra bows size L-$30

outerwear
im really not gonna have much use of a muffler in florida so no matter how cute it is its better to sell it and see it go to a cute home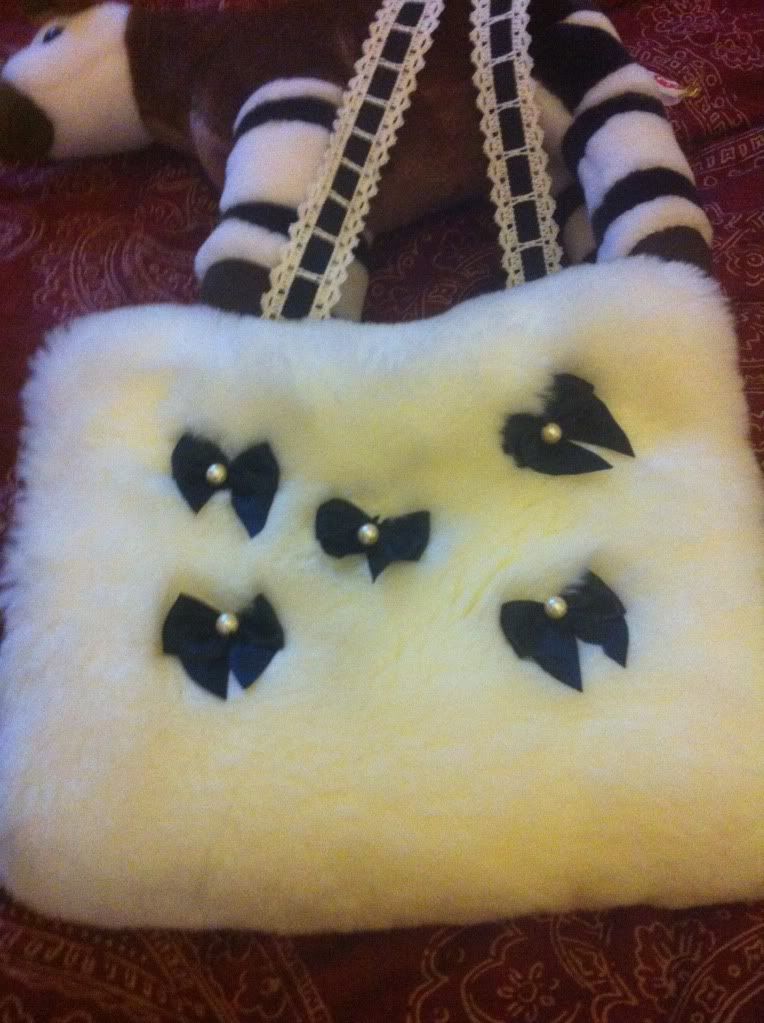 BTSSB muffler- $30
he next two items for sale are the same wig in two shades of brown. both are made in korea and are synthetic hair wigs. Both are in good condition but they are but i no longer have the wig hair net that came with them but with a wig comb and hair nets these would be excellent wigs for someone looking for long wavy wigs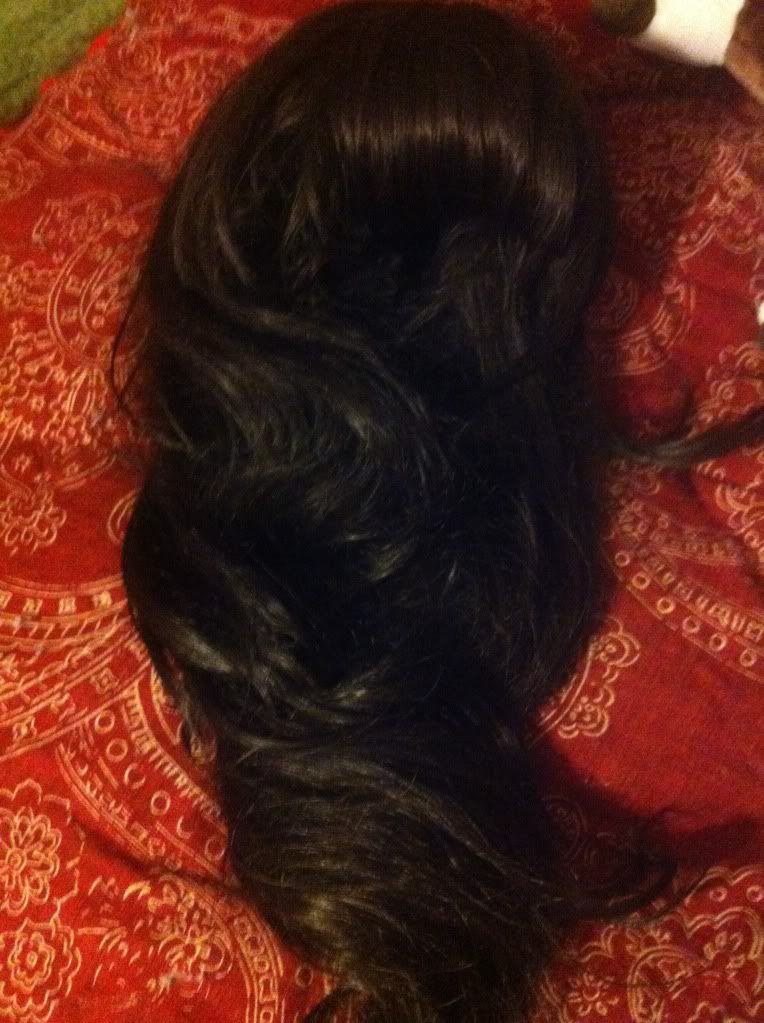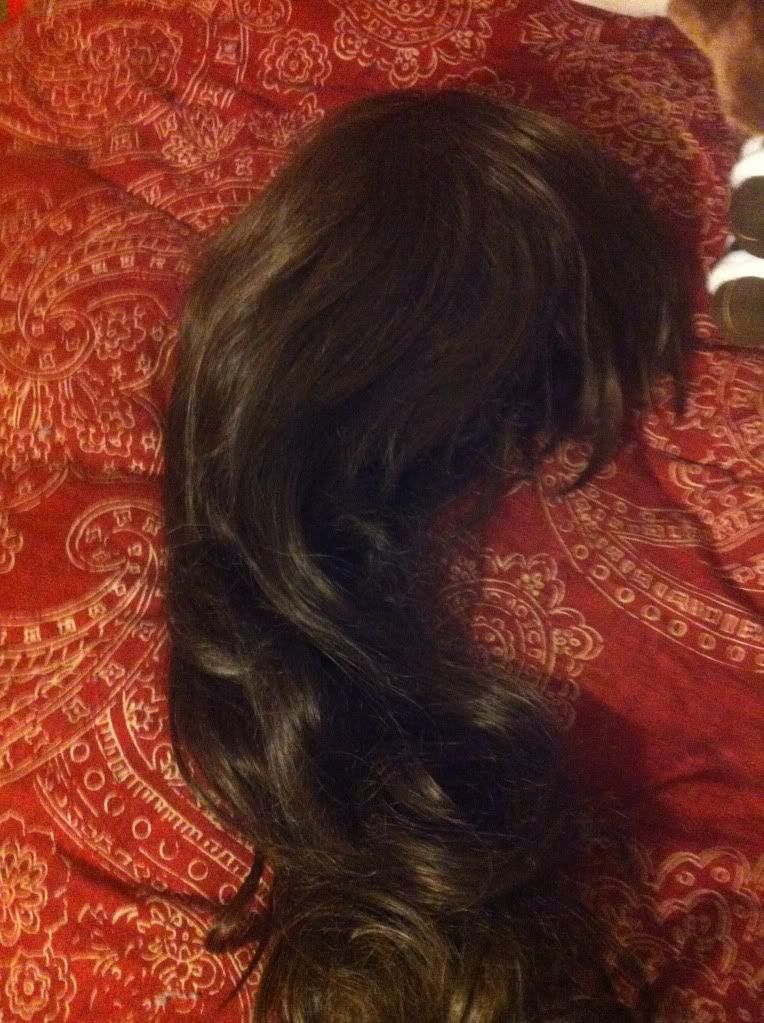 dark brown wig-$30
brown wig-$30
i have for sale is a rose melody cutsew with a alice and wonderland screen print on the bottom. Ive worn it a couple of times and its just super comfy and cute. Its also very well made even though its off brand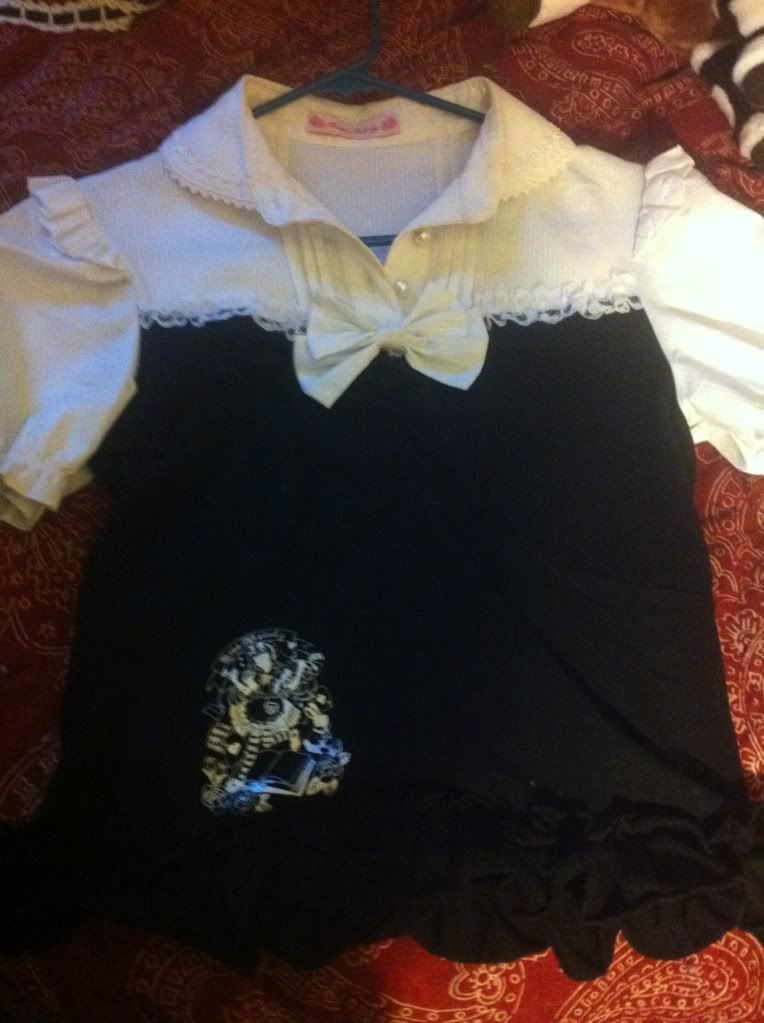 rose melody cutsew size L- $15
dresses and skirts
The next JSK i have is a korean off brand. this JSK is great for summer as the fabric is super light and flowly and its a great little print at the bottom thats sweet but not over the top sweet.Id recommend this for anyone with a 27-32 inch waist but it does have partial shirring in the back so it can stretch further but it might start to be uncomfortable
off brand JSK- $40


the next skirt i have was one of my faves and im sad to see it go but it no longer fits anyway so no point it keeping it. its the Innocent world Violin print in charcoal gray and its stunning in person. it is partially shirred in the back but it will not fit over 31/32 inches comfortably its best for closer to 28-30 inch waist.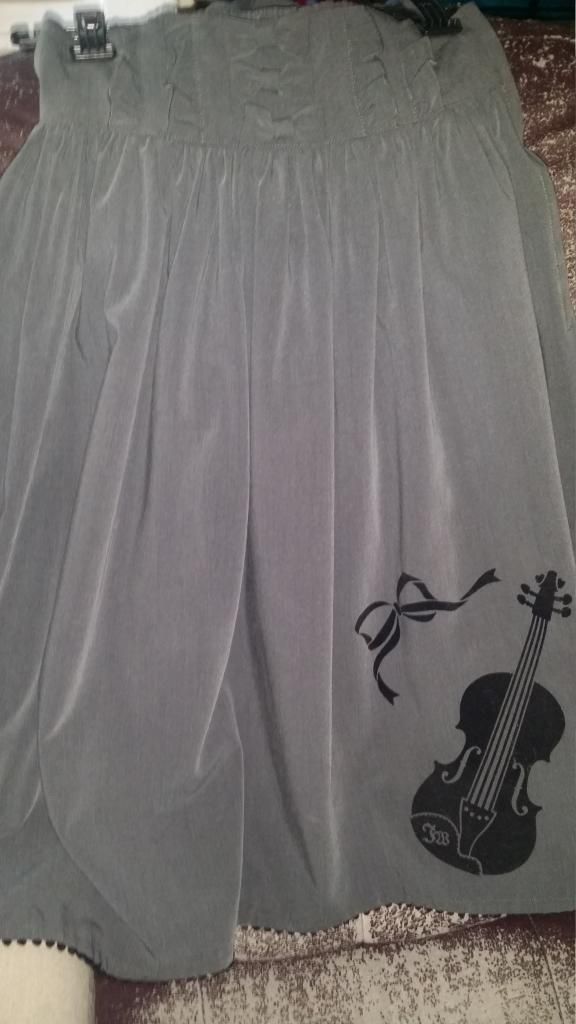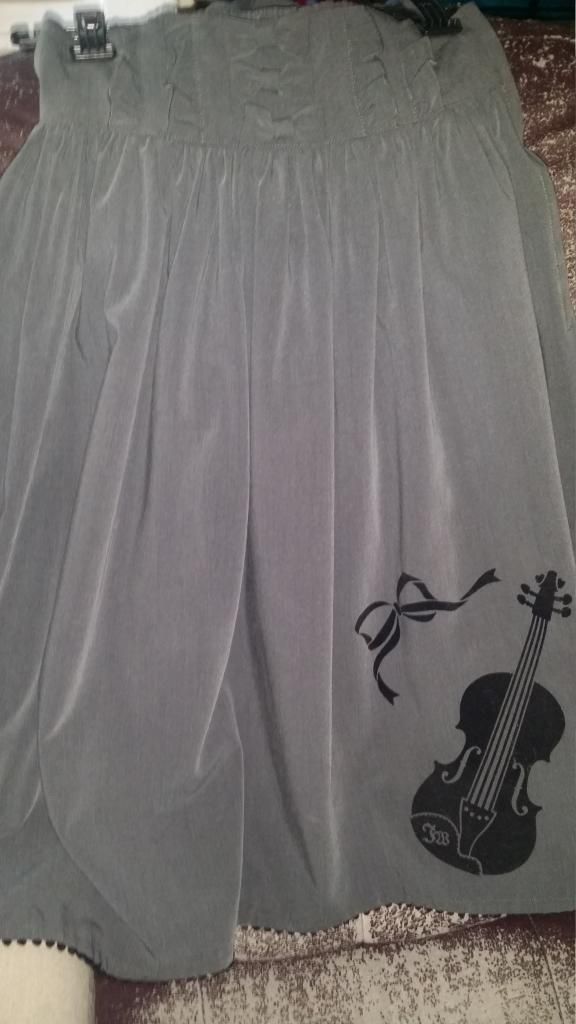 iw violin skirt-$110

the next dress i have is a black Iw jsk. which ive kept around to use as my cute little black dress but i no longer fit into it so its time for it to get a new home. its a great started black jsk with stunning detials but nothing over whelming and overbarring. The flash doesnt do it justice in the photo this dress is a true black.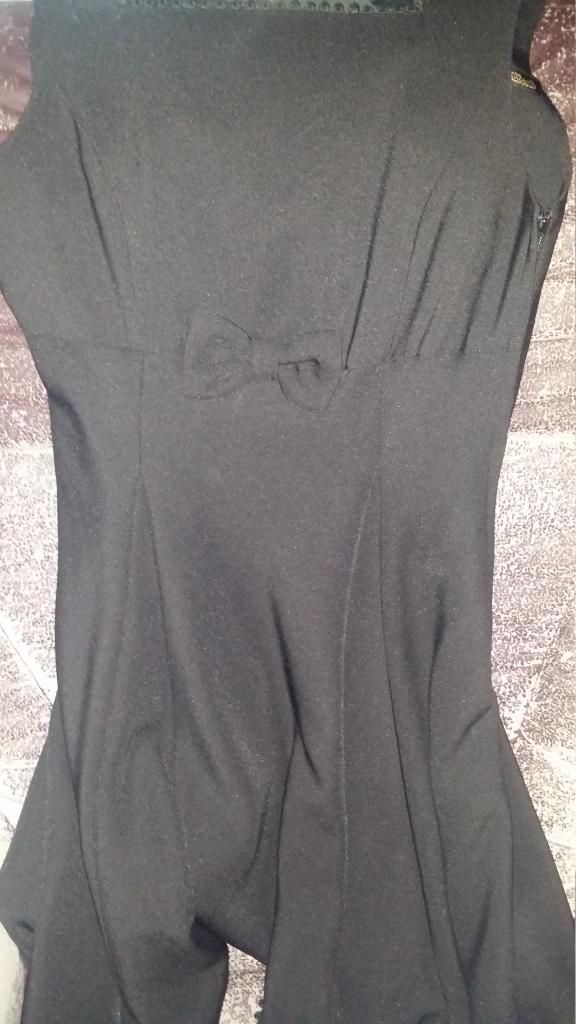 iw black jsk- $50

next on my list is accesorries

first off are some hand cuffs from meta i bought but have never worn they arent even out of the pacakge yet. great little cream colored handcuffs that are simple but very cute.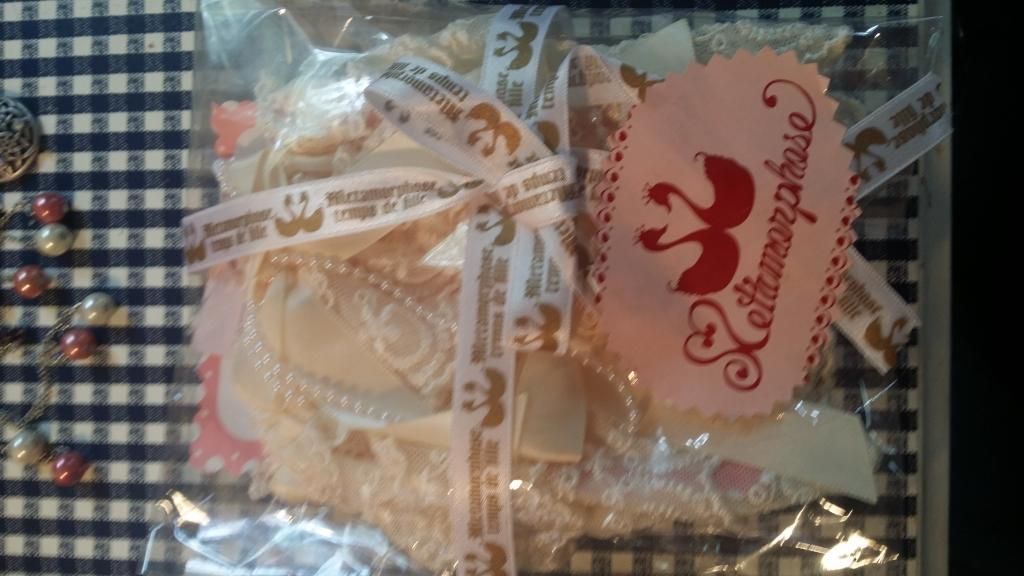 meta wrist cuffs- $25
next i have a few necklaces i wore for my coords some are gothic some are for sweet and some are for classic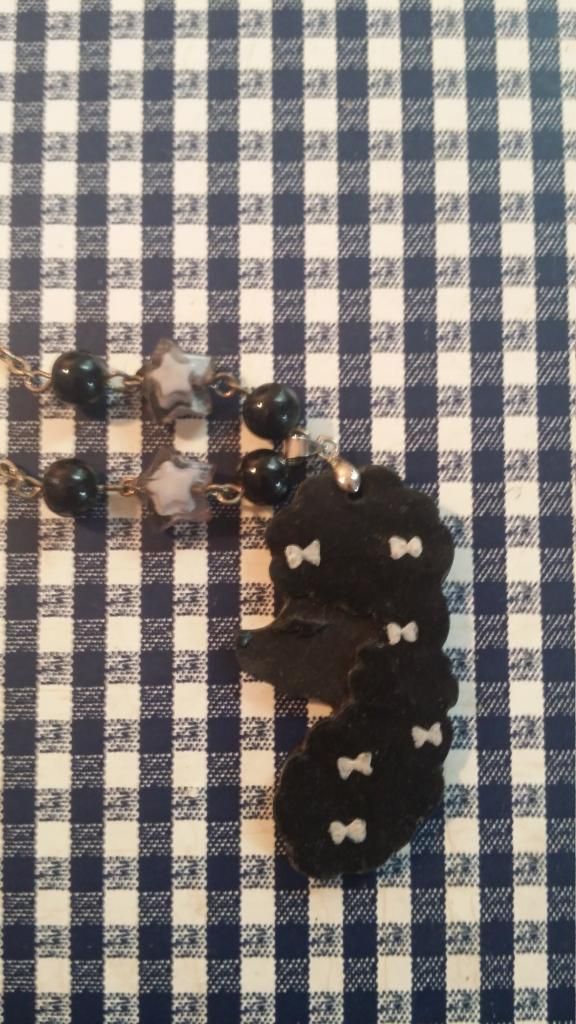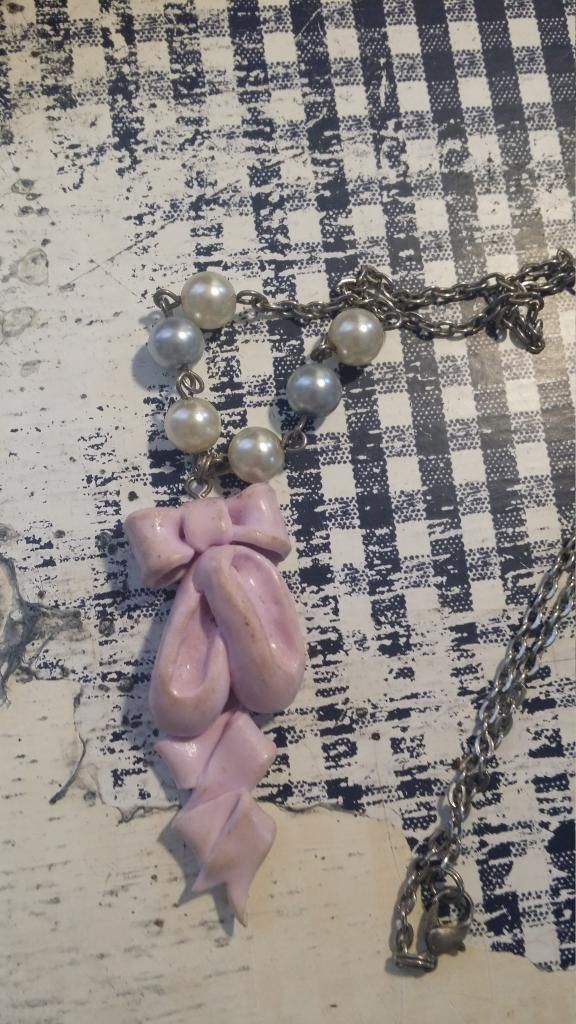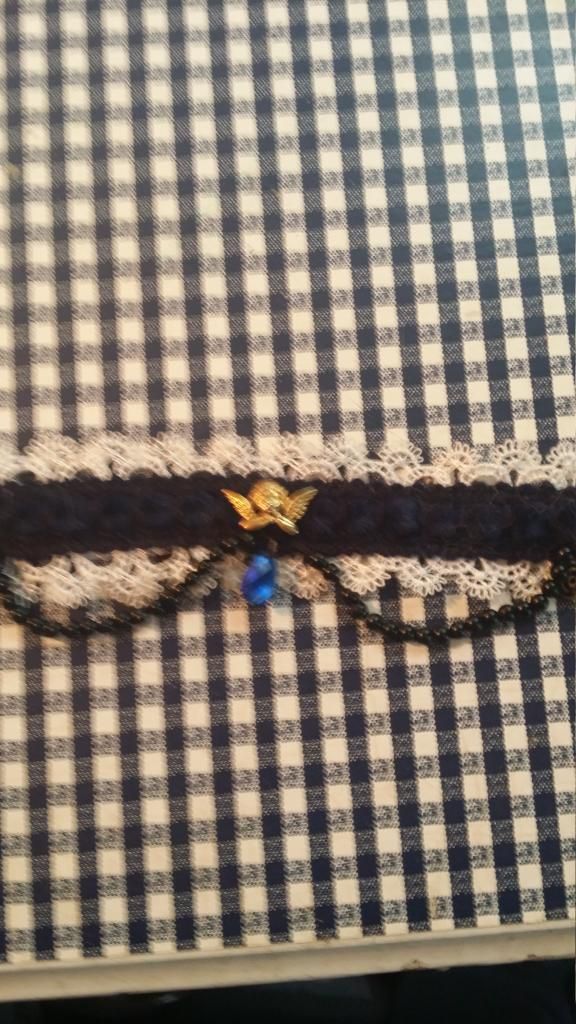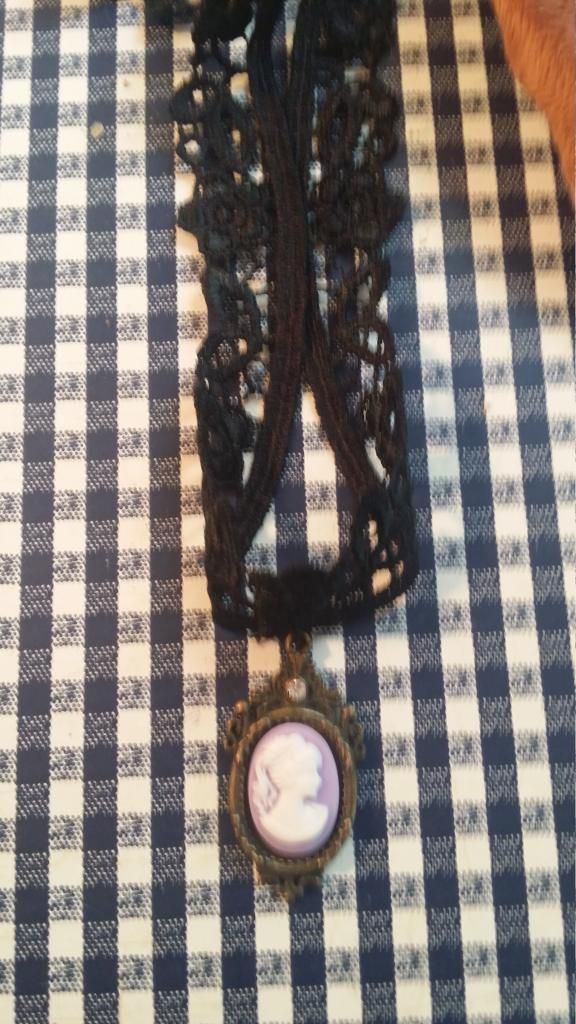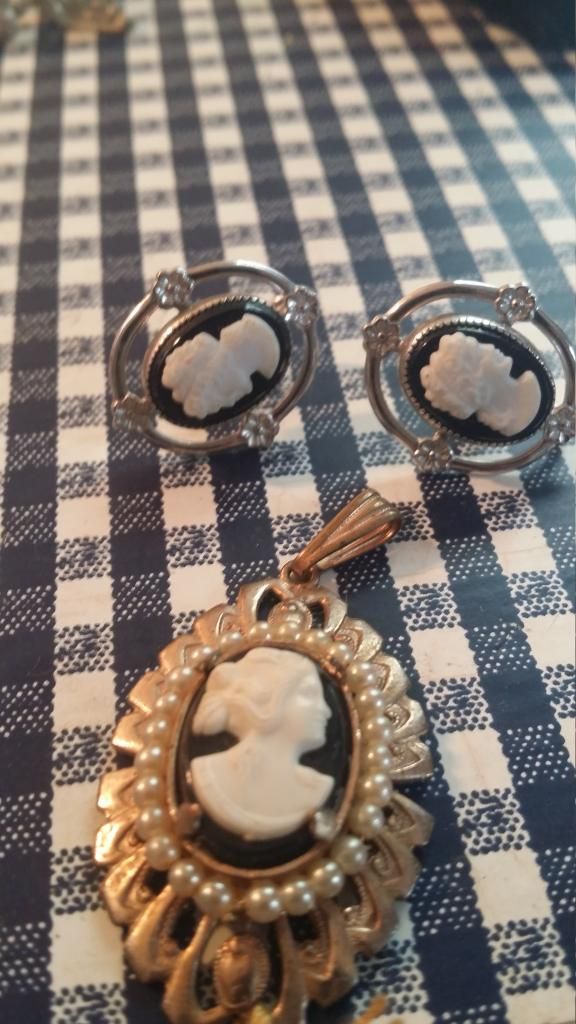 the first is a custom made dark gray poodle neclace and lavender ballerina slippers i ordered on this comm and they are great necklaces for sweet lolita. the Next is a beautiful dark blue rose melody choker i ordered that is a little loose on my next so its time for it to get a new home but its a wonderful addition to any darker classic or gothic wardrobe. the next is a antigue cameo on a black lace necklace. I also have this cameo set of a antigue cameo and a matching set of clasp earrings. id perferbly like to keep the set together but if your more interested in one then the other we might be able to work something out. the next. i have is a cute little unicorn necklace that would be a great addition to any sweet wordrobe. I also have this great little cupcake necklace great for any sweet lotlita
custom sweet necklances- $1o dollars
rose melody chocker- $15
cameo necklace- $10
cameo set-20
unicorn necklace-$10
cupcake neclance-$7


next up i have 3 great pairs of socks. from left to right i have a pair of thigh high putomayo cat and candalier socks, ap strawberry knee high socks, and meta blue and black rose ballerina socks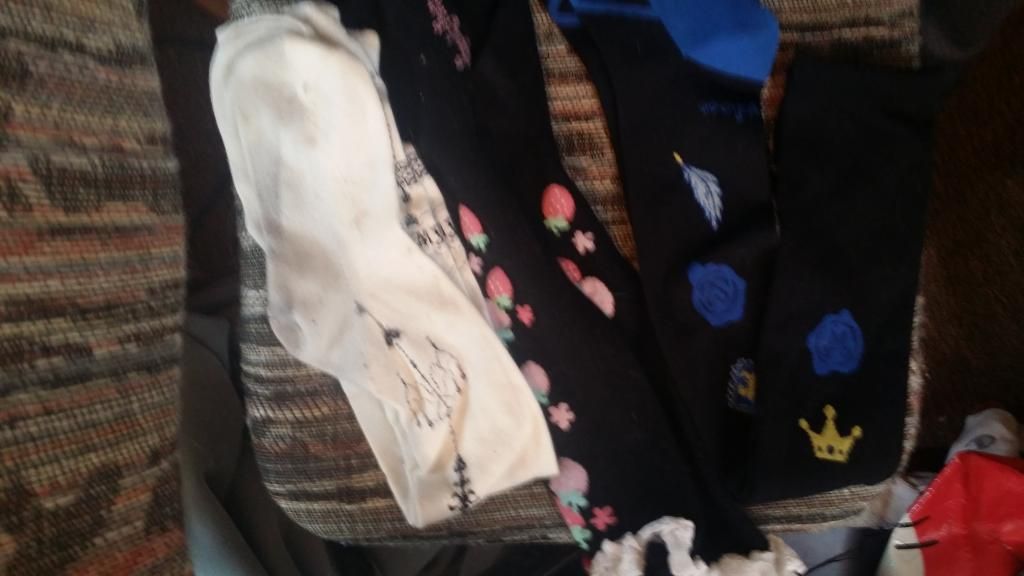 putomayo-$15
ap-$10
meta-15

the last thing i have are these cute little clasp earrings from Iw I got them in a lucky pack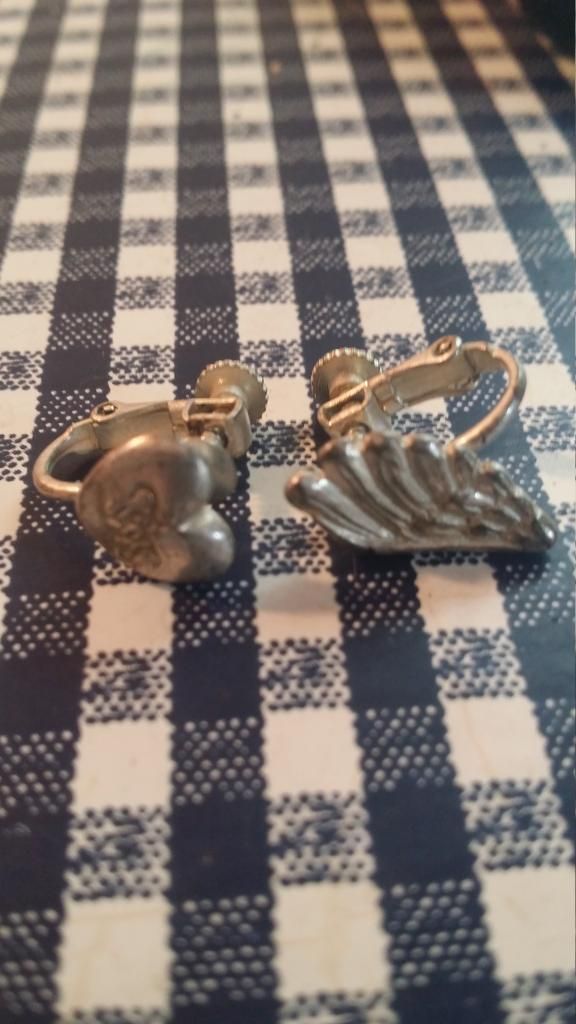 Iw earrings- $20