Hi ho! Thank you for looking at my sale. Please read all the terms and conditions before purchasing.

My Feedback: http://eglfeedback.livejournal.com/1182861.html

PAYMENT:
- Paypal only! Prices include all fees.
- Invoices: They will be arriving from my email: snooping.so**e@gmail.com
- I will comment for confirmation that your invoice has been paid and also when your item has been shipped.
- Please comment only if you are serious about purchasing.
- ITEM GOes TO THE FIRST PERSON TO REQUEST AN INVOICE AND PROVIDE PAYMENT INFORMATION.
- I am willing to negotiate payment plans, but priority goes to the first person willing to pay in full.
- For waitlisting, I will inform people as soon as I can regarding your place on the waitlist. If the person ahead of you fails to respond in a day, the next person in line will be notified that the item is available.

SHIPPING:
- All items include first class shipping and tracking in the USA ONLY.
- I am willing to ship overseas, but please comment first for a shipping quote. I cannot provide tracking overseas, as the USPS system is not designed to provide shipment tracking for it. If you purchase priority mail shipping for overseas, generally you can use the customs form number to track your package.
- I AM NOT RESPONSIBLE FOR CUSTOMS OR LOST PACKAGES THROUGH THE POSTAL SYSTEM. Once the item has been posted it is out of my hands. If your package is lost and you need records of it having been shipped, I will provide the receipt information, but other wise I am not responsible.
- I will NOT mark down your package values for the sake of customs. This is both for your protection as well as mine should the package be lost.
- I ship from California, USA

OTHER NOTES:
- I will try to leave feedback to those who request it and provide a feedback link. As a new mom, I am very busy and it often slips. Please be patient regarding your request. I will try my best.
- I will provide measurements by request.
- If your item does not fit, that is not my responsibility.
- I am open to all offers and negotiations.

Thank you and enjoy your shopping!

DIRECT SALE:

Alice and the Pirates x Sentimental Graffiti Sleepless masquerade in the twilight jumper skirt Ⅱ in NAVY - $350

I wore this dress once for 5 hours. It's still in perfect condition with NO flaws. Everything included: waist ties, front bow, mask pin and choke collar. It's a really beautiful dress but doesn't sit well on me so I'm parting with it. I waited months for this dress. Completely sold out and hard to find!

Measurements:
Length: 95 cm ( 37.40 inch )
Shoulder: 34 cm ( 13.39 inch )
Bust: 82 ~ 96 cm ( 32.28 ~ 37.80 inch )
Waist: 70 ~ 82 cm ( 27.56 ~ 32.28 inch )
Length of sleeves: 18 cm ( 7.09 inch )
Circumference of choker: 32 ~ 36 cm ( 12.60 ~ 14.17 inch )

Link to the dress from the BTSSB site: http://www.babyssb.co.jp/onlinestore/p10oj299/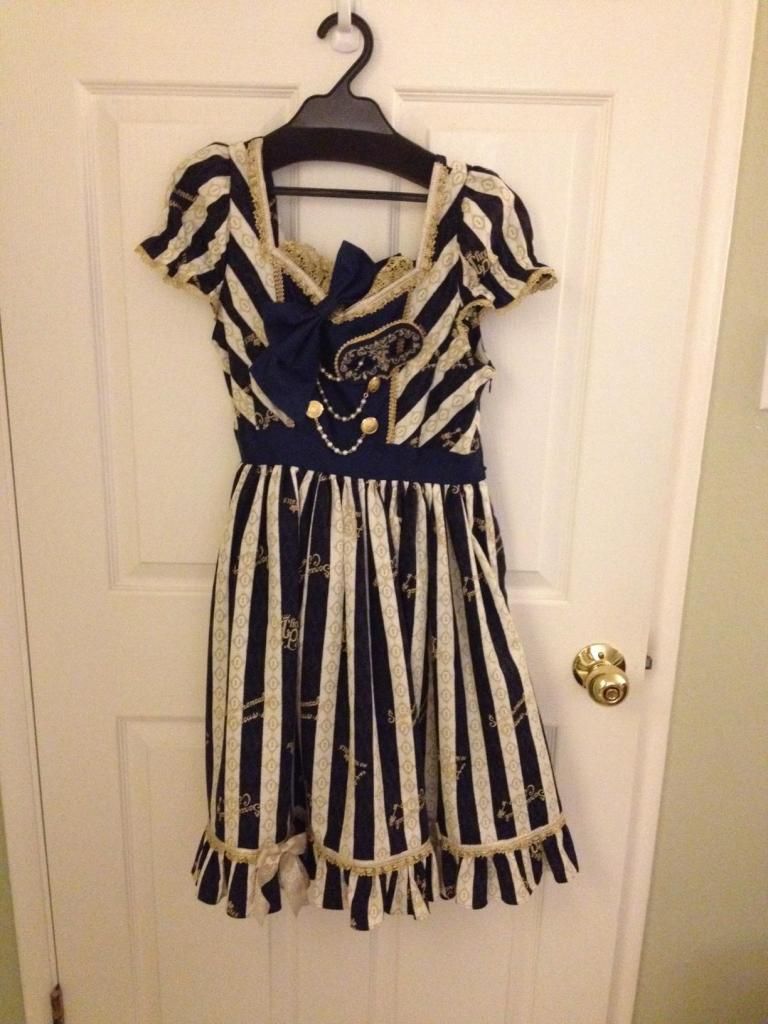 Thank you for looking!