Items are either in the US or in Japan. Items shipped from different locations cannot be combined. Items in Japan will soon be sent to me but you'll get a better deal having them shipped directly from Japan! Once they are shipped they will be on a boat for 2-3 months.
.
I'd prefer selling but I'm always open to trade offers. I am happy to send off multiple things for a more valued item in trades as I am always clearing out!
.
*
♪~Payment~♪
Prefer payment by Paypal or bank/wire transfer, but will accept snail mail payments at buyer's own risk. MoneyGram also accepted. I am not responsible for any lost payments.
Prices are in US dollars. AUD, GBP, Euro, and JPY may also be accepted to help relieve exchange fees.
Buyers are responsible for Paypal fees which are 3% + $0.35 (US), 4% + $0.35 (other) or bank fees in the case of a transfer.
.
♪~Shipping~♪
Shipping from Hawaii, USA or Kobe, Japan. Tracking is free for US domestic shipments only. DELCON tracking for international.
Prices are not inclusive of shipping unless mentioned. Prices including shipping are only to the US unless otherwise mentioned.
No economy post outside the US. EMS or Priority only.
I am not responsible for any packages once they have left my hands.
Insurance is extra at buyer's own cost.
.
Shipping out from Japan may take 2-5 days depending on my friend's schedule.
Shipping out from me will generally be within 24 hours, cannot usually ship Thurs/Fri/Sat as I have no computer access Thursday and Friday nights.
.
.
♪~Other~♪
I will do holds and payment plans with a non-refundable 20% deposit sent via personal payment or with appropriate fees included required.
All sales are final. NO REFUNDS. Please make sure to ask any questions you have beforehand.
I expect responses within 24-48 hours unless previous mention of delay. PLEASE make sure to get back to me, even if it's to say you're not interested anymore.
I work multiple jobs and may not always remember to respond. Just give me a nudge and don't assume I'm ignoring you. I may have not received a notification or my response may have not gotten sent properly.
If you make an offer and I accept, then disappear or do not respond/send payment within 24 hours without leaving a reason why, I will leave feedback.
.
I reserve the right to deny sale at my own discretion.
I may consider trades in lieu of purchases at my own discretion.
Wish list at the bottom. I will consider almost anything.
.
Feedback: http://community.livejournal.com/eglfeedback/1122027.html (mine)
http://eglfeedback.livejournal.com/2369416.html (my friend's)
.
IF YOU SEND ME PMS, MAKE SURE YOUR PRIVACY SETTINGS WILL ALLOW ME TO RESPOND!
.
♥ SALES ♥
Shipping from Japan


x
Baby, the Stars Shine Bright Frill Blouse: $175
Tons of torchon lace, has detachable flared sleeves, non-detachable waist ties
Bust: 90cm
Sleeve: 42cm (from underarm)
Waist: 76cm
.


Dandy Blouse: $175
From Miho Matsuda's now defunct GOLDSEAL line
Almost like new, no waist ties or shirring
Bust: 88cm
Sleeve: 43cm (from underarm)
Waist: 80cm
.


Angelic Pretty Strawberry Mini-sleeve OP: $230 shipped worldwide
Adorable strawberry print karami fabric with tons of lace and ribbons.
Waist ties are detachable, has partial shirring
Bust: 86cm-92cm
Waist: 70cm~
Length: 88cm
.

Angelic Pretty Garden Skirt: TRADED
Has detachable waist ties and partial shirring.
Waist: 60cm - 72cm
Length: 52cm
.
.



Hoodie
Heart Bag
Candy Sprinkles Barette: $35
Candy Sprinkles Tote Bag: $35
Candy Sprinkles OTKs: TRADED
Candy Sprinkles Salopette: TRADED
.


Misty Sky JSK ~ TRADE ONLY (trader sending to US, dress currently coming from Japan)
Want OP (Sax or Navy or any) - 1st or 2nd release; and jsk 1st release
.
.
Shipping from US



x
Spin Doctor "Marianne" Blouse :: $50
Size XS/6-8UK, New with tag
Bust: 82cm-86cm
Waist: 72cm-86cm
.

Bodyline "L112" Blouse :: TRADED
No stretch, corseting on back
Can be worn smaller, selling blouse without jabot
Bust: 80cm-91cm
Waist: 76cm-92cm
Length: 50cm
Sleeve: 63cm
.


Black Bodyline Blouse / White Bodyline Blouse: $50 shipped each
No shirring or waist ties. Very nice cluny lace details and great quality
Size L, new
Bust: 88cm
Waist: 74cm
Length: 50cm
Sleeve Length (from shoulder): 63cm
.


x x x
h.Blood Top: $125 shipped
Size F, new. Fabric has tight stretch
Sleeves are corset-strung and adjustable in length
Bust: 78cm
Length: 54cm
Sleeve: 65cm
.
x
Trumpet Sleeve Cutsew: $40 shipped
Bust: ~92cm
.


x
h.ANARCHY Hoodie: $175
Size M
.


Hangry & Angry Cutsew: $65
New, fabric has stretch, M size
Bust: 90cm+
Length: 58cm
.
.
.
Ivory Ruffled Top: TRADED
Bust: 96-101cm
Waist: 84-90cm
Length: 63.5cm
Sleeve: 61cm
.

Chiffon 2-piece Top: TRADED
Size XL
Bust: 88cm-116cm
Waist: 76cm-98cm
Length: 62cm
.

White Ruffled Blouse:
Bust: 95cm
Length: 65
.

Milk Tea Blouse: $45
New, no shirring or waist ties
Bust: 101cm
Waist: 81cm
Length: 56cm
.

Black Ruffled Peter Pan Top: TRADED
Size L, new
Bust: 102cm
Waist: 86cm
Length: 53cm
Sleeve: 66cm
..


Black High Necked Top: $50 shipped
New, slightly stretchy
Bust: 106-112cm
Waist: 92cm
Length: 61cm
Sleeve: 66cm
.


x x x x
White Round Ruffle Top: $75 shipped
Fabric slightly stretchy, cuffs are adjustable
Has back lacing
Bust: 112cm-122cm
Waist: 97cm-107cm
Length: 64m
Sleeve: 56cm +6cm
.


Creme High Necked Bowtie Blouse: $50
Size 12, new with tags
Has a few small storage stains on one of the "ribbon" ends
Ties are non-detachable and can be tied in different ways
Bust: 110cm-114cm
Length: 67cm
Sleeve: 64cm
.



BPN Sailor Skirt :: $90 shipped
Size F, new
Waist ~66cm.
.

Trumps Skirt: $50 shipped
New and has only been tried on, some production flaws on the prints
Waist: 64cm-106cm
Length: 36cm
.
.

Dusky Red Velvet Skirt: $145 shipped
Plush velvet, fully shirred waist, attached apron
Old and long out of production
.


Blue/White Skirt: $60 shipped
Color is more greenish
Waist: 72cm-96cm
Length: 61cm
.

Putumayo Forest Melody Skirt: $75 shipped
Slightly faded, no damages
Waist: 60cm-104cm
Length: 43cm

.


x x x x x
Atelier Boz 2-way Salopette: $175 shipped
Some minor stains (have not tried to remove), no back lace, brand new
.


h.Naoto Asymmetrical Skirt: $125
.


Nightshade Blouse: $90
New, Bust up to approximately 93cm
Old indie brand, got this about 10 years ago
.


Cherries Skirt: $75 shipped
With crocheted cherries
.


Striped/Dot Skirt: $55 shipped
Fully shirred back, dusky pink x white
.



Wa-Lolita Monochrome Set: $90 shipped
I will consider splitting the set. Both are new
Top: $50 shipped
Cage Skirt: $65 shipped
*fastens with zipper and velcro*, waist up to 66cm
.

Innocent World High Waist Trousers: $250 shipped
Size F, gently worn. Zipper has untracked and will need either replacement or repair
Partially shirred waist. Not recommended for anyone over 5'4" (163cm)
Waist: 66cm-76cm
Hip: 88cm
Seat: 114cm
Length: 74cm
Inseam: 38cm
Rise: 40cm (30cm to waist)
PENDING ON EBAY
.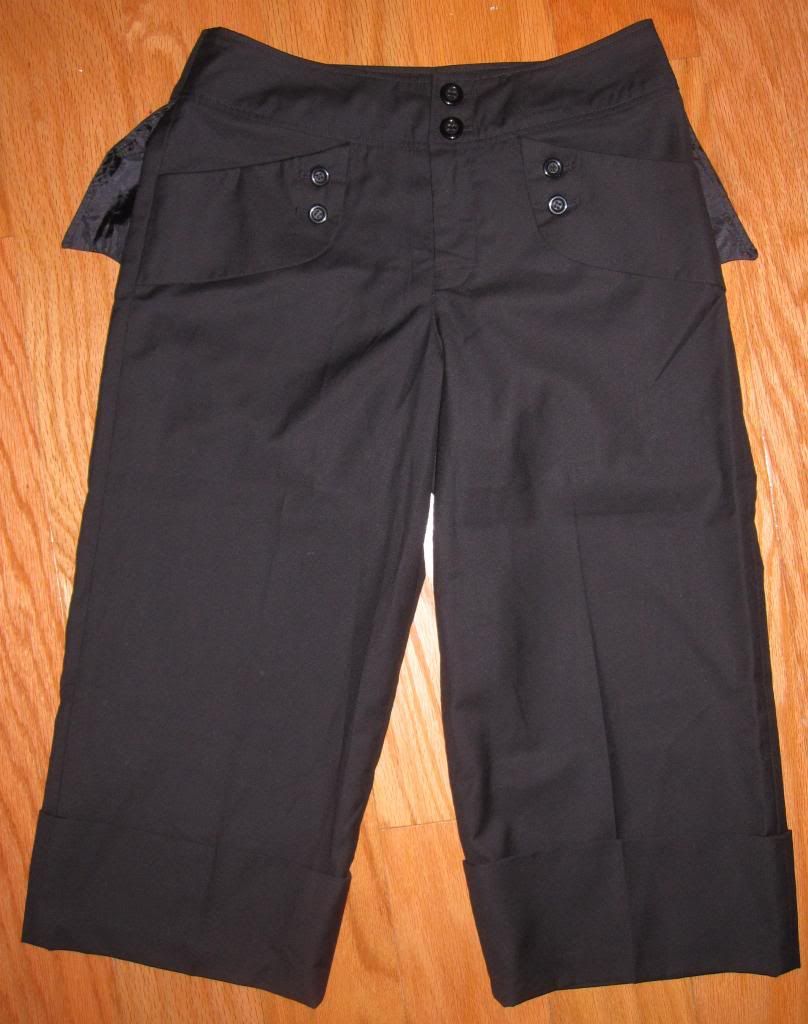 x x x x
BPN Batwing Short Pants: $100
Size M, new (runs really small)
71cm low waist/hip, 88cm bum area
.


Dismal Carnival Kodona Pants: $75
Back zipper became untracked so I sewed it shut
Some minor tears to cuffs, worn only a few times
Waist: 35-37
Length: 29
Inseam: 19.5
Rise: 10

.


F+F Kodona Shorts: $40 shipped, Top: $45 shipped
Worn once briefly for a photoshoot.
Top Bust: 90cm
Top Waist: 80cm
Top Length: 65cm
.


2-tone Bloomer Shorts: $45
Cutsew material, Fits best waist up to 98cm max
.


x
Black/Brown Petticoat: $11 shipped
Netting is brownish, waistband shows external damage due to wear
Light poof, some damage to netting in some places
Waist: 80cm-114cm
Length: 43cm
.


Long Petticoat: $45
..


Sweet Rococo Sax Swan Lake OP: $350 shipped
Partially shirred back and partially lined inside
Fully shirred sleeves and sleeve cuffs
Detachable waist ties, Side zipper entry
Bust :: 86cm-114cm
Waist :: 71cm-114cm
Length :: 96cm+
.


x
IW/BPN Style Underbust JSK: $75
Fabric is slightly stretchy, side zipper entry
Straps adjustable by buttons
Underbust: 91cm-102
Width: 86cm-94cm
Length: 94cm +/-13cm
.


Corset Dress: $125 shipped
New, size 12
Ribbon ties in front.Side zipper entry, top portion is elasticated, fabric slightly stretchy
Bust: 96cm-108cm
Length: 108cm
.


Lemon Cherry JSK: $55 shipped
Back shirring, no lacing, new
.


Pink Scalloped JSK: $140 shipped
Small stain in front from photoshoot, worn once
Bust: ~94cm
.

Black Scalloped JSK
New, super rare old design
Hellolace Entry
.



Sakura JSK: $60 shipped
Partial back shirring, fabric a bit stretchy
Bust: ~112cm
.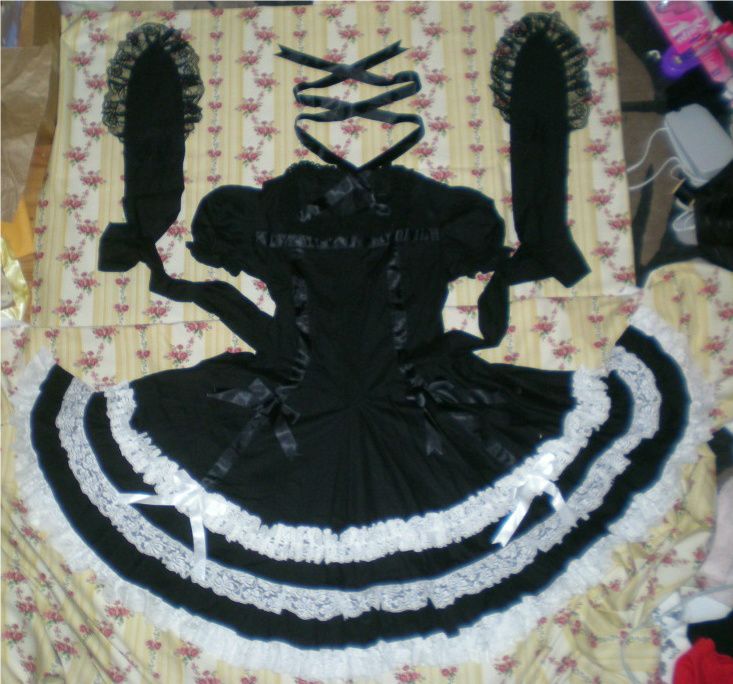 x x x x x x x x
Atelier Pierrot OP and Headdress: $350 or Dress: $320, Headdress: $45
New, but tried on and stored away
Two ribbons were removed from the bust and two from the skirt. I only have one of each for reattachment.
Yards of super soft raschel and crochet lace and an incredibly full skirt, nothing is detachable, fabric is slightly stretchy
Made by a Japanese indie atelier brand, bought about 10 years ago
Bust: 86-94cm
Waist: 70-80cm
.

Cutsew Bolero: $35
.


Knit Bolero $45 shipped
With matching bow pin


Openwork Heart Knit Bolero: $35
Bust up to 94cm
.


Lace Bolero/Cardiagan: $60
Size P, plus size friendly
Estimated best fit bust 95cm+



Jet and Lace Knit Bolero Cardigan: $100 shipped
Size S, new, knitted from Angora and lambswool
Originally cost over $100
Bust: 100cm-126cm
Sleeve: 56cm (64cm to lace
Length: 54cm
.


x x
Floral Riders Jacket: $50
New, Size large, a bit stretchy
Bust: 100cm+
.


Bunny Coat + Capelet: $295 shipped
Medium Weight
.



x x
Black Heart Pockets Coat: $250 shipped
New, light-medium weight
Heart buttons, removeable ribbons, bottom ribbons have been cut
.


x
KERA shoes: $60 shipped
Size 10, new
.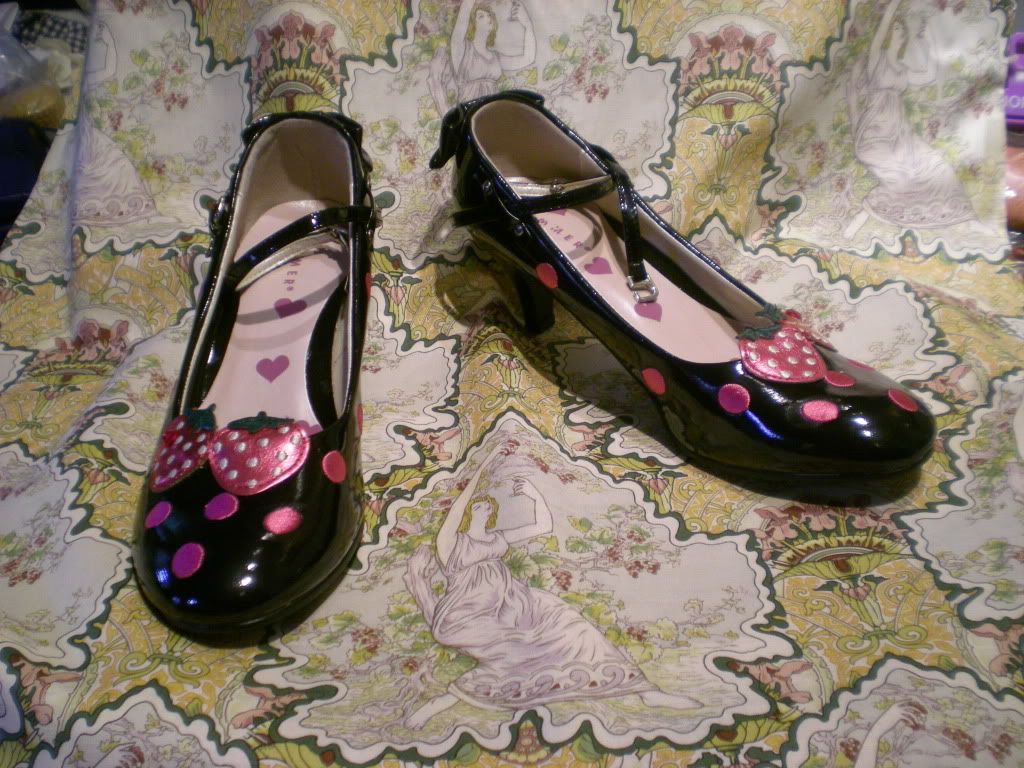 Swimmer Strawberry Bow Pumps: $65 shipped
Size M, new
.


x x
TUK Victorian Boots: $65 shipped
Size 8, worn once and stored, has some scuffs

.


Antaina Angelic Pretty Replica Engineer Boots: $90 shipped
Size 24-24.5 ~ 25cm insole
New. These were a smaller size than expected
.


x x x x
Montreal Shoes: $55 shipped
Size 26, worn once
Some minor scuffs, not noticeable
One bit of damage to the front sole on right shoe from storage
.


Born Ribbon Shoes: $100 shipped
VW x Mel Heart Flats: $100 shipped
Both new, size 9US
Born shoes are handmade with leather
.
.
.

♥~Paper Goods ~♥


Q-Pot Limited Edition 2011 Spring Postcard: $5 each (10x)
Q-pot Limited Edition 2012 Captain Burger Spring Flier: $5 each (10x)
Free letter shipping
.


Q-pot Bags: $6 for the plastic, $11 for the pop-up
These bags are all in like new condition and have no marks or damage.
Plastic is thick with melty chocolate gold sticker, popup is thick with gold print and sticker
Plastic bag is 36cmx25cm, Popup bag is approximately 23cmx20cmx12cm. I also have some smaller popup bags.
Plastic: 5 available
Popup: 2 available

Other Q-pot items available through my shopping service.
.
.
♥ Accessories ♥

.


Thigh High Vertical Stripe Stockings: $25 shipped
New, never taken out of package
.


Elegy Spiders OTK Stockings: $35
2-Tone Dot Stockings: $25 shipped each
Black Opaque OTK/Thigh High Stockings: $30 shipped
All new
.


Ballerina Socks: $20 shipped
Red Ankle Socks: $15 shipped
.


x
BJD Tights: $30 shipped
Has designs for hip, knee, and ankle joint
Brand new, it's just a little too short for my legs
Size M-L, measurements below are given max fit
Hip: 85-95cm
Height: 150-165cm
.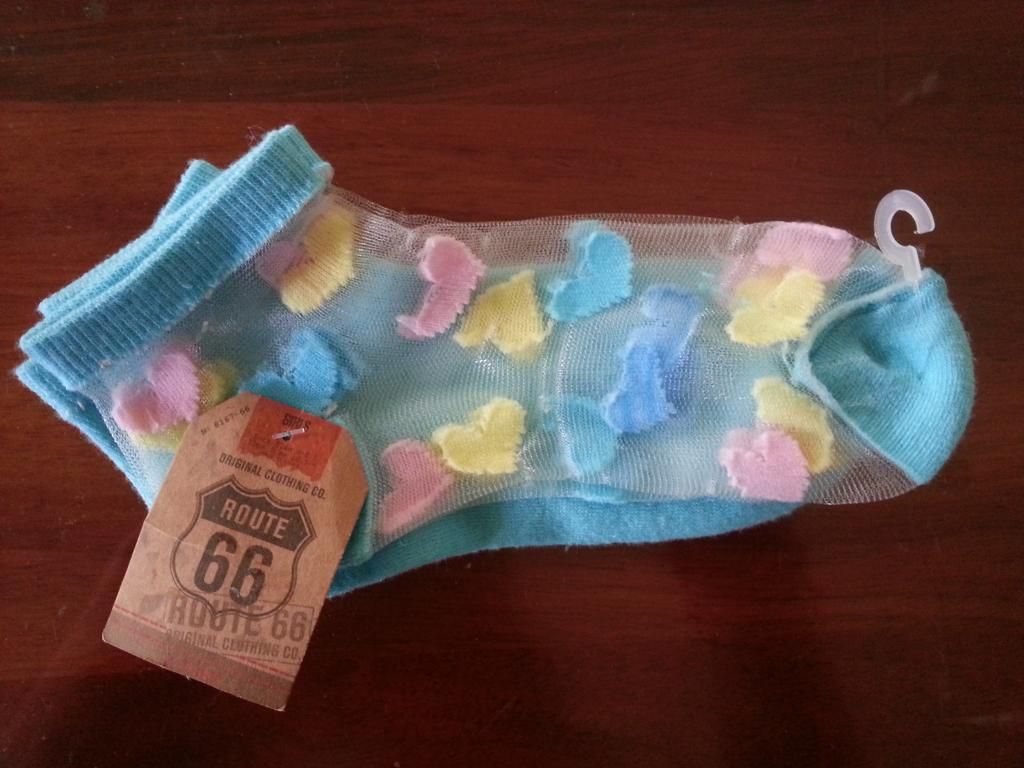 Ankle Sock set: $13 shipped
Fits up to size 25 (8US) best
.


GLBs: $40 shipped each
KERA: $18 shipped each
All new, all stickers/patterns intact
Shipped via media mail
.

GLB 50: $47 shipped
Includes Innocent World x Asumiko Nakamura Collaboration calendar/planner
New, contains all stickers and patterns
Or split, GLB: $40, Calender: $15
Shipped media mail
.

Magical Etoile Carousel Beret: $40 shipped
Custom made
.


x x
Lace Gloves: $50
Fits small hands best, one size
.



Rectangle Headdress: $15
.


F+F Headdresses: $15 shipped each
.


Fanplusfriend Gloves: $10 short gloves, $13 long
New
.


Fanplusfriend Gloves: $13, $16 gloves with bows
New
.
.
♪ TRADE ♪
.


Rose and Thorn Bat Princess Blouse
Size XL, new with tags
From a defunct indie brand. I want to trade for this in M or similar style
Bust up to 110cm estimate
.


.


.


x x
BPN for Men 2-piece Waistcoat
Approximately 114cm chest
.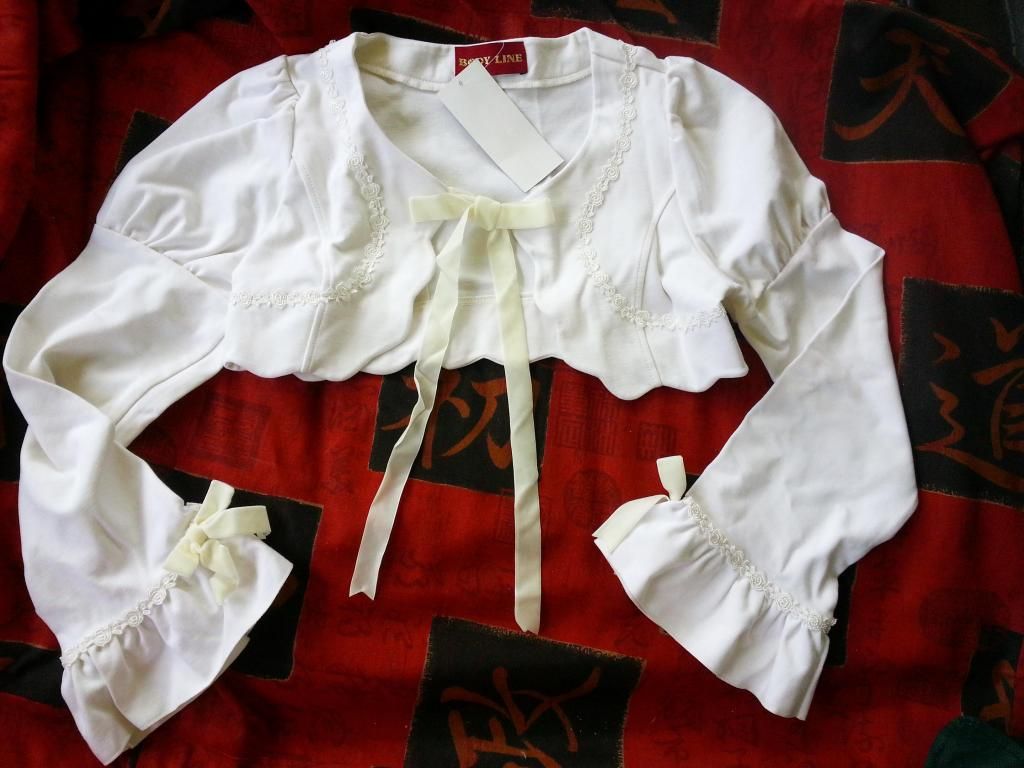 .


Angel Pretty Old School Skirt
New, fully shirred waist, no zipper
Waist: 58cm-94cm
Length: 48cm
.


Rose Garden Skirt
Partially shirred waist
.


Antique Wallpaper Skirt
Fully shirred waist
.


Rare Merry Go Round Skirt
New with tags, has a Rococo hip-bucket shape, zips in back
Waist: 65cm
.


Bloodshot Butterflies Skirt
Free size, fully shirred waist
.


Size 1 want size 2
.


Long A-line Petti
Waist is too big. The elastic died and I cut it to tie
It's been through vacuum-sealing for years off and and so it will never die
.


Size XL, hook/eye closure (have added a 2 hooks)
I'd like to get a smaller flat waist petti without having to alter this one.
Waist: 31"
.

x
Last Country Late Night Roses jsk
Partially shirred back
Bust: ~96cm
.

JetJ PrairIe et Fleur, size 2
Would trade for size 1 or anything else
.


Baiser de L'ange Size 1, want size 2
.


Size 1 want size 2



Size 1, want size 2
.


Size 1, want 2



'Ecailles de Lune Forest of Pipe Organ
Size M, want L
TRADED



NWT
.


Pintuck OP
.


IW x Alphonse Mucha; Want jsk or skirt



Want jsk or op



M, want L
.


Surface Spell Cathedral JSK
Purple Version
Bust: 86cm
Waist: 72cm
Length: 90cm (from strap to bottom)

Blue Version
Bust: 96cm
SEEKING: size fitting bust 88-92cm ONLY!
Also seeking the underbust version: any color.
.


Blue Jacquard Bustier jsk
Bust: ~88cm
.


Boz Batwing Collar JSK
.


Emily Temple Cute Carnival JSK
New, no shirring
Bust: 86cm
.


Josette JSK (jsk only)
New with tag, color is a reddish brown
Tag price: ¥26,040
Bust: 81cm-92cm
Waist: 66cm-77cm
Length: 86cm
.


x
Rose Logo Frill JSK
New, Partially shirred, upper frill is removeable
.


x x x
Beauty and the Rose Promise OP in ivory
Bust: ~90cm
Would consider the jsk in navy or wine
.


Militant Nuns Spiderweb Dress
new from old defunct brand
Fabric is slightly stretchy
Bust: 102cm-112cm
Length: 92cm
Sleeve: 58cm
.


Brown Velvet Granny Boots
Size 9.5B, gently worn
Would love a similar style in 26 or 9.5 wide
.


White Mt. Oxford Booties
Size 8.5, gently worn
.
.
.
♥ WISHLIST ♥
Will consider trading for anything, but reserve the right to deny a trade.
Due to shipping costs, I prefer to trade within the US.
Trades must be sent within 4 days of trade agreement with tracking unless otherwise agreed. Traders must send first!
Please provide feedback link.
.
My current measurements:
Bust: 88-91cm
Waist: 66-71cm
Shoulder Width: 43cm
.
Primarily interested in:
Styles: Steampunk, pirate, clockwork, fairytail, Victorian, classic and sweet, medical/nurse, military
Brands: AATP, BTSSB, Metamorphose, Lief, HMHM, Atelier Pierrot, MmM, JetJ, Mary Magdalene, Haenuli, Chantilly, VM, Krad Lanrete, Surface Spell, Rose Melody, Atelier Boz, h.GRAMM/h.FRILL
Details: gothic, chandelier, castle, cathedral, stained glass, Alice in Wonderland, trumps, stripes, chess, fairytale, painting, angels, circus prints, appliques
Victorian/Steampunk bags, clasp bags or trunk bags
.
Other items: corsets (size 24-26), cage skirts, petticoats, bloomer trousers and high waist trousers, high collar vests, parkas/capes/coats, massive hoods
Petticoats with mega poof or a nice full never-die shape, or long organdy/chiffon, bell shaped with moderate poof
Detachable sleeves in any color, primarily flared sleeves or princess sleeves
.
Fabrics: jacquard, chiffon, pearskin, and georgette, burberry, lace details
Shoes that fit 9/9.5US (25.5-26/LL/3L), boots that fit 9-10 (25.5/26/LL/3L) or 40-42EU
Styles: tea parties, rocking horse platforms, Victorian/granny boots, AATP/Btssb shoes/boots in LL, IW/VM shoes/boots in LL
.
.
Specially seeking
Btssb/AATP: Shooting Star Ala Mode OP, Primavera Waltz OP, Hoshi no Namida OP, Queen's Coach OP/JSK, Twilight Circus, Labyrinth, Traumerai of the Stars, Arietta, Tea Time, seraphim, the steampunk releases (anything chiffon or with lots of hem frills)
JetJ: Jet x GLB circus collab set, carnival collab set, red riding hood, Feerie, Fee dune Fleur
AP: Wonder Queen in wine, Dream Sky OP in navy (or other), Royal Unicorn in ivory, Melty Chocolate Princess OP, Moon Night Theater, Day Dream Carnival
IW: IW x Alphonse Mucha skirt or jsk, Rose Ribbon Embroidery JSK
MmM: Sleeping Garden, Lace Embroidery JSK, Ruins Cathedral, Hymn, Divine Cross
Baroque: Stained Glass, Flowers Set
.
.
♥ OLD SALES ♥
DS/DT: Tons of classic and plus size friendly
DS/DT: Classic, Sweet Plus Size Friendly Tops and Shoes!
DS/DT: Reduced! Classic, Goth Offbrand Blouses + Shoes
DS/DT: Offbrand sweets accessories, shoes, and dresses
DS: Offbrand cutsew
DS: Offbrand plus size top, corsets and headdress
DS/DT: Offbrand sailor top and fawn charm
DS/DT: Offbrand classic blouses, boleros, shoes (some plus size friendly)
DS: Offbrand jewelry

Will consider reasonable offers for old sales and old trades.