My feedback page
Terms of Sale:
-First come, first serve. If you ask a question then don't respond to my reply within 12 hours, I'll move on to the next person.
-Paypal only. I ship by USPS Priority Mail. I will not ship out of the US without insurance.
-Feel free to make offers, but I reserve the right to sell to someone willing to pay full price.
Innocent World Arabesque Rose JSK, Long Version, Green- $225 +shipping
Absolutely beautiful dress of subtley floral textured cotton and chiffon
Worn only once or twice, since I've decided it's not really my style
No flaws

(note: I am selling the long version)
Hellolace page





An*tai*na Boots- $75

$60

+shipping
I had these custom made for me, so I was disappointed when they got here and were too big. I wear a US size 10 and would recommend these for size 10.5 or 11.
The boot shaft was custom made for a calf width of 38 cm, and the boot is slightly longer than their standard size- so if you're a tall and/or curvier girl, these will be perfect :)
The brown bows are detachable, and clip onto a cute little heart shape.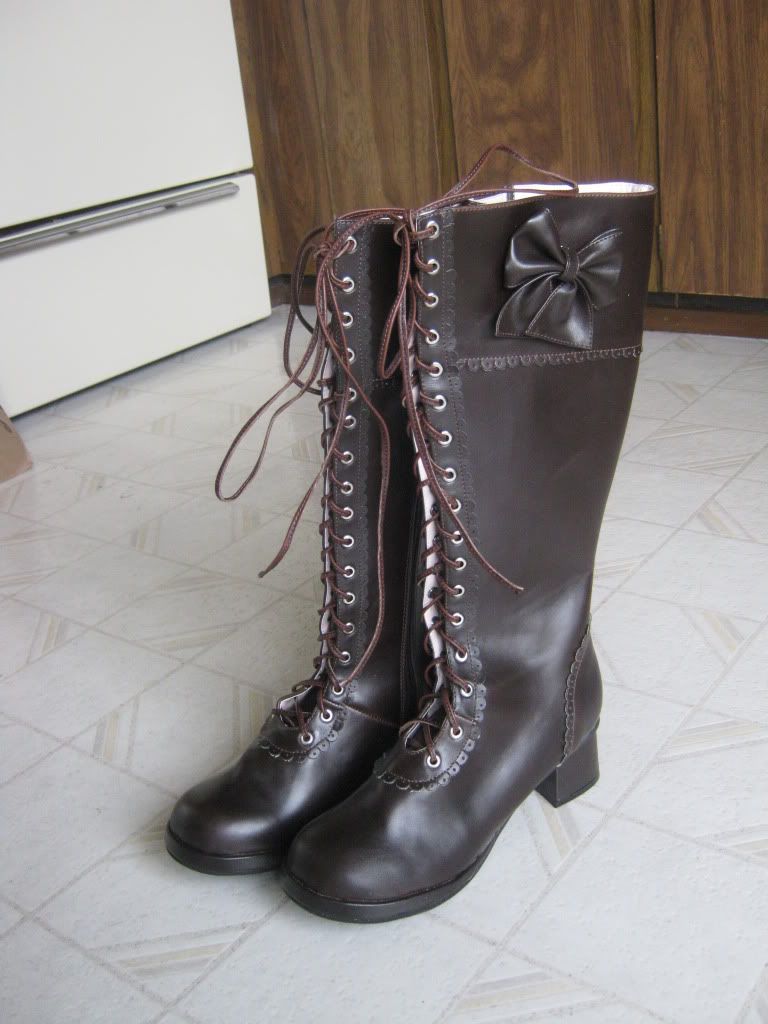 In the Starlight blouse-
$50
$40
+shipping
Bought from the now closed In the Starlight when they still did custom pieces. Worn once.
Very well made and in perfect condition! The fabric doesn't wrinkle easily and is light enough for spring or fall.
Will fit best on someone with a bust of 34-36" and waist 28-30"
Has a defined waist and flares to accommodate full skirts.
Perfect for goth or aristo.




Offbrand hoodie- $40

$32

+shipping
Lace in the hood, at the sleeves, and on the bustle in the back! Also has puffed sleeves and a cinched waist
Bought off comm_sales a couple years ago but never worn by me
Slight fading
Would best fit 34" bust
Handmade Blue Cupcake Skirt: $20

$16

+shipping
Handmade by me. Half shirred waist, no lining, all seams finished.
Will fit a waist 28-31 inches, over which the gathering in the back will be too stretched out. Length is 22 inches.